OFM Respawn RSP-205 gaming chair review: Supreme comfort at an attractive price
Gaming chairs often have a meaty price tag attached to them. This one offers comfort at a more affordable price.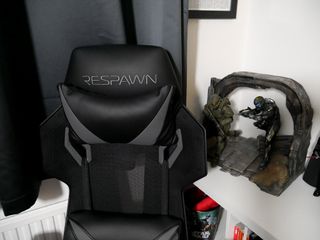 Respawn is a new gamer-focused brand launched by furniture company, OFM. The initial offering comprises eight different gaming chairs which range from $140 to $225. Each has its own unique style, but the one we're looking at is the RSP-205, the range-topper.
This is a gaming/office chair that brings its own unique design to the table in a compact, yet comfortable chair that you won't mind spending hour after hour deposited in.
Features and specs
Seat Size: 22"W x 20.50"D
Back Size: 20.50"W x 30.75"H
Adjustability: 360-degree swivel, 130-degree recline with infinite angle lock, adjustable height (19 inches to 23-inches inches), height adjustable armrests, adjustable lumbar support.
Weight capacity: 275lbs.
Materials: Steel tube frame, mesh back, bonded leather headrest, pillow, and lumbar cushion.
Price: $224.99
Compared to some chairs we've looked at, the RSP-205 is notably cheaper, while delivering similar features. What you notice first about this chair is that it's not one of the now many racing style chairs, instead going for a futuristic, angled appearance.
The overall shape isn't a million miles from these types of chair, but instead of curves you have angled 'wings' at the top and a squared off headrest. The styling is pretty unique, and while I'm personally a fan, it's also easy to see how it might be off-putting to some.
Feature-wise all the basic boxes are ticked. It swivels through a full 360 degrees, reclines to 130 degrees (that's not as far as some other chairs), and it allows you to lock in that recline if you're getting really comfy or fancy an at desk nap. There are only about 4 inches of height adjustment, but in my office, with my short legs, it's perfect for sitting at the right height.
What the RSP-205 misses that I'd have liked to see are fully adjustable armrests. On this chair you can only go up or down, there's no front-to-back or side-to-side adjustments. The armrests aren't the largest you'll find on a chair of this type, so losing out on this adjustment means making a compromise.
That's the only real gripe with the design of this chair though. I've got the gray and black color combo, but OFM will sell it also with red, green or blue accents. Personally, the gray looks fantastic and it really fits in with my office without being too outrageous.
Most interesting is the choice to use mesh on the backrest part of the chair instead of leather. The RSP-205 is very lightweight, and what I particularly like is that with mesh there's more ventilation. So during longer stints sat down, even when it's warm, your back should stay fairly perspiration free. The back of the chair is completely open.
I've used it for a couple of weeks now both with and without the pillows attached and I'm comfortable in saying it's a big improvement on the leather chair I've been using previously in this regard.
Comfort and build quality
Despite the affordable price point, the RSP-205 is exceptionally well made. The instructions to build it are a little small, cramming on to a single sheet of A4, but building it is a breeze. Each part is individually bubble wrapped, and all the various bolts are attached to a board and labeled. Assembly took about 30 minutes and was easy to do with just one person. Attaching the backrest is the most difficult part, but thanks to its lightweight nature it's manageable.
OFM being a furniture company rather than a gaming company, I had high hopes and they've been delivered upon. This is a supremely comfortable chair. It isn't going to be suitable for the larger frame or the taller gamer, sadly, since it's quite compact in its stature, but if you're average height and build you'll love it.
The recline is a little fiddly to get just right, since you have to almost fight against the locking mechanism. The base of the chair doesn't tilt, either, something I've been used to in my chairs of old. But even without this, after two weeks of spending at least 8 hours a day at my desk, I've never felt better.
The lumbar cushion is quite large and does a great job, with the only minor criticism being that it has a habit of moving up and down too much. I expect the lack of friction between the leather and the mesh might be to blame, but it does require a pull down at least once or twice a day. Not a massive inconvenience but it's also not doing its job when it's halfway up your back.
The seat base is really nice, though. Trimmed in bonded leather, soft and deep enough to comfortably sit right back. It's also well balanced and has excellent wheels that don't struggle to move even on the fairly thick carpet in my office.
Bottom line: A great chair at a great price
We've looked at a number of gaming chairs and in some cases they're twice as expensive as this one from Respawn. There are some compromises to be made here, such as the lack of fully adjustable armrests and that it's not going to suit the taller person, but overall it's an excellent product.
I've been using a GT Omega Racing chair for the past 12 months which costs about the same as this and has better armrests and recline. But it's big, heavy, and gets clammy if you're seated for too long. Switching to the Respawn RSP-205 has been a joy, with the airy nature of that mesh back and the large lumbar pillow particular favorites.
Pros:
Very comfortable.
Airy mesh back.
Solid build quality.
Backed by a limited lifetime warranty.
Excellent price.
Cons:
Styling may split opinion.
No 4D armrest.
Not good for taller people.
It's a quality product all round, and in my time with it there have been no squeaks or issues of any kind. It's easy to tell that the company behind Respawn is a furniture maker, as it feels solid and something that's built to last. It's also backed by a limited lifetime warranty and year round dedicated representative support. And while you may not like the styling of this particular model, I think it looks excellent. The compact footprint has also opened up a little space in my office.
The OFM Respawn range is available now from retailers such as Amazon, NewEgg and Rakuten. At $225 this is excellent value and a chair I can easily recommend you treat your bottom to. You can find out more about the whole range at the new Respawn by OFM website
See at Amazon (opens in new tab)
Richard Devine is an Editor at Windows Central. A former Project Manager and long-term tech addict, he joined Mobile Nations in 2011 and has been found on Android Central and iMore as well as Windows Central. Currently you'll find him covering all manner of PC hardware and gaming, and you can follow him on Twitter and Instagram.
Oh look, another gaming racing chair... you need a car racing chair to hold you in position on those tight turns you go through when... what?
Also, you say that it is backed by a lifetime warranty.. but against what? Is foam getting flat due to the cheapness pf material covered? Or is that considered "normal wear and tear". If you are going to mention warranty as an up side, you better talk in details about the warranty coverage. Also, the side but areas, again chair designed for cars, not for sitting in a room, prevents sitting on your legs or extend them for a moment, and designed for your legs to be lifted to reach pedals. Car seats are designed for secuirty first and confort second.. why do you need this on a home computer chair? It makes no sense... confort and posture are first, security... is essentially last (I mean you don't want to fall from the chair, and stuff, but it has no buisness to bring car security features and design to teh home seats). Start reviewing actual chairs, that catters for boys greater than 13 year old wet dreams. That would be a change.

"Start reviewing actual chairs" https://www.windowscentral.com/best-budget-office-chairs https://www.windowscentral.com/best-office-chairs-home-and-work They do plenty of reviews. Just don't read the ones on gaming chairs.
Windows Central Newsletter
Thank you for signing up to Windows Central. You will receive a verification email shortly.
There was a problem. Please refresh the page and try again.