One month with the Surface Laptop: how is it holding up?
The Surface Laptop has been on sale for a whole month at this point, so it's time to check in and see how it's holding up.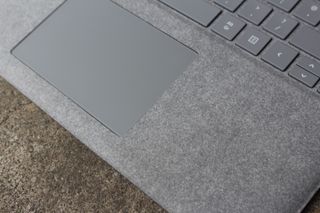 Before the Surface Laptop launched, there was a bit of controversy over the Surface Laptop's use of Alcantara for the keyboard base of the device. Due to Microsoft's previous attempts at Alcantara, many users were worried that the Surface Laptop would eventually get dirty and gross, and considering the keyboard base on the Laptop is non-removable, once it gets dirty there's nothing you can do about it.
Microsoft says that the Alcantara on the Surface Laptop is different from the Alcantara on the older Type Cover devices in that it is far more resistant to dirt. Despite this, many refuse to believe Microsoft's claims, saying that the Surface Laptop will suffer the same fate as the older Alcantara Type Covers. Well, it's been about a month since the Surface Laptop launched, and I've had several people asking me how my Surface Laptop has been holding up.
Now, a month isn't nearly enough time to make any concrete claims as to whether the Surface Laptop is resistant to dirt unlike the older Alcantara Type Covers, but it does give us a good idea as to how well the Surface Laptop is holding up thus far. A month in, and my Surface Laptop still looks brand new, as if it has never been touched. There's no dirt, grease marks, or stains on the Alcantara whatsoever. I'm yet to find anyone online complaining that their Surface Laptop is suffering from any discoloration too.
I'm using the Platinum Surface Laptop, as that was the only color available in the UK at the time. I think the platinum color looks fantastic, and I've had no issues or complaints with it so far. I've had no hardware issues or defects either, battery life is still superb, and the speakers are loud and clear. I've also not run into any hibernation issues, of which some Surface Pro users have been complaining about. It doesn't look like that issue is affecting the Surface Laptop, which is good.
Regarding Windows 10 S, I did, in fact, upgrade to Windows 10 Pro quite quickly, but not because I couldn't put up with Windows 10 S. As I've mentioned many times in the past, I do believe in Windows 10 S, but only on certain devices. I'd not be a happy camper if I were stuck with Windows 10 S on a desktop PC with a GTX 1080 and 32GBs RAM, but on devices that are low-spec, Windows 10 S makes plenty of sense.
I purchased the Surface Laptop as a replacement to my Surface Book, which I use to edit videos and other productive things. Unfortunately, the video editing programs I use are not in the Windows Store, so I was unable to continue using Windows 10 S. If I had purchased the Surface Laptop as a replacement to my Surface 3, or my HP Spectre x360, I'd have absolutely been able to put up with Windows 10 S on it.
The Laptop doesn't get all that hot under the base. I'd say the hottest it has ever got was "moderately warm," and was never uncomfortable on my lap. The fan is incredibly quiet, and it hardly ever comes on. When it does, it's there, and it is noticeable, but it isn't loud or distracting. I'm using the Intel Core i5 with 8GB RAM and 256GB Storage model.
One thing I have done is swapped out the Surface Laptop charger with my Surface Book one. The Surface Book charger is slightly more powerful than the one that comes bundled with the Laptop, which means the Laptop charges faster with the Surface Book charger. Something to keep in mind.
So, a month in using the Surface Laptop, and I love it. I haven't picked up my Surface Book since I started using the Surface Laptop, and that's the highest possible compliment I can give such a device. I haven't missed the ability to detach my screen because I never detached the screen on the Surface Book anyway. Of course, your opinion on whether the Surface Laptop is a viable Surface Book replacement may vary. But I am very happy.
If you've been using a Surface Laptop since launch, I'm curious as to what your experience has been like. Make sure you let me know in the comments!
Get the Windows Central Newsletter
All the latest news, reviews, and guides for Windows and Xbox diehards.
Zac Bowden is a Senior Editor at Windows Central. Bringing you exclusive coverage into the world of Windows on PCs, tablets, phones, and more. Also an avid collector of rare Microsoft prototype devices! Keep in touch on Twitter: @zacbowden.