OneDrive roadmap shows differential sync coming in Q2 2017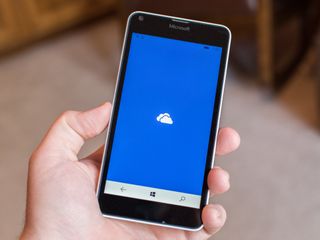 Differential sync, a feature that's been in the pipeline for some time, is slated to come to OneDrive this spring. In a recently updated OneDrive product roadmap reported by ZDNet, Microsoft pegs the feature for a Q2 2017 release.
For those unfamiliar with differential sync, it's a feature that would allow OneDrive to sync only the parts of files that have changed, rather than re-uploading the files in their entirety. The net result is that the app should use less bandwidth when syncing changes across devices.
The addition of differential sync has been in the plans for some time, thought the January update to the roadmap is the first time it has been given a firm release window. Other notable upcoming bits outlined by the roadmap include auto-tagging for photos, optical character recognition and whiteboard cleanup, and more.
Dan Thorp-Lancaster is the former Editor-in-Chief of Windows Central. He began working with Windows Central, Android Central, and iMore as a news writer in 2014 and is obsessed with tech of all sorts. You can follow Dan on Twitter @DthorpL and Instagram @heyitsdtl.
Me like. Me like very much.
Now ... How about those placeholders coming back?

I believe placeholders was the best feature of Windows.... It tops all the other great features of Windows in my opinion. I really hope it makes a come back in the Creators Update.

Strange that doesn't seem to be mentioned! However, differential sync in a world where we're approaching mass bandwidth limits is definitely a superb improvement.

Yes, these are all nice, but I too am waiting for placeholders.

the OneDrive uservoice mentions there'll be details at Build

I recommend using Odrive for a similar experience. It is a desktop app (and has a website too) that allows you to connect many different cloud services. You can see all of your files and they are only downloaded when you open them or choose to keep that folder offline.

Thanks for the suggestion, I will check it out.

Removing max path... Oh my! Itshappening.gif

Exactly! Should be the headline.

This is all good and well, but I don't see placeholder sync in the roadmap...

Still no placeholders... Can't do a full sync cause it won't even fit on all my drives together...

It's not as convenient as placeholders, but the OneDrive UWP app does let you browse all of your online-only files without having to go the the browser.

I have resorted to using OneDrive UWP to replace the placeholder function. I liked the placeholders because of the ability to see all my pictures without having them actually saved. The UWP app can do the same albeit its a little slow to load. The app caches all the thumbnails so it doesn't have to download the thumbnails every time.

There's other important things on that roadmap under governance - removing key restrictions so OneDrive files can be the same as local files. AND expiring sharing etc. Nice to see! On mobile, really want to see a 'tidy local' so the phone can remove local photos > say 6 months but still show those in the cloud.

Give me placeholders god damn it.

Many wonderful improvements coming... Excellent. File name and length restriction were slightly irritating. Bit level syncing brings all Dropbox features, and more (which it already had, of course)

How about context menus in MACOSX?

New things in the list so they can delay it !

OneDrive in W8 worked great (for me). OneDrive in W10 is ***** (again, for me). MS keeps mucking things up with what should be a very straight-forward service.

MS changed the name for placeholders last year, they say. quote from pcworld. It's official: OneDrive placeholders are coming back to Windows, but with a new name. Microsoft made the announcement on Monday during Ignite, the company's conference for IT professionals. The new feature will be called On-Demand Sync when it comes to Windows 10.
Stil i dont see that name on the roadmap

How about placeholders making a return and only downloading a file that you actually want to use.

I join the masses saying bring back placeholders. Wait a minute. Is it really bring back? Placeholders are there on Windows 10 Mobile. So is it really a question of sheer bloody minded arrogance on the part of Microsoft with their expressed belief that some users were too stupid to understand them? As for OneDrive UWP, it is rendered nearly useless by another bit of cussidness: One cannot send from Outlook desktop. Only Mail. Nor can one choose the file size. It is all as though the children at Redmond live in a playpen divorced from the real world of users.

Are you sure OneDrive UWP isn't listed at the very bottom of the left file picker panel? Under all your system drives it should show UWP apps that provide files and OneDrive UWP should be there?

Why placeholders is important when OneDrive UWP does the same job?

Because the UWP App is not very well integrated into the rest of the desktop experience. If you use Outlook instead of the very simple Mail App you can't attach files you have not synced. And there are many more examples.

How about LAN Sync? If not for Office 365, i would choose dropbox (i should)

What I've read about differential sync is that it does not work with compressed files. And since most of the files the average person stores in the cloud are compressed files media files, it would not actually save too much bandwidth. Movies (AVI, MP4, MOV), music (MP3), photos (JPG), scanned documents (PDF) are all file types that use compression. So this doesn't excite me too much, unless they can make it work with these sorts of files.

Need a way to limit the photos OneDrive searches for Photos and Videos. Uploaded my Music Library and had to delete it. All of my Album Art from my tracks were showing up in the Photos Tab (one Large version and one Small Version). With a big music library, that's thousands of images that should be there popping up, and it makes the Photos tab considerably laggier. Had a folder of language learning material with some Images and Videos, and they were showing up in the Photos tab and getting auto-tagged, among other things. Ended up having to turn the Tagging Off. They weren't even accurate, at all. I had to move all of my Language Learning materials to iCloud Drive to get it out of those views (which is extremely disruptive; as I'm constantly adding stuff, this doesn't allow it to get buried out of view), and I just stopped using OneDrive for photos/videos altogether. I need proper segregation of media types on OneDrive, like Apple and Google has (iCloud/Google Photos, Apple/Google Play Music, iCloud/Google Drive, iBooks/Google Play Books, etc.). This bad jambalaya of content they throw at you when you use OneDrive is not an efficient means of working. Nothing Microsoft has released makes any sense in practical use. It's extremely messy, and poorly implemented. 1TB space? Meh, who cares. I'll probably struggle to use more than 100MB as I only put word documents there at this point (and I'll probably move that to iCloud Drive at some point, since I use my mac or iPhone 90% of the time, anyways, compared to my Windows Notebook).

OneDrive worked much smoother in window 8 in my opinion, not sure what they changed for 10 the is much slower and not as Intuitive
Windows Central Newsletter
Thank you for signing up to Windows Central. You will receive a verification email shortly.
There was a problem. Please refresh the page and try again.