Should you use the OneDrive universal app or desktop client?
There are two different OneDrive apps — the universal app and the desktop client. Each has its pros and cons, but which should you use?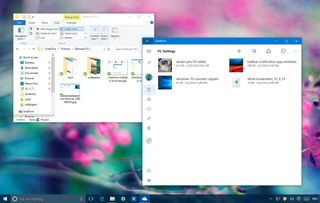 On Windows 10, the original OneDrive app was replaced for a sync engine integration very similar to the desktop client available in previous versions of the operating system. One of the problems with this approach was that it stripped out placeholders, a valuable feature that allowed users to access their files easily in the cloud without them taking up your precious local storage.
Recently, Microsoft launched a new Universal Windows Platform (UWP) app for OneDrive that works across devices and brings back some of the familiar features found in the mobile version, including a new approach to placeholders. However, the question remains whether the new Universal app is good enough to ditch desktop sync client.
Let's find out.
OneDrive desktop client
The desktop client is the default engine that Microsoft ships with Windows 10 and it allows you to sync OneDrive files to your PC.
On the desktop version of OneDrive, Microsoft introduced the concept of selective sync that forces you to select the folders you want to sync to your computer during the initial setup to make them available offline.
Of course, syncing those files to your computer means they'll take up space on your local storage, and you obviously can't sync more files than you have available space. But if you're without an internet connection (or stuck on a hideously slow one) you can still access those files because they're on your computer.
Here are the pros and cons for the desktop client:
Pros
Selective sync ensures that files and folders are always available offline.
Files automatically sync in the background.
Better bandwidth utilization as it doesn't require to re-download content when you re-open a file.
You can control the upload and download speeds.
You can connect your business account.
You can choose to save documents and pictures directly to OneDrive.
Works best for desktop and laptop users.
Cons
Requires an initial setup.
You have to select the specific content to sync to your computer.
Integration can't be removed from the operating system.
There aren't placeholders, which means that you can't view files that aren't synced to your computer.
No touch-friendly user interface.
Requires more hard drive space to store data offline.
You can't add multiple Microsoft Accounts.
OneDrive Universal App
The new OneDrive app has been built for Windows 10 with the same design language that follows the trend we see in the Store apps. In fact, the app looks and feels very similar to the mobile version, and its functionalities are very analogous to the web experience.
One of the major advantages of the Universal app is that it allows you to have access to all your files without having to use valuable hard drive space on your device -- something that people using tablets and devices with limited storage can appreciate.
However, the new app requires an active internet connection to access your files — there's no automatic local syncing to your computer. If you happen to be working on an Office document stored in the cloud and lose internet connectivity, you won't be able to continue to work if you close the file.
The same behavior is true for videos. You can open a video stored in the cloud, but the stream won't get save to your computer. Every time you want to watch the same video, the app will re-download the same bits all over again, wasting time and bandwidth.
With the OneDrive app, you can only download individual files manually for offline viewing, but they have to be saved locally on your computer. However, saving files to a different folder brings the problem of duplicate files, which defeats the purpose of having a central location to store your files to avoid this issue in the first place.
Perhaps where the OneDrive Universal app can really shine is on touch-enabled devices, such as on the Surface Pro 4 or Surface Book, as the touch-friendly user interface offers a simple way to navigate and access to your files in the cloud, something that can be rather uncomfortable using File Explorer.
Here are the pros and cons for the Universal app:
Pros
No initial setup is required.
Placeholder-like experience.
Touch-friendly user interface.
You can view all your files stored in the cloud.
You can download files for offline viewing.
You can connect multiple accounts, including another Microsoft Account or business account.
There isn't operating system integration, as such you can uninstall the app at any time.
It doesn't impact local storage.
Works best for mobile and devices with limited storage.
Cons
Requires a reliable internet connection all the time.
You can't sync files automatically.
You can't download folders.
You can't control the upload and download speeds.
You can create duplicate files as you make content available offline.
Download require every time you open a file consuming more bandwidth.
Large files can take a long time to download.
Which one should you use?
In either case, you need to download those files you want to have available offline, but it's likely to work better with the desktop version, as you must select the files that you want to sync during the initial setup.
If you choose the OneDrive Universal app, you also need to consider your internet connection speeds. If you're on a slow connection, it can quickly affect speeds performance, or when you're on a metered connection, depending on how you use the service, you will increase your chances of hitting your data cap.
People using tablets or 2-in-1 devices with limited storage are probably the ones able to take more advantage of the new OneDrive Universal Windows Platform (UWP) app, because of the ability to save some space on their hard drives, and the touch-friendly UI that makes much easier to navigate and work with files.
On the other hand, if you use a desktop PC or a laptop, you'll notice that many features are still missing in the Universal app. Also, there is a chance one day you'll forget to sync those files you need to complete your work, and there isn't an internet connection nearby -- something that isn't likely to happen with the desktop client. However, you can always use the new OneDrive app as a companion app as you can connect multiple accounts and view all your files stored in the cloud.
Wrapping things up
While both solutions aim to provide access to your files stored in the cloud, as you can see they offer different approaches trying to accomplish the same thing. But don't forget that the Universal app of OneDrive is still in its early days, even though it's out of beta. Microsoft has previously said that it will continue to work to improve the app with future updates.
What version of OneDrive do you prefer? Do you think the new OneDrive is headed in the right direction? Tell us in the comments below.
Get the Windows Central Newsletter
All the latest news, reviews, and guides for Windows and Xbox diehards.
Mauro Huculak is technical writer for WindowsCentral.com. His primary focus is to write comprehensive how-tos to help users get the most out of Windows 10 and its many related technologies. He has an IT background with professional certifications from Microsoft, Cisco, and CompTIA, and he's a recognized member of the Microsoft MVP community.
I think this is not an either/or situation. I regularly use both. I sync the folders I know I need to access on a regular basis and have the App to get at other files.

That was exactly what I was thinking about

Agreed not one or the other but both. The question is like asking if you should use word or notepad. They each have their uses but one won't replace the other.

Yes, exactly. UWP app does what used to require opening and navigating a browser. Posted from Windows Central for Windows 10

Since the app came out, I have been using both as well. Not as great as having placeholders in the desktop application, but I'm getting by.

"Both" is especially handy if you have more than 1 OneDrive account. For me this saves me from having to use a somewhat convoluted Sharing method to get at files. It doesn't completely eliminate it, because I want to sync some of the files in a secondary OneDrive account to my local drive, but it helps for folders with files I only need occasionally.

I prefer the desktop client because I really like using OneDrive as a save location in any app. And I really like not winding up with the duplicate file problem, especially across multiple devices. And even on my S3 with 64 GB RAM, storage is not a huge issue for me - an SD card helps with that. Though of course placeholders would be nice.

RAM? It's 2016, and peple still make that mistake.

Yeah. Most of us know that. Obviously he doesn't. Give him a break.

RAM isn't your computers storage :) storage and RAM are separate prices of hardware :) +640 on Windows10Mobile

no way i would use the app unless the funcitonality for offline files is added (and ideally also the option to control up/download speed). i hope the uwp app gets updated to the same feature-level as the integrated client and then just replaces it. this would make much more sense for people who use multiple different windows devices (unified experience) as well as for those who do not use onedrive at all as they could simply remove the app.

I can't find that article you guys did about two weeks ago about OneDrive. It looked like it had a solution for synching to removable media. Can someone link me to it. Thanks.

Change default location? You can find all our OneDrive coverage on our main OneDrive page.

Yeah that was it... I think it made mention of using a Usb stick or sd card, and search wasn't bringing it up, because I didn't use "change location" as a term. Thanks.

I use both. I have redirected my user profile folders and sync them on all my devices and I use the app to access other files that are not on my specific device.

your just like me i do the same thing. excet i stopped syncing music in way. I had found it messed up groove to much when syncing the grove pass music folder. so i keep grove seperate and what music i had before groove i keep in the onedrive music folder

I was excited about the app, but the desktop client app seems more secure since I have the actual files on my hard drive and the cloud.

I use both and I see the desktop client as a File Explorer feature rather than a full app. So, as they are making the UWP better I think they should ditch the One Drive client from the app list and changes its form to be a File Explorer feature integrated to the UWP app.
It is simple to use both ways and there is no way to combine both apps.
I use the client to have some folders synced that I need to use offline and also when I'm out and the UWP app to have access to all of my files in the cloud.

I tend to agree with you, but there are a lot of legacy applications that expand on end depend on the way the old file explorer works. Perhaps this is one of the things they talked about when they said that they were doing some work deeply into the OS in order to bring back placeholder like functionality. Personally I do believe they are working on replacing file explorer with a UWP alternative, but as I said, it would require a lot of rewiring under the hood. If and when they do that, then they need to simultaneously add background sync'ing to the OneDrive app of course.

I prefer the desktop client. It's so convenient. It appears along with my physical storage devices in the file explorer app. I hope that this feature is also rolled out to Windows smartphones wherein OneDrive will be integrated into File Explorer.

I sync everything on my laptop, so the desktop client works best for me.

There should not be a OneDrive app for Windows devices. It should be integrated with File Explorer of PC or Mobile. Apps are fine for other platforms, not Windows.

I just installed the app instead

Both are a very poor replacement fro the OneDrive from Win8.1. All MS has to do is put placeholders back in the "desktop" version as an option and their illogical reason for removing it disappears. I am still running Win 8.1 Pro on my S3 because of this. Load a legacy Windows program and see how well it can access an online file with the UWP OneDrive app. And before anyone says to map a network drive, that isn't a solution to the elegance and functionality of placeholders. Placeholders allowed on-the-fly offline syncing from any application. No reason to remove it.

With them seemingly standing by their decision to remove the Placeholders, I really wish they would explain the technical reasons why they removed it in the first place. Was it really that confusing to end users? I know plenty of people who use Windows devices but few OneDrive users that aren't tech savvy to even ask your average user if it was that confusing to them. Couldn't a good instruction video fix all of this?

The reasoning about some users getting confused about it is kind of weak, like it's more of a overall UX side that can be easier to improved than to actually make an entirely new engine. Example: If you try to open a placeholder file using the File Open window from Photoshop, then improve the client-side of OneDrive to auto-download that placeholder before executing the "open" command. They can also put cloud icon overlay on files and folders that are placeholder, giving more obvious indication that are not offline files. No! They just remove it altogether instead of actually fixing the problem. OneDrive app are nice, actually it's been also requested since Windows 10 initially doesn't have one when Windows 8.1 have, but people mostly want it because File Explorer isn't that usable for tablet use and a Modern/Universal app gives better experience for that form-factor. Now what Microsoft seem to want is if want Placeholder, use the app. If you want to work on files seamlessly as a file manager, then better use File Explorer. Unless you need basic file management task, then the app works fine, but it's no replacement to File Explorer on desktop, even the File Explorer app on W10M doesn't cut it. One of the reason why Placeholder make sense is when you have a terabyte or more subscription, seriously not many people want to sync and download everything from that big. Even on desktops, downloading a terabyte of cloud storage is too much, not to mention that the rest of the world doesn't have good internet even they want to, even US said to be doesn't have the best internet either.

Using user confusion as reason for removing the placeholders is pretty weak. They easily could have just changed the icons for placeholders to be a Onedrive Icon with a doc or a picture overlayed to make it visible different from a document or picture stored locally. Posted from Windows Central for Windows 10

Agree, in fact the move away from the placeholders in 8.1 definitely promoted on board storage over cloud storage. I can not see a reason for not doing exactly as you've requested.

I am using a windows phone and surface. Why don't I delete file photo on OneDrive? When I delete on phone or computer then they return.

Both are pretty bad, almost crap. Better use Dropbox, they have all the good stuff (speed, placeholders, a functional, not crappy syncing system).

onedrive sync is not functional? What are you smoking?

During the time I was using the paid version of Onedrive which included all of the productivity apps like Word the projects that I was working on...Constantly suffered from version conflicts due to failing to sync work from either my Word App on my Phone or Word on my PC. It was ridiculous and scared me because I lost some work as a result of it. I had to return to Google Drive as that is a cloud service with productivity apps which hasn't failed me. You may have not experienced any issues but that doesn't mean other users have not.

Sounds like OneDrive for Business, which is a separate piece of software with the same name and more 'issues'.

I prefer neither, I want a versatile seamless solution that does it all.

If the universal app onedrive transform your files offline, such as a desktop onedrive, will be acceptable

Haven't looked at the program since the app came out and to be honest I had almost stopped using OneDrive since upgrading to 10, just glad to have it back.

desktop client was a step backwards if you had a small hard drive, the app just brings us back to window 8 when are we going to to see improvements over window 8 or as i like to call the new os windows 8.2

If the placeholder is included in the desktop app then I won't use the universal app.

Have you tried odrive? Combines many different cloud services (including OneDrive), and has placeholders.

Odrive has a poor implementation of placeholders. They use their own extension so a word file is not recognized as a word file. The same is true for the other types of file. Because of the extension not matching the type then you can't double click a file to open it.

i have the app, its better than via browser, but i prefer to use onedrive client, in my file explorer, unfortunately its not so good as it was in W8.1, because i have a 120g SSD and it can't storage all my cloud... removing placeholders was a bad decision and almost killed onedrive for me, don't use it too much anymore... i just can't understand the reason to remove this feature, at least they should give us an option to enable/disable the feature

Placeholders is still the best solution they came up with. But MS prefers to aim to please those less fortunate in the head department. If I use a cloud I know that not all files are necessarily locally on my disk, that's the whole point, but I still want to see what they are. The app will do that, but the manual sync is the awkward part. They are just being stubborn at MS.

Desktop version for me even on my sp4. Sometimes I need to access my files really fast so I can't wait for downloads even if it's just an image file.

I use both, MS need to combine the 2 funtionality.

I use both,but I want to use only app on my tablet but I am unable to download the app on my tablet, of course tablet is on windows 10

Can I use both and use separate accounts? I.e. Account 1 with the desktop app and account 2 with the universal app?

Yes, you can. You just need to sign in with different accounts during initial setup and you will be using both separate accounts. You may also add both accounts in the app (not sure for the desktop client though), open the windows hamburger menu from left, go to account settings and tap on Add Account.

Get it to the point where OneDrive can replace file explorer d sync everything from apps, files, and virtually everything just for signing into your account

The correct choice for me is the desktop client mixed with using the web version. The onedrive website actually shows previews of adobe photoshop and illustrator files. That's something windows explorer or the onedrive app cannot do.

But OneDrive on Win 8.1 did all that right in file explorer! Why remove the feature because of the claim that people were confused by it?

Since the desktop client is literally built into Windows 10 I use that a million times more then the Windows 10 App store app.

Both, since I don't want some files taking up space on my drive, unless they bring the place holders back

The truth is, we shouldn't have to chose. Onedrive shouldn't be a separate app coupled with some system integration. Everything should be integrated in the system, all supporting the same features, and using the file explorer or the universal app should be only a matter of UI choice, kinda like it was on win8.1. Too bad Ms seems completely out of touch with onedrive on Win10 and keep getting backwards instead of actively improving it.

Lately I have been using the Universal App because it seems faster to access files rather than digging into Explorer. I still go back to the desktop version from time to time.

I mostly use the desktop version. But I'm like'in what I'm seeing from the universal app.

ONEDRIVE DESKTOP OPTIONS
___ Use Placeholders (yes or no) Problem solved. I relied on placeholders so much. I don't see why they FRICKEN CAN'T JUST GIVE US A DAMN CHECKBOX TO TURN IT ON OR OFF!!! Leave it off by default for the idiots, let the advanced users turn it on. Using a stupid UWP app is NOT a replacement for placeholders. You cannot directly open an offline file in any program. You gotta open app, fine file, download file locally, start program, open file, find downloaded file, click open.

Adobe programs didn't work well with placeholders.

I only use the desktop client on my devies.

I still prefer uwp app... Because i don't want to download all my files in sync.

To a non techie, it look very much a MS stuff up.

they should make the one Drive UWP app more like the DropBox UWP app which do support offline cache, and you can choose which file download for offline use both Phone or PC.

I didn't see any of them talk about security. Most files or some that I upload to OneDrive are private. So i wouldn't like someone access my computer if its open just click on the OneDrive tab and there they go, everything. I still don't know if the universal app has a feature to set up a passcode. But if they both did and also based on both pros & cons I'd go for the desktop client.

You have a point.. Security is something no one talked about and both of them lack it...

I own a Windows Phone (L640) and seen how much it syncs with my Windows 10 laptop, tablet and printers. I would certainly welcome the UWP, if that promises a better syncing between these devices, while all my devices being touch devices, apps are much better! By the way, I use the Windows Central app on both windows and WP devices, its better than the browser experience.

The ideea of not having to sync folders it suits me well. I don't need files duplicated accross all pc's. One place (the cloud) is enough, and from their, i take what i want. Maybe for some their is a problem with internet. Well, where i live, their is almost imposible not to have internet. So i see no issue in claud data and streem instead of saving the files in all devices. I pretty much hated this from the beginning, but sadly as you also say, you can't uninstall the normal program to be able to use just the universal one.

If you set the desktop client to don't sync anything, and disable it from starting with Windows, it's just like it wasn't there. So why would you uninstall it? :D Posted with the Windows Central app for Windows 10 on Lumia 535

I really hope they actually merge the 2 together, I love the idea of both and see a place for both. I'd love to see the UWP app become the single and only "Front end" to the Sync client. Adding accounts to windows should automatically add those accounts to UWP app. Remove all Sync client functionality from settings area (selective folder sync, business account, bandwidth control) and add those to the UWP app. Take more of the functionality from the web and add into UWP app as well (ie, Storage Management, Backup management etc) So essentially you end up with a UWP app that has a Sync engine behind the scenes which all ties into Windows accounts, file explorer, default apps etc whilst maintaining a true 1 to rule them all UWP app across all windows devices.

I think people should use both. The desktop client for the folders you want to sync, and the UWP app to view all the others.
I only use the desktop client, because my laptop has a 300 gb HDD, and I only have 15+15 gb OneDrive storage. But I'll get a Chuwi Hi10 tablet shortly, and it only has 64 gb internal storage, so on that device, I will mainly use the UWP app, and sync only once specific folder for the files I need offline too badly, and the photos folder, because I want my photos on all of my devices :D

Just drag and drop into file explorer.

I just use the desktop. Once I upgraded to the 1TB option with my office 365 sub, and moved my Onedrive folder to a new 3TB HDD, all of my storage issues went away. I keep the whole thing synced. The Onedrive app for my iOS devices works flawlessly!

I always wondered why MS designed the desktop version with so much non-usefulness built in. Only Microsoft.

Will use both as per convergence convenience :) i have a 2 in one tab, desktop and a laptop. Having both versions will be a good idea on tabs.

Both, also using a browser gives access to all files, useful on public computers.

The app is painfully slow. Anyone else have the same problem? Also, when editing photos it would be great to have the option to "save a copy" in the same folder as the original.

Well first let me say that it's disappointing they each have such strong weaknesses. You'd think those things would be more patched up by now. That said, unless there's some reason not given in the article for why this would be a really bad idea, then with as opposite as their strengths and weaknesses are, then why not just use both? With selective sync on the desktop side, you can sync certain smaller folders of vital stuff, and then use the UWA to remotely peruse the other stuff. Or, if you've got a device with more storage, then sync more of it. In my case, I've got 320 some GB of stuff I want to put on the cloud, and send to several devices: two of them are desktops with 2.12 - 4.25 TB of storage between their combined respective boot SSDs, and data HDDs, so I wouldn't even need the OneDrive UWA for them.....except for the nasty fact that we have a monthly data cap of like 300GB on our Internet, and I'd blow it all on upload let alone download syncs. The other devices have limited storage, 64GB for the three most important ones, and even less for the others. So, for those, my interwebz constraints do not matter. I'd still only be able to actively sync very little, and thus, rely very heavily on the UWA. But again, while there indeed are a few cases where you could just get by with desktop OneDrive, and while there indeed are a few cases so constrained that you shouldn't even bother with the desktop client, I think the answer for 95% of us - until MS fixes one or both of them, that is - is just to use both in tandem - unless there's some "big ugly" that comes from trying to do that that I'm not aware of.

I use the UWP version on my tablet, and the desktop version on my laptop, desktop (devices I usually use with a mouse).

I usually use the browser interface. The two things that matter most to me are folder upload/download, and the ability to see files I don't have stored locally. Offline access doesn't matter to me at all. So while far from perfect, browser-based access comes closest to what I want. I think the UWP version has the best chance of eventually becoming the best choice for me.

I use both, it's like driving a hybrid car. When have internet connection, I use UWP app and when offline I use desktop as files I need off-line most of the time are saved on synced folders. Using both, you get the best like a hybrid car. Use electricity when there is charging points.