OneNote Staff Notebook allows staff members to easily collaborate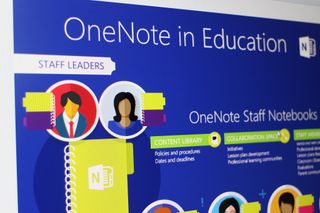 After launching a tool that allowed educators to digitally distribute course content to students last year, Microsoft is now launching a utility called OneNote Staff Notebook for Education to "cultivate and manage educator collaboration at the district and school level."
The tool, which works in a similar way as the OneNote Class Notebook, lets staff leaders such as principals, administrators or teaching heads create personalized workspaces and share them with fellow staff members. The shared workspaces can then be used to organize and track staff meetings, plan school-wide initiatives, chart student progress, create lesson plans and more. The service syncs via Office 365 or SharePoint 2013, with shared content accessible to members across all platforms on which OneNote is available.
Microsoft has launched guides through which staff leaders can take full advantage of OneNote Staff Notebook. There are also guides tailored for teachers that highlight how educators can get the most out of OneNote.
For those not in the education sector looking for similar integration, Microsoft has announced that it is working on bringing a business-oriented version of the OneNote Staff Notebook in the coming months.
Source: Office Blogs (opens in new tab)
It also useful for organization too..

Technically, a school is an organization.

Is the one note class ek ek paid or free?

Since you need an Office 365 subscription it's technically not free. The app itself is free but only for subscribers

It's be lunacy not to have an Office 365 subscription though. :-)

Thanks WC, you already put me in my boss's awesome book with that Office365 post yesterday, keep the education love going!

Whats the added value of this notebook, compared to a onenote notebook in general? Doesn't a "default" notebook generally do the same? Isnt this just another notebook in onenote with a fancy name?

I find OneNote overall performance a bit lacking like loading, editing, etc. And why is there no undo function in the mobile app?

We will probably have to wait for Windows 10/Office 2016 to get it. Or maybe if your phone is supported for Windows 10 preview, you can get it earlier

Looking forward to the business edition

OneNote is one of the best softwares out there

Love OneNote! And although no longer in the school system, 15 years there tells me it would be well worth the investment of time for a staff to get up to speed on using this resource!

Which is why most schools in Denmark have been using the Google ecosystem for years now. MS needs to excel in this field

one note is amazing!!! very useful!

Looking forward to the business version; I've bee responsible for getting four teams at work using it via Sharepoint and once people grok it, they love ❤ it.
Windows Central Newsletter
Thank you for signing up to Windows Central. You will receive a verification email shortly.
There was a problem. Please refresh the page and try again.