You can now order the Lumia 2520 through Verizon, price starts at $399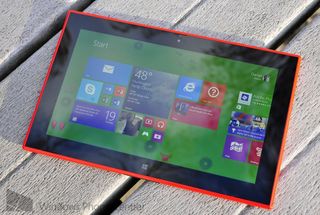 Today's the day. You can pick up the Nokia Lumia 2520 from Verizon, while AT&T customers get theirs tomorrow. In fact, you can now order the Lumia 2520 on Verizon's website. Pricing starts at $399.99 and goes up. Details on how you can get your paws on the newest tablet from Nokia below.
Head to Verizon Wireless and you'll see the Lumia 2520 waiting for you. The tablet with a beautiful 10.1-inch 1080p display can be had for $399.99 on a two-year contract or $499.99 off-contract. The tablet comes in black and red for Verizon customers. It is running Windows RT 8.1 and comes with 4G LTE connectivity on-board. A Qualcomm Snapdragon 800 processor (quad-core) help power you through tasks, while the battery clocks in at 8000 mAh to give you a charge for the day.
Thinking of picking up the Lumia 2520? Check our review before you do and let us know what you think.
Source: Verizon (opens in new tab)
Thanks for the tip Blake J!
Get the Windows Central Newsletter
All the latest news, reviews, and guides for Windows and Xbox diehards.
That's good news but would you rather order this or wait in line at Best Buy to hopefully get the Surface for $200?

Well, the 2520 is a way better tablet than the Surface RT, so I'd go with the Lumia, or the Surface 2.

Same here! I'm getting the 11 Pro! If the Lumia had one of the newest bay trail processors I would have considered it.

Guess its region restricted.

Umm for 2 yrs contract that subsidized price does not look that attractive.

Was surprised about that as well... The unsubsidized price is actually really well... Given that, it should be more like $299, which I suspect will come early January.

Given that you'll be paying nearly $100/ month, for 2 yrs, on contract, the subsidized price on the tablet should be closer to *$99*. It's a huge rip-off.

All I have to say is Xbox One release party! BOSTON lets get it!

For $100 extra why would anyone bother with a contract?

To save $100 probably. Just guessing.

Except a 2 year contract would be at least $50/month? So it would cost 50 * 24 = $1,200. So it costs them an additional $1,100 to "save" a $100". For mobile phones the RRP is usually $600-700, and the on-contract price is $100-200 so it's much more of a saving (still more expensive IMO, but that's beside the point). $100 vs $500-600 saving is a huge difference.

Actually Tablet data plans start at $40/4GB vs $80/500 MB for phones. So the subsidy isn't as bad as it seems. I don't think it's a great deal, but if you are going to lock in anyway it's still a savings.

Unless you have the mobile data share plan then its 10$ to add a tablet and you just use your data you already have

Yeah, but would that require a re-up the share plan? And how would that affect your next phone upgrade? I have no idea how that would work.

Aside from it not being available where I am, the no WiFi and being stuck on a data plan is a complete deal breaker. Too bad, I like Nokia's products. Would be about the only time I'd consider an RT device.


He means, a 'wifi only' version not being available.

No... I don't think he understands. He wouldn't be "stuck to a data plan" to use it. You can use it as just a wifi device.

I should have worded it better, but yes, I meant WiFi only.

I'm going to get one for my mom but off contract. She can add the LTE later.

but of course no mention at all of the Verizon Nokia Lumia 929. Verizon has time to test an LTE tablet but not an LTE phone? Both the 2520 and 929 should have been out bundled together on sale, just in time for the holidays. But no, Verizon can't never get their act together when it comes to Windows.

Be grateful Verizon offers either. WP and RT are not exactly huge sellers.

Ugh. I ordered a Red Verizon one from the Microsoft Store when it was put up early and then taken down. My order still says In Process Release Date 11/17/13.

So I watched your review last night. U said the red one is only available with Verizon? Att black one only?

A $400 carrier locked tablet with a data plan? Yeah, but....NO.


I thought daniel fired sam xD

What bands is it missing? While I do want it in red very badly, I am afraid that this coupled with the fact that VzW is having LTE problems in major cities would make things annoying. I am also an at&t customer so at the end of the day it might not be worth it to get a separate plan on VzW just for the tablet in red

Does anyone know if bestbuy will have this?

While I prefer the better screen and little faster SoC, I changed my mind after Daniel's review. And I'll opt for another Surface 2. Plus, I keep getting burned by first Gen products. After the MS/Nokia deal, I wonder if we will see these fizzle out to Surface products.

I was curious about that, too.

I bought mine. Its a wonderful machine. A true tablet, not a bulky weird Surface.