Ori and the Blind Forest: Definitive Edition now live in the Windows Store for $19.99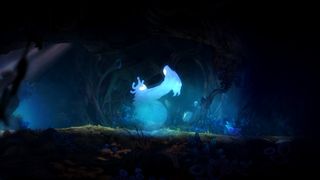 As promised, Microsoft has launched Ori and the Blind Forest: Definitive Edition in the Windows Store for Windows 10 on the PC. The new version of the acclaimed platformer that first launched on the Xbox One is priced at $19.99 (opens in new tab).
The Definitive Edition adds two new environments and new powers, along with additional difficulty modes, backtracking support and more extras. It also has all of the content of the original Ori and the Blind Forest. Here's a quick description:
Non-Windows 10 PC gamers can also get Ori and the Blind Forest: Definitive Edition via Steam for the same price.
Download Ori and the Blind Forest: Definitive Edition from the Windows Store (opens in new tab) ($19.99)
Has anyone tried to run this on a Surface Pro 3? (I haven't checked the minimum specs yet)

I ran it on a Surface Pro 4 (i7, 8GB) and it runs. What are your Surface Pro 3 specs?

having a blast with this game. Couldn't think why I liked it so much then I realized it's basically Metroid with better skins. I wonder if ori will turn out to be a girl...

How is the performance? Posted from Windows Central for Windows 10

No discounts or offers for owners of the Xbox One edition? :( Well, it's still one of the best--and most difficult--games I have ever played.

Another missed opportunity by Microsoft to unify Xbox gaming across consoles and computers. It is frustrating watching their missteps. They spend a year hyping up the "future of Xbox" as cross-buy, cross-play, cross-save across devices, and only one of their recently published Windows 10 Xbox games (Killer Instinct) features cross-buy. They didn't do it for Gears of War: Ultimate, they didn't do it for Quantum Break (note: a pre-order bonus is not the same thing as cross-buy), and they didn't do it for Ori and the Blind Forest. They're off to a pathetic start. At the very least, people who own the Xbox One's original version, and are therefore eligible for a $5 upgrade to the definitive edition on Xbox One should get that same discount on Windows 10 too. Having said all of that, Ori and the Blind Forest is probably the greatest 2D puzzle platformer of all time, and if you like the genre, it's a must-buy.

I completely understand your frustration and I honestly would love cross-buy. But compared with PlayStation, Xbox is still a step ahead by offerening cross-save and even cross-play lately between PC games and Xbox games. Their UWP-platform is essential for this functionality and is (to be honest) still in a rather early phase. I might expect that things will start to evolve now.

If you like platform type games with a good story, this is one game YOU MUST OWN. It is really well done, looks awesome and music is pretty epic the game as well. I love platform games time to time and this is one of best I have ever played. I have it for the Xbox one..

Anyone ever played this game with mouse and keyboard? Or should I really get a controller?

I use mouse and kb. I honestly can't imagine how people manage this game with a controller. Sent from Narnia

I honestly can't imagine how people manage this game without a controller. To each his own, I guess.

Yes, I didn't say people *shouldn't*. I merely said that I wouldn't be able to manage it.

Oops, misread your comment :P. How on earth do you get precise enough with a controller!? Serious question. Sent from Narnia

Good to know that it plays nice with mouse and keyboard. Thank you!

One thing to watch out for: I've had the keyboard lock up several times (either wouldn't move or got stuck doing one action over and over). Though I *am* running the latest build of Windows, and I currently don't have *any* games without issues :/. So it may just be me. Sent from Narnia

Thanks for the heads up. Meanwhile, I already bought the game and had no problems so far. (except for the annoying mouse cursor that doesn't disappear in-game when you play mouse/keyboard. Maybe it has a functional use, don't know. Still have to discover it then. :)

Haha no, that's just how the game is made (original was that way, too.) Sent from Narnia

Is there any reason to buy this over the Steam version?

Lots. 1. not supporting the Steam monopoly, 2. helping to grow the Windows 10 Store, 3. easier installations and uninstallations, 4. Xbox achievements, 5. cross-save with the Xbox One version, 6. putting more money in Microsoft's coffers instead of Valve's, which will lead to more games like this from Microsoft Studios, 7. Steam sucks.

As far as features, they appear to be the same. Not sure if they perform the same but most likely they do. The Windows 10 version doesn't support touch screens so if you intend to play on a tablet, you will still need a kb&m/controller. I would say get the Windows 10 version if you care about Xbox achievements or own it on Xb1 and want cross-save. Get the Steam version if you own the original on Steam as it will be $5. If you don't own the original and decide to go with the Steam version and are unsure if you want to pay $20, I would wait for the summer sale which usually starts mid June.

Cheers. Achievements might actually be the tipping point.
Windows Central Newsletter
Get the best of Windows Central in in your inbox, every day!
Thank you for signing up to Windows Central. You will receive a verification email shortly.
There was a problem. Please refresh the page and try again.