Ori and the Will of the Wisps launches on Xbox Game Pass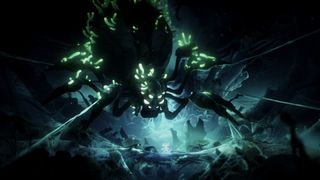 (Image credit: Windows Central)
What you need to know
Ori and the Will of the Wisps is an action platformer for Xbox One and PC .
The game is part of Xbox Game Pass.
The title runs at 4K resolution and 60 frames per second on Xbox One X.
You can purchase Ori and the Will of the Wisps through Amazon

(opens in new tab)

.
A few months ago, many gamers woke up to a pleasant surprise. Ori and the Will of the Wisps, the sequel to Ori and the Blind Forest, was available for digital preorder on the Microsoft Store. The game costs just $30 and is already here. It launched this morning. The title is an action-platformer that continues the story of the mythical creature and answers many longstanding questions.
In Windows Central's review, Jez Corden wrote, "Despite the issues I had with the engine, Will of the Wisps is still an incredible achievement that will stand the test of time in the years to come. From the art and music, to the ecstasy-inducing gameplay, to the gorgeous character designs and emotional story delivery, Ori and the Will of the Wisps is a study in excellence from cover to cover, save for a few easily-patched rough edges."
Ori and the Will of the Wisps is part of Xbox Game Pass so you don't need to purchase it separately. Let us know what you think about the game. It's available on Xbox One and PC.
Collectible
(opens in new tab)
Ori and the Will of the Wisps: Collector's Edition
Limited quantities

Ori and the Will of the Wisps: Collector's Edition includes the game disc, the art of Ori and the Will of the Wisps book, the piano collections soundtrack, iconic Golden feather SteelBook case, and original soundtrack download.
He's back
(opens in new tab)
Ori and the Will of the Wisps
A new adventure

From the creators of Ori and the Blind Forest comes the highly-anticipated sequel, Ori and the Will of the Wisps. Embark on an all-new adventure in a vast and exotic world.
Asher Madan handles gaming news for Windows Central. Before joining Windows Central in 2017, Asher worked for a number of different gaming outlets. He has a background in medical science and is passionate about all forms of entertainment, cooking, and antiquing.
I'm eccstatic. I'm gonna set aside time to play this. The first one was a GEM. Pretty underrated.

We're the performance issues resolved in the day 1 patch?

I listened to ACG's review yesterday and my understanding is yes, patch has resolved performance issues on console.

Only 1 hour in and I love the mix of Ori and Hollow Knight!

Absolutely amazing. One of the few ganes that actually deserves a perfect score. 10/10. Best visuals this generation.
Best music score this generation.
Best animation this generation.
Emotional and challenging. I've played about 4 hours now. Not encountered any hugs whatsoever and saves have been perfect so far everytime. If only all games had this level of mastery put into them. The absolute pinnacle. Of 2d Platforming so far in videogames. Wow.

I'm now about 8 hours or so in. I'm suprised you are not seeing any performance issues. Many times I have seen significant frame rate drops and freezes. Just about every time I use the map it takes about 3 seconds to load off the black screen. The most frustrating one yet is where I will die and it looks like the game crashed, but 15 seconds later it starts off the checkpoint this fortunately has only happened twice. Currently playing on an external SSD, I think I will try the internal to see if it improves. Other than the performance issues, you are absolutely correct. This game is great.

No nothing at all. There was a patch right before midnight release. Not sure if that helped. But loads of people reporting they have had 0 issues. In fact I had more bugs with the first game in my first few hours than I have with Ori 2. I've not had a single issue. Fingers crossed it stays that way.

Finished Definitive Edition tonight, so from tomorrow I'll be playing WotW, and have all weekend to finish it. Can't wait.

You won't be disappointed. It really is a game that has had 4 years of absolute love poured into it. I haven't finished it yet. About 5 hours in. But it's already in with a big shout of being my favourite game this generation. It's presentation levels are out of this world. Visuals and sound are unbelievable.

Yep, it's got some quirks but it's everything I love; Metroid style area progression and exceptional 2D platforming goodness.

Started playing tonight, I'm up to the wellspring and while the game does look and sound ridiculously good, I am noticing the issues, there is jerkiness when the slig things that pop out of the ground shoot their beans and I've also noticed the slowdown on losing the map (and had a couple of freezes during screen transitions). It's not end of the world stuff but it's enough to make me not give the game a perfect score currently (I'd put it around an 85 the jerkiness affects the platforming). It's been a long time since I played the original Blind Forest release, but the Definitive Edition definitely didn't have any bugs or issues that I came across. But apart from those minor gripes it's more of the same, although I actually dislike the new save system, (I really liked the original game's way of doing it) but not enough to affect my enjoyment and I also miss the spirit flame just because of the extra reach out had but the wealth of different skills and abilities now more than makes up for it. Side note, don't go straight from Blind Forest to WotW, the button change for Bash will have you landing on spikes a lot, if you're anything like me that is.

As an aside, while I'm sure it hits it sometimes, saying this game is 60 frames on the One X isn't overly accurate, there is a fair bit of slow down when there is a lot happening on screen, hell it just dropped clearly below 30 frames while I was traversing through that segment.

I have just reached Wellspring myself. I have literally not had any of the issues some of you are having. I'm playing on a One X. I've had not framerate chugging at all. No frame pauses, just absolutely nothing. I can't understand why. But it's been absolutely rock solid the whole 7 hours so far. The only thing I had was on my last play, As soon as my game loaded up, I got kicked to the dashboard. That's the only bug I've encountered. Gameplay has been smooth as butter.

My experience has been on a X1X as well. It may have gotten slightly better after moving the game to the internal hard drive. Hopefully I won't end up getting the save bug on top of this. I'm 15 hours in, but I'm going slow. Kind of stuck trying to get to the Luma Pools.

Ah, I'm also installed on an external, I'll move it across to the internal now and see if that fixes things.

You can buy the cheapest poe items at MMOAH
Windows Central Newsletter
Thank you for signing up to Windows Central. You will receive a verification email shortly.
There was a problem. Please refresh the page and try again.