Original Xbox game Voodoo Vince is coming back to Xbox One and Windows 10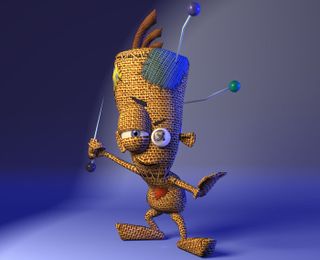 Voodoo Vince: Remastered, a graphically upgraded version of the odd puzzle-platformer game made for the original Xbox in 2003, is coming to the Xbox One, along with Windows 10 PCs, in early 2017.
The original Voodoo Vince game for the Xbox was developed by Beep Industries and published by Microsoft. The player controlled Vince, an animated burlap voodoo doll who had the ability to take out enemies by hurting himself. Now the game's original creator, Clayton Kauzlaric, is developing the remastered version of Voodoo Vince via his new studio Beep Games. Here's a quick look at its features:
Join Vince on a wild tear through crawfish-laden swamps, haunted graveyards, and the eccentric French Quarter in search of his missing keeper, Madam Charmaine. Show enemies who's really boss with 30+ voodoo attacks involving falling safes, prickly pushpins, bolts of lightning, and more. Vince may get his butt kicked, but his opponents feel the pain!
Classic puzzle platforming gameplay that has been preserved exactly as it was in the original
Gorgeous high-def visuals: 1080p resolution with 16:9 aspect ratio and updated rendering and visual effects
60 fps gameplay -- Voodoo Vince plays like butter!
Select soundtrack updates and remixes by the game's original composer, Steve Kirk
Xbox LIVE integration and achievements
Rumble/haptic feedback
Loads of Snark-ariffic™, sarcastic humor
There's no word yet on if Voodoo Vince: Remastered will support cross-buy for the Xbox One and Windows 10 via the Xbox Play Anywhere Program.
Windows Central Newsletter
Get the best of Windows Central in in your inbox, every day!
Is this game any good? I remember this game, but never bought it because Halo was too awesome to play anything else... Posted with the Nexus 6, Nexus 5, or Surface Pro 3

It was silly, but I found it to be fun. Not sure if I would play again, but I enjoyed it the first time.

It was probably the best 3D platformer released on the Original Xbox. One of the best for that generation of consoles, even.

I have been waiting for this for years, great action platformer that is a huge part of my childhood, so glad this is happening. So exited.

Never played this game back in the day but it has always been on my watch list. I'm glad this game is getting a new lease in life and this time I hope it does better. I'll be sure to play it when it comes out.

Blinx, do Blinx!
Also, make a good sequel to Brute Force.
Rallisport Challenge.
Mech Assault.
Amped.

RalliSport died when ***** EA bought them. I want mechassault and also midtöwn madness.

For sure MechAssault, but also Crimson Skies. Loved that game!

Crimson Skies was my jam. Best I have ever been at an online video game. Ranked in the top 100 but thay may have been because there were about 25 people playing it as well.

Brute Force was amazing! I miss that game.

So Xbox One is double cross compatible from the original Xbox and Xbox 360. Lol

Really liked this game back in the day. Hope a propper sequel fallows.

Everyone has 1 favorite game ,the 1st game he played.The game who introduce him in the game community.
The backward capability or the remaster version bring these memories back for many gamers out there.
Except me.
Turok will never come back
This master piece will hunt me in my dreams for many years.
I have a beautiful dream.One day I will be able to play this game in FHD graphics...
Perhaps I will wait,Perhaps I will buy the Xbox (original) or try to find my old console,Perhaps I will try the game for the PC version with a controller,Perhaps,Perhaps,Perhaps...

Liked for the Cake reference.

You think that's a Cake reference? Wow, you're young... That song's almost fifty years older than that... https://en.wikipedia.org/wiki/QuizA1s,_QuizA1s,_QuizA1s

I bet Phil had a hand in greenlighting this. Update from his Twitter:
"I can't take credit, it's Clayton doing to work, let's just say I've been a strong supporter internally to make sure it happens."

O ya, gun ara rẹ l'ọbẹ...

YES! I never thought I would see the day. I often commented on it, requested it, but never dared hope anyone was listening.

I'm pretty sure Microsoft owns this IP. Ergo, if it isn't a PlayAnywhere title, that is not acceptable. Microsoft should also retroactively make their other released games PlayAnywhere, like Ori and the Blind Forest: DE and Gears of War: UE.

Will this be a download only or will it have a physical disc as well?

Fantastic! Voodoo Vince had an original concept and fun gameplay. I think my daughter would love it, so it's nice that she will get a chance to play it on our Xbox One. Like people have said above, there are so many other original Xbox games that I would love to see make a comeback.

So happy for this announcement! Played this in my early 20s and got sucked in by it's great music and fun gameplay. I always regretted selling my Xbox and this game. I bought an original Xbox and this game just this summer thinking this was a pipe dream at best. I hope to have a play through with my son in the future!

I really enjoyed this game. Was kind of hoping this was a new game announcement, not just another remaster. Will probably still play it anyhow.

I've been waiting to buy this game since release. I can finally get it. Hell yes.

Yes! Phantom Dust and now this one. Really loving these old school releases for the Xbox.
Windows Central Newsletter
Thank you for signing up to Windows Central. You will receive a verification email shortly.
There was a problem. Please refresh the page and try again.