Outlook.com turns a year old - will give away prizes today to celebrate the occasion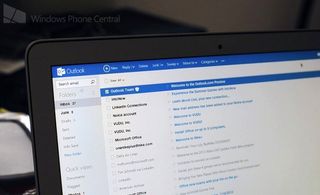 Microsoft purchased its first email service, Hotmail, almost seventeen years ago from founders Sabeer Bhatia and Jack Smith. After a $400 million, exchange and effort to move the service from a Linux based operating system to Windows 2000 – MSN Hotmail, as we knew it was born.
Now in the year 2014, a year after Outlook.com took over the reins and stepped down from its "preview" state to replace MSN Hotmail – Microsoft is ready to celebrate and look back at what the product has brought to consumers around the globe. Moreover, do not have any doubts, Microsoft considers Outlook.com as "the best email choice for people around the world" and the service's 420 million active users helps to support that claim.
The beta version of Microsoft's Outlook web email service was introduced on July 21, 2012 and was made available to anyone who wished to take part. In February of 2013, the product was officially crowned as ready and left the status of "public beta" behind.
Microsoft not only launched the service, but also played a large part in getting their existing Hotmail users to move to the newly redesigned Outlook.com. As of April 3, 2013, Hotmail users atomically received an Outlook.com alias and had their accounts shifted; users were still able to receive mail at Live.com and Hotmail.com, but their default account alias become associated with Outlook.com.
According to Shwetha Nagaraj, a Program Manager on Outlook.com, customer studies are always being performed to enhance the web mail experience. The Principal Program Manger Lead for Outlook.com, David Dennis, even outlined a story when the service first launched – customers wanted more colors within the web's interface and the team quickly responded with a "whole new color palette".
In addition, who says that the Outlook.com team is not fun? Almost six months ago, the team decided to announce one of their major changes, the addition of IMAP, in a Reddit AMA.
If you are a big fan of Microsoft's Outlook.com, make sure to wish them Happy Birthday on Twitter with the hashtag, "#OutlookTurnsOne", and you might be in for a surprise. The team states that they will be "randomly selecting participants throughout the day to receive Outlook.com celebration packages."
Are you an Outlook.com user – how are you enjoying the experience?
Source: Microsoft
Get the Windows Central Newsletter
All the latest news, reviews, and guides for Windows and Xbox diehards.