Outlook vs. Windows Mail: Which email client is right for you?
Windows Mail is the free app bundled with the OS that is ideal for those who use email sparingly, but Outlook is the solution for anyone who's serious about electronic messaging.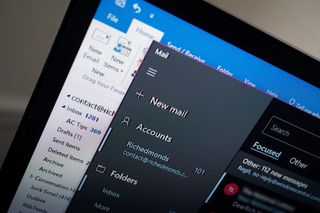 (Image credit: Windows Central)
A fresh install of Windows 10 offers a number of software solutions, including one for email and calendar. Windows Mail is one-half of an email account and calendar offering — the other being Calendar — and is a lightweight app designed to handle multiple accounts and fairly moderate email use.
But is it worth switching to Outlook, and who is suite designed for?
Email for everyone
To those who have already used a version of Outlook in the past, the Windows Mail app will come across as a lightweight variant with some features omitted from the experience. The main difference between Outlook and the Mail app is the target audience. The bundled app with Windows is meant to cater to consumers and those who check their emails on a daily basis. Outlook on-the-other-hand is for business and professionals who rely on email.
But just because the Windows Mail app is more basic than Outlook, it doesn't necessarily mean that it's a worse experience. The app itself is a solid client for email, and the accompanying calendar app will handle events, subscriptions to cloud-based calendars just fine. A neat feature of the Mail and Calendar apps is the design language, which fits in comfortably with Windows 10.
Various accounts can be added to Windows Mail, including Outlook.com, Exchange (Office 365), Gmail, Yahoo! Mail, iCloud, as well as usual POP and IMAP accounts. Using Microsoft's hosted email services like Outlook.com will ensure everything is configured and synchronized without much effort. Simply enter your account credentials, and the app will handle everything else. Other service providers may require additional steps.
Thanks to its free, basic feature set, the Windows Mail app has been designed and developed to take full advantage of touch support on tablets and laptops. It's possible to utilize the on-screen keyboard and use the app to filter through messages and reply to contacts.
One issue I continue to experience, as well as other Mail app users, is the problem with mail synchronization. Attempting to synchronize all accounts can result in errors, which is not only irritating but requires troubleshooting. Contact integration from connected profiles isn't perfect either, but again this is a more streamlined app and it's possible to hit up contacts when creating (or replying to) emails.
I also dislike the fact you need to switch between apps for mail and calendar appointments. But it is free, so there's that huge plus, and not everyone shares my view.
Mail and Calendar for Windows 10 FAQ (opens in new tab)
Pros:
Great touch support.
Easy to use.
Free, bundled with Windows 10.
Fluent Design.
Cons:
Basic.
Issues with mail sync.
Separate apps for mail and calendar.
Professional Outlook
Outlook is Microsoft's premium email client and is regarded as one of the best in the business. There's a good reason for this as the suite has been around for many years as part of Microsoft Office. The company has had time to invest in developing improvements to take the experience to the next level and increase productivity. While the Windows Mail app may just do the job for daily or weekly email checking, Outlook is for those who rely on email.
As well as the powerful email client, Microsoft has packed in calendar, contacts and task support. Simply switch between tabs and everything is loaded up. Office integration is also present, as one would expect from a more connected suite of productivity tools. Then there's the Ribbon system that hides away the countless buttons and features that do pretty much everything one would require.
Take a look at some of the feature discrepancies to see if there's anything you require that cannot be done in the Windows Mail app:
Swipe to scroll horizontally
| Feature | Outlook | Windows Mail |
| --- | --- | --- |
| View/Send mail from Shared Mailboxes | Yes | No |
| Access to Public Folders | Yes | No |
| Categorize messages | Yes | No |
| Ignore conversation | Yes | No |
| Clean up thread | Yes | No |
| Apps for Office | Yes | No |
| Unsubscribe to mass emails | Yes | No |
| MailTips | Yes | No |
| Follow Up Flag (creating email) | Yes | No |
| Send email as plain text | Yes | No |
| Create Inbox rules | Yes | No |
| Local Email storage | Yes | No |
| Contacts list | Yes | No |
| Highlight terms in search results | Yes | No |
| Open colleagues' calendars | Yes | No |
More information and comparison between the two apps can be found on Microsoft's website (opens in new tab).
There are downsides to Microsoft's more advanced email program. The first being the plethora of features that may never be used. Do you really need to categorize messages? That and the new Ribbon UI system that Microsoft has implemented into the new Office suite isn't to everyone's liking. It can also feel rather bloated when tasked to handle thousands upon thousands of emails from multiple accounts, but that's a case of not effectively managing clutter.
And don't get me started on some of the account setup issues. I've experienced the following a few times before it starts magically working for some reason. Outlook just can't seem to connect and log in when initially setting up some accounts that require manual labor, asking you to re-enter credentials a few times before finally accepting defeat and connecting everything up.
That said, it makes sense for Microsoft to offer more features in the Outlook suite to entice businesses and consumers to upgrade and pay the Office subscription, but if you don't need many of the more advanced features the Mail app will do just fine.
Pros:
Superb feature set.
Handles mail, calendar, contacts.
Great filter, search and flagging.
Integrates with other MS Office products.
Cons:
Requires Office 365 subscription.
More complicated.
Setting up accounts can be a pain.
Not designed for touch.
What say you?
Do you prefer the simplicity of Windows Mail (and Calendar) or are you a fan of the more feature-rich Outlook suite? Sound off in the comments!
Updated on July 24, 2018: We updated this guide to take into account the latest releases of Outlook and Windows Mail and to make sure all information is up to date.
Rich Edmonds is Senior Editor of PC hardware at Windows Central, covering everything related to PC components and NAS. He's been involved in technology for more than a decade and knows a thing or two about the magic inside a PC chassis. You can follow him over on Twitter at @RichEdmonds.
Since when do you need an office 365 sub for Outlook?

talk and the version​ that comes with office 365/professional

Exactly , office 365 is not needed for outlook.

Outlook comes packaged with Office 365 subscription, but you can buy Outlook 2016 version separately.
.
It is paid software and unlike Outlook Express (which was included in WinXP).

Exactly or buy the office suite without a subscription

This should be noted above, Quoting that Outook "Requires Office 365 subscription" is 100% wrong... Maybe if your trying to butter up to what Microsoft WANTS it's right but, in the real world it's not..

Do not mind the writer. He/ she needs to get his/ her facts right before writing.

The Mail app can flag messages for follow-up, but it's just decidedly more basic. With Outlook, you can set a follow-up time frame and receive a reminder later. Flagged email also shows up in your Outlook tasks. Also, when you mark the flag as complete, Outlook retains the status so you know you've taken action on the email. The Mail app, on the other hand provided only a simple toggle. There's no reminder and no check mark when it's complete. I do wish Microsoft would provide UWP versions of their core Office apps, including Outlook, that are more touch friendly and feature rich than the current batch of mobile apps.

Should be an option in the future for flagged items to go into Cortana as a reminder

A lot of people use flagging to send emails to the top of their inbox to keep them there and making them go into Cortana would be a lot of clutter for them.

True, but flagging requires you to go into the mail app periodically to check on them. Cortana could keep bugging you, until you actually mark them as complete.

Or tasks could finally be added to the calendar app, these would sync to Mobile too...

I meant the emails when I used the word "them."

The most wasted features in Enterprise that would make everyone's life easier is the due to the lack of knowledge and subset of features. - Flags / Complete (Any email i need no additional action i mark it with a check mark, anything i need to remember later or need to do, Flag. This allows me to visually see what emails I've missed or scrolled through) - Reminders (e-mails or tasks with deadlines? Add a reminder for when to bring it up again. Sometimes I use reminders to ping people who are out of vacation and need to follow up on their return) - Search Folders (See only emails that have been flagged, or unread) - Quick Actions (I have set my inbox to not mark anything as read unless i choose too. Sometimes I glance at emails and don't have time to determine if FYI or Task based on the lenght. Howerver because I usually mark emails as "COMPLETE" i'd have to do 2 steps to mark them as complete and then mark them as read. With quick actions i 1 click mark as read/complete. Rules are another function that most people don't like using becasue setting them up are cumbersome. Personally i prefer to use rules on emails that are automated. They tend to have a specific subject line or subject format, and an email they come from. This way if you want to sort it into specific folders, flag, mark as complete or delete - allowing me to focus and sift through unclaimed or unknown emails this system can't be applied. I really can't see my self using any other email client professionally. Personal use - is another story since I don't have such a time sensitive need and most of the time I spend is deleting emails I find little interest in or reviewing transactions. I actually would love for companies to approach e-mail differently. Right now they have given us tools to identify JUNK, SPAM, PHISHING which is good and could help other users in the long run. However instead of adding a negative value to these emails based on JUNK SPAM PHISHING, allow users to confirm good email addresses by how much those emails are interacted with or how real. If i have these contacts on my address book - they should never go to spam, the client should mark them as VIP from the start in comparison to other emails. If I Starred it, then it would possibly make that email more visible and give it a positive cost. This way other users who receive email from these users should be less affeced by an email address that has positive KARMA versus on that keeps being marked as SPAM.