Outlook.com racks up 25 million users and adds new features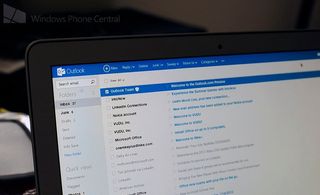 Yesterday, we told you about a handy tip to make searching for a Gmail account email easier on Windows Phone. Today, you get a few more reasons to make the switch over to the new Outlook.
First, some impressive stats about the service. Microsoft is touting numerous accodades and awards for it's email service, like making Time Magazine's "50 Best Websites for 2012" list and others. What's even more impressive for you skeptics out there are the number of users it's managed to gain in nearly four months of service, over 25 million active users.
That's an interesting statistic since it's not the number of accounts created, but the amount of people using it on a regular basis. The team also has some new features to make the jump from Gmail to Outlook a smoother process...
In an effort to court users from Google's offering, Microsoft hired a research firm to recruit Gmail users to try Outlook. The results do a fairly accurate job at highlighting the streghts of Outlook to it's rival. They found that 4 out of 5 users would be making the switch to Outlook, in addition:
They prefer Outlook.com's clean user design
Outlook.com does a better job of blocking spam and it outperforms Gmail when it comes to helping manage unwanted messages like newsletters and daily deals
Outlook.com makes it easier to share photos and Office documents
That's all fine and dandy, but what Outlook needs to do to be competitive is always improve and refine the product. Which they have, some updates you can expect to see show up in your inbox over the next few weeks are:
One-click Archive: from the inbox, select messages and click the Archive button to move the selected messages to the Archive folder (or any other folder of your choice). It's a fast and simple way to move messages out of your inbox to find later.
More and more keyboard shortcuts: Outlook.com has dozens of keyboard shortcuts and we're adding even more. And better yet, we don't need to list them all in this post because you can now find all available keyboard shortcuts by simply typing a question mark when you're in your inbox.
More customization of your inbox: we added several new ways to make your inbox look and work the way you want. More color themes. The ability to toggle "reply" and "reply all" as the default option. The ability to toggle between jumping to the inbox or next message after deleting an email.
Outlook app for Android: If you have a Windows Phone or iPhone, you won't need a dedicated app since Exchange ActiveSync is supported. Android is a different beast, and the solution was a dedicated app. You can get that here.
All said and done, those are some great features to an otherwsie already great email client. Do any of you guys use Outlook.com or are you thinking of making the switch? Let us know below.
Souce: Outlook Blog
Get the Windows Central Newsletter
All the latest news, reviews, and guides for Windows and Xbox diehards.