The Panasonic Toughbook 20 is the first Windows 10 2-in-1 rugged laptop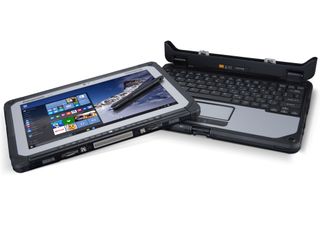 There are a lot of Windows 10 2-in-1 laptops on the market, but soon there will be one that can withstand a lot of use and abuse. Panasonic has announced the Toughbook 20, the latest in its line of rugged devices, and the company says it is the first 2-in-1 rugged laptop, with a detachable keyboard and display.
Panasonic says:
The 3.9-pound Toughbook 20 will have a 10.1-inch 1920x1200 display, which can be used in a number of modes:
Inside there will be an Intel Core m5-6Y57 vPro processor with a clock speed of 1.1GHz, along with 8GB RAM and storage options for a 128GB, 256GB or 512GB SSD. The display has a removable 2600mAh battery and there's an option to place a second battery of the same size in the keyboard dock to double its power life (no battery life times were revealed) The Toughbook 20 goes on sale in February 2016 starting at $3,099.
Source: Panasonic (opens in new tab)
Windows Central Newsletter
Get the best of Windows Central in in your inbox, every day!
That is one though looking PC... Could make some pretty epic "PC DOES WHAT?" commercials...

Haha, now THAT would be good.

Like taking the Toughbook and spiking it after getting some type of news? lol =p

For $3,099. That is really tough :)

If that is meant to get beat up, I wonder how easy the hinge can be cleaned. Looks pretty standard in design shapes and connectors. I know that's a newer area for this type of machine so that would be my only concern.

well they are usually tested to pass a certification, right?

Yeah, but for abuse and water and whatever this specific one is for. But I mean disconnecting the screen and dropping the keyboard into some thick ass mud, getting that shit out of the connectors. I don't work in construction anymore but it was my first thought.

There are wire brushes for that kind of thing, no? lol ;p

Yeah but how thick are those connectors to take a scrubbing? How resistant to corrosion. I forgot most of the standards now but I don't recall them being for "exposed" parts.

That processor...I know it's fanless, but at that price would it kill them to put at least a low clocked Core i series processor?

The only difference between a core m and a mobile core i IS the clock speed and the fan. A core i clocked low enough to not need a fan is exactly a core m. In this device, fanless is critical to prevent eater or dust from getting in.

Starting at $3100 with a 1.1ghz clock speed? That's ridiculous! And don't tell me clock speed doesn't matter. IT DOES MATTER!

to the really rough and tumble crowd...seriously? =\

As you probably already know, Intel stopped caring about clock speeds long ago. Infact, I've seen new Intel CPUs with clock speeds as low as 500Mhz and they're damn slow until the clock speed is automatically increased for some heavier tasks >.

Then what about the Dell Toughbook?

not yet specifically produced with windows 10 in mind?
Windows Central Newsletter
Thank you for signing up to Windows Central. You will receive a verification email shortly.
There was a problem. Please refresh the page and try again.