PanzerGlass Privacy Screen for Surface Pro X review: Stupidly expensive, but highly effective
By Daniel Rubino last updated
Easily prevent 'visual hacking' in public with this excellent – but pricey – screen protector for the Surface Pro X.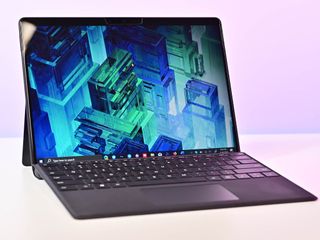 (Image credit: Daniel Rubino/Windows Central)
Screen protectors for PCs and tablets are always a divisive topic, but for some users, they are a necessity. Panzer's new 'Privacy Screen' is such an example as it goes beyond protection of the display by enhancing secrecy from those overlooking your shoulder. Whether you're writing an important document at the coffee shop or sitting on a flight, it's not hard to have wandering eyes when typing away in Microsoft Word.
I've been using the PanzerGlass Privacy Screen for Surface Pro X, which comes in at a jaw-dropping $60, for the last few weeks. It's almost prohibitively expensive, but it's also very high quality and works very well. Here's what you need to know.
(opens in new tab)
PanzerGlass Privacy Screen for Surface Pro X
$60 (opens in new tab)Bottom line: PanzerGlass Privacy Screen for Surface Pro X is an excellent product that gives you privacy when typing on an airplane or at the coffee shop. With high-quality glass and an excellent fit, it's one of the better screen protectors available. But it's $60 price is hard to swallow and is only justified if you need that privacy.
For
Prevents visual hacking
High-quality, rounded glass
Nice kit
Perfect fit
No display distortions
Against
Wildly expensive
Can't easily be removed, re-used
Still quite glossy
Reduces display brightness
PanzerGlass Privacy Screen for Surface Pro X What it is and what you get
For $60, Panzer delivers a quality package. There is a single-use all-glass screen protector with plastic wrap on both sides, ensuring no scratches or dust. There is also a mini kit with an alcohol wipe, dry wipe, and a large sticker used to remove any remaining dust before installation.
The protector boasts being shock resistant, scratch resistant, touch-compatibility (including inking), fingerprint-resistant, and, of course, the privacy feature. The glass is rounded and feels thicker than a sticker-type protector, but not too thick as to add weight or be distracting.
Installation is simple. Wipe down the Pro X, peel the back of the Panzer and drop it on to make a seal. Smooth out remaining air bubbles and remove the outer protective layer.
Tip: Install all screen protectors in a bathroom after you have run a hot shower for a few minutes. The steam helps to remove any dust particles from the air, so they don't land on the screen during installation. Use a piece of tape on one side of the protector, lock-in the alignment of the protector. Then peel the back and let it "fall" into place. Use a credit card in a screen wipe to remove bubbles.
The fit is excellent. The camera, Windows Hello IR, and dual microphones are fully exposed. The front-facing speaker grills also line up perfectly.
It is worth mentioning that Microsoft sells this product directly, and it carries the Microsoft Surface logo meaning it meets specific standards set forth by Microsoft.
PanzerGlass Privacy Screen for Surface Pro X: How well does it work?
Once installed, the Panzer's privacy feature is noticeable. When looking straight at the Surface Pro X, everything looks normal, with no loss in legibility. But as soon as you start to view from the side, the screen blacks-out. It's so effective that anyone sitting next to you may even think your display is off. The same feature works if looking at the Surface Pro X top-down too.
The Panzer protector is quite dark – it's almost like putting a pair of polarized sunglasses on, so there is a modest reduction in overall screen brightness. The benefit of privacy is the trade-off here.
https://www.instagram.com/p/B7bk1Zihd5w/
As usual, I find the claims of fingerprint reduction dubious. It's not worse and is likely a hair better than without the Panzer installed, but you will still need to wipe the screen down on occasion if you use the touchscreen a lot.
The Panzer is also still a very glossy protector. There is no reduction in glare, which is a shame.
Speaking of, the Surface Slim Pen and touch all worked without a hitch. The glass is very smooth, so artists may not like the feel, but as someone who takes notes, I didn't notice a massive shift in perception by installing the Panzer.
Verdict: PanzerGlass Privacy Screen for Surface Pro X
Let's get the apparent criticism out the way. A $60 screen protector is ridiculously priced and hard to endorse for casual users. I recently reviewed an $8 all-matte protector for the Surface Pro X, and while the quality is not even close to Panzer's, it's $8 and you get three of them.
But I can state that the Panzer is a premium product that at least feels the part. It also works exceptionally well in preventing "visual hacking," aka wandering eyes while working in public. There are few other options out there that are this excellent, and for people who need privacy, the Panzer delivers.
The question is, do you really need a privacy screen? For most people, the answer is an obvious no. Even if you think it is cool, the slight reduction in brightness and the high cost make it hard to recommend.
There's also something ironic about having a quality LCD with excellent viewing angles that you purposefully hamper in using this product. Companies like HP have built solutions like Sure View (a combination of hardware and software) that lets users toggle privacy functions with a single button. With the Panzer and the Pro X, you have no choice – once installed, you're getting privacy protection 24/7 unless you remove it (it does peel off with little effort but re-using it would be tricky).
If, however, you need a privacy screen for your Surface Pro X, and you can swallow that $60 charge, the Panzer does its job.
Finally, if you like the sound of this protector and you like Panzer, they do make a non-privacy, glossy version using regular glass (opens in new tab). It is still expensive at $50, but it too is well-reviewed.
Block wandering eyes
(opens in new tab)
PanzerGlass Privacy Screen for Surface Pro X
Can't see me now

For those who need privacy while working in public, the PanzerGlass Privacy Screen for Surface Pro X is a solid choice. But the price and some trade-offs make it unreasonable for regular people.
Daniel Rubino is the Executive Editor of Windows Central, head reviewer, podcast co-host, and analyst. He has been covering Microsoft here since 2007, back when this site was called WMExperts (and later Windows Phone Central). His interests include Windows, Microsoft Surface, laptops, next-gen computing, and arguing with people on the internet.
Thanks for the review. At this price, I would rather just strategically position myself at public places (i.e. sit at a Starbucks with back facing the wall or something so no one passing by or sitting near me could see the screen) to reduce the likelihood of prying eyes than shell out $60 for it.
Windows Central Newsletter
Get the best of Windows Central in in your inbox, every day!
Thank you for signing up to Windows Central. You will receive a verification email shortly.
There was a problem. Please refresh the page and try again.