Dark fantasy ARPG Path of Exile is coming to Xbox One later this year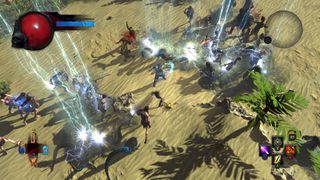 Path of Exile, an action role-playing game (ARPG) that garnered critical acclaim when it was released on PC in 2013, is headed to the Xbox One later this year. Grinding Gear Games, Path of Exile's developer, says that it has spent more than a year adapting the game for Xbox One, translating the PC's mouse and keyboard experience over to a controller.
If you're unfamiliar with Path of Exile, the game is very much in the realm of dark fantasy, offering up plenty of character customization between the items and skills you can craft and acquire. Like its PC counterpart, Path of Exile on Xbox One will be totally free to play. The Xbox One version will also pack everything the PC version does, including an upcoming 3.0 expansion that will bring a new act.
Do note that the Xbox One version will run on a separate realm from the PC version to account for slight differences between the two, so you won't be able to play along with your PC friends or vice versa.
Other than "later this year," Grinding Gear Games is mum on an exact date for launch, but we'll bring you more when a date is announced. In the meantime, let us know if you'll be checking out Path of Exile when it hits Xbox One!
Windows Central Newsletter
Get the best of Windows Central in your inbox, every day!
Dan Thorp-Lancaster is the former Editor-in-Chief of Windows Central. He began working with Windows Central, Android Central, and iMore as a news writer in 2014 and is obsessed with tech of all sorts. You can follow Dan on Twitter @DthorpL and Instagram @heyitsdtl.
I had actually never heard of this game. Gonna check it out.

If you like Diablo, youll like this game. You can have a lot of fun without spending a dime.

Oh yes will play this game

WTF! and Microsoft Store?

Stupid. Runs on a separate realm. If the framework is there, make it cross platform play so I can play with my xb1 friends.

It's for balance reasons. The experience is not the same even with the promise of the content being.

I figured as much but it's not that competitive. Have a server that you can play with your xb1 friends on. It's about having fun not min/maxing in every respect.

Glad this is coming to consoles. It looks quite fun.

Yeah, but a PS4 version is inevitable as well.

Not necessarily. It may do, but western rpgs sell better on Xbox if you include digital sales which the internet likes to forget for some reason. With the whole Xbox and PC merging expect to see alot of PC/Xbox exclusives. Especially where Scorpio is concerned.

Sacred 3 is a nice one too ;)
I don't know if it's of the same genre though.

This game looks really fun, I'm definitely going to grab it and if I enjoy it I'll support the developer too.

That is best Xbox One games news of this year so far, for me. If you ever played Diablo III now you'll see better gaming, items, and even graphics.

I just played a demo of Diablo III when it was on the X1, will definitely be picking this up whenever it comes out.

yes, this game is like diablo, torchlight, etc. Being playing off and on for about 4 yrs. The best part of this game, is if you want to advance, you have to grind, battle, work, run. There is no buying your way up the ladder. Your credit cards, or your deep pockets, won't help here. Spending money on this game is for bigger stashes, to hold more equipment, or to make your character, look pretty. This is great for all gaming, just goes to show, what can be done, without being abused by companies, such as Gameloft. Ubisoft, etc. I have spent money, for my stash, and support the dev :)

So strictly speaking this is currently another Xbox Exclusive this year. And a great Western RpG to boot.

Neverwinter was Exclusive for a while, and it ran terribly. If PoE runs anything like the PC version, it's going to be even worse than Neverwinter. Ugh. I don't trust developers who can't put outo a quality product, but rush to port to other platforms so that they can cash in.

Welp. There goes what little a life I did have! Great indie answer to Diablo.

I grabbed it on PC. It's a real shame that it doesn't save the map for you, every time you go back in it's a different map and you are back at the town. I was hoping for more of a quick pick up and play title that I could jump on for a halfer or so every now and then. Oh well, still fun, and has some really good voice acting and skill/spell elements. I love having to juggle what woeapons I use to get the spells I want (I'm playing a witch).