PayPal Here app arrives for Windows 8.1 with a swipe transaction discount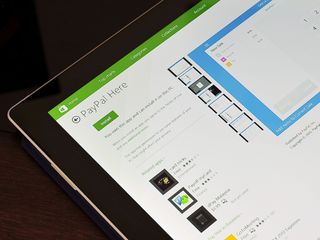 The PayPal Here credit card transaction app is now available for Windows 8.1 users, and PayPal and Microsoft are offering a special promotional discount for US swipe transactions while using the app to celebrate its launch.
From now until June 15, US users of the PayPal Here app for Windows 8.1 will only have to pay a 1.9% per swipe fee on eligible transactions, versus the normal 2.7%. Here's the feature list for the app:
POS
Mobile credit card reader
Accept credit cards, debit cards, and PayPal, plus track cash/check payments and send invoices
Fast access to your funds, usually available in your PayPal account in just minutes
Manage your back-office on your mobile device or computer
Run daily, weekly, monthly, or custom sales reports
One account works for multiple locations; create sub accounts for your staff
World-class, PCI-compliant security and 24/7 Live customer support
In addition, the Microsoft Store site and its retail locations are now selling the PayPal Here card reader for $15. Microsoft is also selling the same reader bundled with a custom designed WindFall stand for the Surface Pro 3 tablet, along with a Kensington ClickSafe cable lock, for $164. Finally, that bundle is available with the purchase of a Surface Pro 3 itself for prices starting at $963. This bundle does not come with a discount for either product.
PayPal also announced plans to release a PayPal Here app for Windows Phone devices in November but that app has yet to be publicly released.
Download PayPal Here from the Windows Store (opens in new tab) (free)
Source: Surface blog, Microsoft Store (opens in new tab)
Windows Central Newsletter
Get the best of Windows Central in in your inbox, every day!
Nice. Someone cares. It's a terrific day for Windows. Now WP will receive an update!

Well, if only Ms didn't drop the ball on NFC and Wallet....now Apple "invented" it...

Apple doesn't invent most things, they simply take existing ideas and make them work better.

Which is true so I give them credit for that but I think similar to sports fans the followers tend to cause me to dislike them.

Note the quotation marks... hints of sarcasm...

lol no the fuck they don't iSheep!

Microsoft could gain no traction with wireless carriers to support this. The carriers wanted to monetize this as a network service, hence the reason they formed the original ISIS group and blocked Microsoft Wallet. They blocked Google Wallet as well. Until Apple, none of this has gone anywhere. Apple, alone among the smartphone players, has figured out how to go around the carriers.

Yeah...i remember the emphasis on ISIS....

Cool, now if I could only find someone to test out some transactions with, I'd be set.

How are Paypal fees different from regular bank fees?

Pay per use instead of pay once a month

If this is an 8.1 app does it work with RT?

Thanks MS... I know you had a lot to do with getting this app to us...
..........
Now, Please purchase PP, and give Apple pay a run for its money.....
..........
One more thing....
Please do not make the next high end phablet smaller... Lol... No 5.7" BS... Please give us a 6.3" 1540XL.... Hahaha❗.... But, seriously.

I just said above MS dropped the ball...er..wallet with NFC and Wallet...
..
btw, how have you been R O D?

They surely have to have something in store..
.....
Doing good.. Dodging haters.. Lol.

I've never been successful in that endeavor ... Obviously...

Purchase Paypal?!!! You must be absolutely off your rocker! Microsoft doesn't have that kind of cash to burn on those kind of purchases.
They'd be better off spending the money on....marketing ;)

They have cash$$ for Both❗❗❗ And, you're right. It would be better spent on marketing.... No argument there... Lol.

Dude you're smoking something if you don't think that they don't have the cash for that.

Maybe it's rolled up with a dollar bill❓

Lol... That's funny right there...I bet it's a Benjamin though...

Microsoft have $90 billion in cash. They are ass deep in a huge restructuring programme.
PayPal, according to JPMorgan has a market value of about $46 billion.
Yes, of course Microsoft *could* buy Paypal. But what an incredible way to burn through cash reserves!!

It's not gonna happen... We know....
.....
But, maybe a huge partnership, like with Nokia.... That could benefit the both of them......
Then we could get Elop to TH PP.. Lol.

They pontificated on the Nokia deal until the point where they almost lost the opportunity to buy them! & that was for a measly £8.5 billion :). Microsoft doesn't have the acorns to buy PayPal. & to be honest, I'm not sure what value they would bring anyway...
PayPal is already in direct competition with Apple. Microsoft can be a disruptor by supporting PayPal...without needing to throw real money at the problem.

Yes... That's what I was thinking with my last comment.

We seem to be agreeing on things! Perhaps there is light at the end of the tunnel after all :).
What a difference a day (of brilliant MS news) makes!

Yes❗ Good MS news makes everyone happy... It's like everyone had a Snickers bar...

They would have to repatriate so many funds and they would take such a huge tax hit that it might not be worth it. The BoD would have to see a major cash cow in PP to have them make a decision like that.

5.7" is a sweet spot size for pocketable phablets. It will appeal to much larger crowd. Anything larger than that will be called tablet phones which would probably please SOME people.

First of all... Who cares what it's called.
Second... Of course 5.7" would appeal to more people because the majority are skeptical, scared, and closed minded... But, that definitely doesn't mean that there isn't a market for larger devices... As long as MS has a 6" option it's fine, but don't go down to 5.7" without keeping a 6"+ option.
Third.... If the Note5 goes to 6" it'll still sell like hotcakes leaving people saying "6" is the sweet spot".... Lol.
Fourth... For you personally. What size is your device❓❓❓ Are you saying the 1520 isn't "pocketabke"❓ Because I keep mine very comfortable in my pocket all the time... Have you ever used a 6" device for a few days❓

There's nothing closed minded about not wanting a 6+" device.

You're exactly right... No.. It's not about not wanting one, rather thinking, or speculating, that you don't want one without even trying it...
.......
I almost made that mistake..... Walked into AT&T, took a look at the 1520, and said it was too damn big... Went back, and got one in my pocket, sat down, and couldn't feel a thing... ""Huumm... Might as well try it,, I can always return it".... After I got to work a few hours later I couldn't stand to look at my 920... Lol.
......
Moral of the story❓ Don't knock it, or sell yourself short,, till you honestly try it... And, don't discourage others unless you seriously know what you're talking about.

I'm pleased with my 1520.... Became a campus Director and Chief Administrator... Gave me an android phone....omg... Trying to convince them to get me a cheap Ms phone...I don't want to give my number to any student.... Otherwise, my 1520 does it all...

Could you deal with 6.2"❓ maybe 6.3" if MS tried to make the device as compact as possible❓

Might as well try........ Please let the next larger device be more than 6"❗❗❗

Would this work with any windows tablet?

It seems to work just fine on my HP Stream 7. No reader yet, but the app itself seems to be working fine.

Good news for Windows and great announcements for Microsoft. PayPal Windows phone app is lacking, hopefully that gets fixed as well as releasing the here app.

What is it lacking? I haven't noticed any shortcomings myself

Why didn't they make this a universal app and save some time and resources?

Will Windows 8.1 app work on all W10 devices?

Then why isn't it available I the Windows Phone store for download?

Because Microsoft has two different "stores" for Windows and Windows Phone. The app packages are different, even when the code is a Universal App. All universal apps are two different "apps" with independent submission and certification.

Why didn't they submit it to both stores at once? And if they only want to do one platform at a time, why not start with mobile since the majority of people will use it there?

I sure hope someone tells the customer service people at PayPal Here about this. I called in last week to see about getting an account set up and to ask a few questions and the gal that answered said that they didn't support Windows....Oh yea her name was allison I believe.Im pretty sure she was more than a little red in the face.

This is very nice. I've already convinced my dad to start using his Surface to collect rent instead of his iPad.

THANK YOU! Screw square, PayPal was always my go to anyhow for clients. Now I can swipe cards again rather than just entering the card information or sending invoices later.

A few notes: PayPal Here on Winows requires the newer black card reader. The older blue readers will not work. Also, the app has a place to test card swiping once it detects the card reader. Also, you don't have to tap the Charge button first. Just swipe the card when ready. I love it on my tablet. Many thanks to PayPal!

oh, the card reader (if you buy it retail) comes with a code to get $15 back, making it free.

After tax it's not free.. but if you qualify for the education discount... you can make $1.50 minus the taxes.

Will the card reader work on any win 8.1 tablet? MS store supported devices state surface pro 2 and 3. And win 8.1 as one of the supported OS. I have a dell venue pro 8.

As long as it has the 4-point connector (headphone and mic combined) jack, yes.

After tons of bad news. Today is the day, the day we fight back, the day we show the world, we Windows, will be, and always be the best

I like this a lot. However, it appears the reader does not have support Chip cards. I wouls be all over this if it had this support.

Cool! Finally. Let's hope that they support and advertise it!

Just want it for Phone! Oh, the Win 8.1 version only works with the new black swiper, and not the older blue one.

Cool, but I wanna pay with my tablet. (and phone)

Anyway, the app installs on Windows RT, no problem.

The Windows Phone 8.1 version is now available. http://www.windowsphone.com/en-us/store/app/paypal-here/353ed676-f912-47f8-a1ba-c0abe7c01a66
Windows Central Newsletter
Thank you for signing up to Windows Central. You will receive a verification email shortly.
There was a problem. Please refresh the page and try again.