Peggle 2 for Xbox One gets new downloadable characters and levels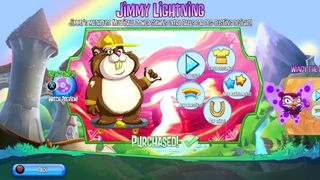 The Xbox One is overflowing with downloadable games lately thanks to the ID@Xbox program. Last week we got Outlast and Sixty Second Shooter Prime, and today Zombie Driver Ultimate Edition had a surprise launch. But when the new console launched last year, players only had a few downloadable games to choose from. The first such title to qualify as a hit was undoubtedly Peggle 2 from Electronic Arts and PopCap. The game later arrived on Xbox 360 as well.
One of Peggle 2's few weaknesses compared to the original is that it launched with only five Peggle Masters (playable characters). Today EA alleviated such complaints by releasing a new downloadable content pack for the Xbox One version: "Jimmy Lightning's Bigger, Better Balls." This follows "Windy's Master Pack" from back in April. Both DLCs add new characters, levels, and Achievements – for the low price of $2 per pack.
Get the new characters
To get the new characters, you'll first have to download a title update. Once that's out of the way, head to the new Store option from the game's main menu. You'll find descriptions for both DLC packs. Prospective buyers can even watch a short preview video for each Master that highlights that character's special shot and unlockable outfits.
Having purchased one or both characters, you'll find their new levels by heading to Single Player and then scrolling all the way to the right, past the Celestial Realm levels. From there, you'll see a "More Adventure!" icon that leads to the new DLC level sets.
Both Windy and Jimmy Lightning each come with 10 new adventure levels, increasing the game's total number of adventure levels to 80. Completing one of the new character's sets will unlock his or her Trials levels. Players can unlock three extra outfits per character by finishing that Master's Adventure and Trials, as well as completing most of the secondary Adventure objectives.
Character spotlight
The first downloadable Peggle Master is new to the series. She is a combination bird and fairy – a bird with fairy wings and a wand, basically. By shooting a green peg to activate Windy's special skill "Fairy Flock," a swarm of four pink butterflies will erupt and turn random pegs into purple pegs. Hitting more than one purple peg during a level will get you a huge score boost and likely an extra life or two.
Today's new Master Jimmy Lightning is actually a returning character from the first game. You might remember him as the totally rad skateboarding chipmunk. Jimmy's special skill is the pinball-like Multiball. It causes three balls to bounce around the level, hopefully hitting lots of pegs along the way. A new spotlight effect adds some welcome flair to the ball bouncing action.
Achievements and more
Each character DLC adds three new Achievements worth a total of 225 GamerScore. The Achievements are for beating that character's Adventure levels, Trials levels, and for completing all of the new secondary objectives (the main game's objectives must be finished first). Nothing creative, but they certainly provide incentive to run through and master all of the new content.
Along with the previous update comes a new feature that we requested in our original review: Colorblind mode! Enable the setting from the Options menu to make little symbols appear inside of the purple and green pegs during gameplay. This allows colorblind gamers to tell those pegs apart from regular red ones.
The only significant Peggle 2 criticism that EA has yet to address is the Xbox One version's lack of leaderboards. In-game leaderboards are a standard feature in modern games, allowing competitive gamers to compare their scores against others and try to outdo them. Leaderboards an really add a lot of replay value to score-based games like Peggle 2. It's strange that Peggle 2 still has no leaderboards, especially since the Xbox 360 version that launched in May does have them.
Leaderboards aside, Peggle 2 fans will get plenty of fun from the new DLC packs. The number of levels and Achievements you get for the price is surprisingly fair. Xbox One players should grab the DLC from within the game itself, as we can't buy Xbox One DLC from Xbox.com just yet (argh). The Xbox 360 version hasn't gotten the DLC yet; hopefully EA brings the new Masters to that version soon as well.
Windows Central Newsletter
Get the best of Windows Central in in your inbox, every day!
Paul Acevedo is the Games Editor at Windows Central. A lifelong gamer, he has written about videogames for over 15 years and reviewed over 350 games for our site. Follow him on Twitter @PaulRAcevedo. Don't hate. Appreciate!
I was first in the world to complete it on TA. Shameless self congratulations woot woot xD

Good work! Peggle 2 rules. That's so odd about the lack of leader boards, though.

So pleased you mentioned the leaderboards, bit of a deal breaker in my opinion. If I was on Twitter or Facebook I would be spamming them about this. Actually hoping this comes as a Games With Gold offering. I have finished Max, but can't really get into Halo Spartan Assault. Need something to keep me going until Defence Grid 2 appears. Had to leave Trials Evolution for a week or so, was getting too much.

Please join Facebook or Twitter and spam them about this. They need some prodding.

I can't do that, does not appeal to me. However, feel free to send a prod for me. People power.

Wasn't hating on the users, just the businesses/product. Luckily, there are many others that can prod.

I have never in my life cared about online leaderboards. Online head to head, yeah. Leaderboards? Nuh uh.

Well, imagine if you have a close friend or two who play the game. Wouldn't it be cool to see if you can do better on certain levels than your friends?

I check the Xbox leaderboards for every game I play. It's fun to compare with both friends and the superstars out there.

So I really want this on my phone. Who plays these sort of games on their tvs anyway? When can we look forward to either peggle or peggle 2 on the wpstore?

Not so impressive. Childish game.

Not impressed with this comment.

He definitely dropped the ball with it.

Leaderboards would be a great addition no doubt. I really enjoy Peggle2, will be buying the content.
Windows Central Newsletter
Thank you for signing up to Windows Central. You will receive a verification email shortly.
There was a problem. Please refresh the page and try again.