Pepper Windows Phone app update and Windows 8 and iOS apps on the way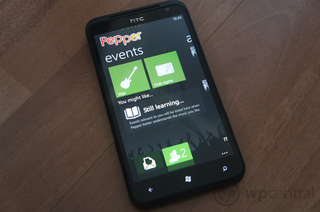 We first looked at live music service Pepper earlier this year at a previous WPUG event. The app and backend service impressed us with the variety of features available, as well as how unique the functionality is in a package we've yet to see elsewhere. Exclusively available for Windows Phone, we enjoyed having the Pepper team on-board pushing the platform further with continued support. We've now got word that an imminent update is on its way, as well as apps for both Windows 8 and the iPhone.
The service is for music fans who frequently attend (or simply check out) nearby venues and live events, making it easier to locate said events that match user interests. Pepper doesn't just stop there though as the app sports a full community. Creating an account (which takes a matter of seconds) unlocks all features, including friend lists and the ability to follow venues and artists to keep on top of when the next event is.
There's a large emphasis on interaction with other Pepper users. Upcoming events can be shared with friends to build a strong presence for an arguably more enjoyable evening. While at events, Pepper users can check-in (Twitter and Facebook supported) and subsequently share photos and comments with other users. The fundamental goal is to make live music a more socially connected experience.
Pepper makes it simple to enjoy music
So what's on the horizon for Pepper with the Windows Phone update and upcoming apps on other platforms? We got hold of David Hamilton (see our previous interview), Pepper CTO, at the Bournemouth developer event and have received some details recently that shed light on what we can expect to see in the next version.
The team have been working hard on making the app quicker through efficiency improvements and optimisation, use less data (though this isn't an issue in the current version), and look more appealing with a new look and feel being implemented. The in-app search facility is set to be an improved experience, and a tutorial will be added for users to get accustomed to the recommendation system, which will be launching soon.
Full Facebook and Twitter integration will be present that will take mere check-in functionality to the next level. Artists can be followed through these services, and events can be added to calendars for friendly reminders. We've also been made aware of an interesting feature that will be included in the next version - users will be able to decide how obsessed they are with favourites. It sounds like a fairly sizeable update, and one we look forward to downloading.
iPhone app on the way
As well as a large Windows Phone update in the works, the Pepper team have been working hard to bring support to Apple's mobile platform. While this isn't huge news for Windows Phone Central and we believe not many readers will be affected by this news, it's great to see a project that started on Windows Phone make its way onto competing platforms. We've been informed that features present in this iPhone app at launch will be noticeably less rich than its Windows Phone counterpart - a nice touch.
We'll be sure to pass on further information we receive on the iPhone app to our brothers and sisters at iMore, so be sure to keep an eye on their feed should you be interested in Pepper arriving on iOS, or simply register your interest on the official website to be notified on its availability (as well as Android and BlackBerry).
Windows 8 also to sport some Pepper
The news of Pepper coming to Windows 8 is no surprise to us, considering it was born on Windows Phone and makes use of Microsoft cloud services, but it's certainly superb news for the app to be able to take full advantage of the larger display. Ubelly, a Microsoft blog, managed to probe David on the developments of the Windows 8 app. It's well worth the read. It's reported to be in the final stages of testing, and will be released in the Windows Store for the launch of Windows 8.
What can we expect in the desktop / tablet version of Pepper? All the features and functionality from the Windows Phone app on a larger scale with full Windows support. Unfortunately US support is still quite a way off, but we can reveal the Pepper team are working flat out to be able to cover the states as well.
If you haven't already checked Pepper out on Windows Phone, you can download it from the Marketplace for free (limited to region availability).
Windows Central Newsletter
Get the best of Windows Central in in your inbox, every day!
Rich Edmonds was formerly a Senior Editor of PC hardware at Windows Central, covering everything related to PC components and NAS. He's been involved in technology for more than a decade and knows a thing or two about the magic inside a PC chassis. You can follow him on Twitter at @RichEdmonds.
Not available in US? Says not available for my phone...US, Focus, ATT

Yeah, not available in the US. Lame.

Sorry guys, it does say that US support is still a way off. Trust me, Pepper is something we want to be available to everyone as soon as we can. One of our main areas of focus is ensuring the user experience is near perfect for our users, so delivering a sub-par service is not really an option. A lot of our service is about the quality of the data used to populate Pepper, and with the shear size of the US, this makes it a very tricky task, one that we are working on...in fact with a growing number of partners willing to help us achieve this. As soon as we have a service that is suitable, WP Central will be among the first to know!!

Thanks. I look forward to it for all the times I could use it while in NYC for work!

Oh well, at this point , as long as everything is there when I get my hands on my 920, I'm a happy camper!!!!

This is a app I could really get behind if it was available in the US. I live in a city with a ton of music ( New Orleans) so qet it up and running state side!

Well, if you just want to relive some of those live shows, you can stream them with the "Live Music Access" app for Windows Phone:
http://windowsphone.com/s?appid=411b8788-27a3-409a-a584-f381f4865e21 Free and no advertising. Enjoy.

Partner with Nokia. They managed to get the data on shows with the "Gigs" feature in Nokia Music.

Posted by Apoc - "Oh well, at this point , as long as everything is there when I get my hands on my 920, I'm a happy camper!!!!" I for one, will NOT be buying a 920! I was stoked about it, and was going to buy one, until I found out it isn't going to have a key new feature of Windows Phone 8 - expandable storage via removeable MicroSD card! I have over 85GB of music, and I like to put as much of my music on my phone as possible, so I can listen to it through my car stereo.

Shame on you, Nokia!

Sorry for you, but I don't listen to that much music to even come close to filling up 32gb, on a phone. More than enough for me, along with Zune and Nokia music, I have great streaming options as well.

Well I know the iPhone also won't work for your enormous 85GB music collection. I guess that leaves Android? Good luck!

Well the 820 & Ativ, both has MicroSD, if you're worried about expansion.

Who carries 85GBs worth of music around with them? Surely you can create some playlists and load as you go?

I was thinking the same thing, but maybe he has a very long commute

Long commute like what 5h? Lol.. Anyways you can always use Nokia music or create some playlists.. My Lumia 920 will be full of pictures and apps, the music part I'll leave it to Nokia or any other streaming app.

I think some of you guys have to remember that streaming just isn't a realistic option for everyone. I don't have unlimited data and while I don't have 85GB worth of music to put on a device, I do listen to alot of music and have a ton of music. So I know for me, having significant amounts of storage is necessary. Granted, I have a couple of iPods. But I would like to carry around just one device if necessary.

@ Tony, I have a lot of music too, but it's no way I will put in that much music to fill up that much space on any phone. I could understand if it was movies, but music, I just don't see it. However, I do love my Audible books!

Hell for the car, just throw a cheap PMP of some kind in and use that for your full library and keep your phone trimmed down to only the most used current stuff.

I use my Zune HD for the car myself.

no way will i now buy a 920. Both nokia and WP8 are finished. It's way to little and way no late. No one care for WP8.

Well enjoy your android or iPhone. We will continue to enjoy our Nokia and other WP devices.

No support for Canada either. Appears to be quite limited.

Support is UK only at present, a number of other regions are being worked on though.

Some of you are missing the point on the lack of storage space. Our Smartphones replace a lot of our previous devices: still camera, video camera, tv and movie player, mp3 player, etc. 32 GBs is very very limiting, it's what I had on my iPhone 3GS several years ago. It is the one limitation on my current phone, the 900, which has always inconvenienced and disappointed me the most. It's not just about space for music, it's space for the pictures we take, the videos, pre-recorded tv shows when I travel, etc. I was under the impression that the 920 had micro-sd expansion. If it doesn't then that is extremely disappointing and frankly a foolish choice for a vendor to be making that needs to be able to compete. That's a simple feature to add compared to adding new innovations.

Well, at least you do have options. You still can get the 820, Aptiv, Zeal, and possible whatever HTC, will announce. So the 920, is not the only game in town. But if you really want a Nokia with Pureview and MicroSD, you may have to wait for the 2nd or 3rd batch phones to come out in 2013.
Windows Central Newsletter
Thank you for signing up to Windows Central. You will receive a verification email shortly.
There was a problem. Please refresh the page and try again.