Philips Hue is getting a big entertainment update with gaming features and a new app
Philips is giving its Hue app a makeover and is making the platform more fun for gamers, music fans, and movie watchers.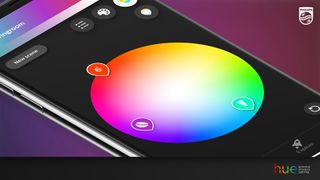 Philips is a name that used to be synonymous with toothbrushes and shavers, but in the years since entering the smart lighting market with Hue, it's become a household name in an entirely new way.
Today at CES 2018, the company announced three new endeavors to help bridge the gap between the average person who just wants a few smartphone-controlled lights and the more serious gamer or host that wants to use light to enhance entertainment.
To that end, Philips says that it is working with gaming company Razer to integrate with its Chroma platform, allowing gamers to synchronize lights to popular games like Overwatch. In a demo at CES 2018, the effects were subtle and impressive and didn't distract from the overall gaming experience. Part of the Hue Entertainment platform, Razer is Philips' first partner, but others will be announcing similar enterprises in the months to come.
Until then, Philips says Mac and PC users can enjoy synchronized movies and music using the very cool Hue Sync app, which analyzes a piece of art — movie, TV show, or song — and automatically generates a script for the lights to pulse along with the content. Hue Sync won't be available until the second quarter of this year, as Philips is still working out the bugs.
The third pillar of Philips' CES announcement is a new app, which adds back the color picker feature that was eliminated in version 2.0, along with enhancing the overall speed and intuitiveness of the app. Finally, Philips says it will launch a series of weather-resistant outdoor bulbs in the summer, focusing on ambiance and security.
Hue light bulb starter pack is expensive. It costs more than Xbox one s... I wanted to buy it to pair it with ambilight... But the pricing is insane...

Just wait for the deals. You could get the color starter pack for around $140 before Christmas, and the A19 color for $32. The A19 4 bulb white starter pack was $60, and you can regularly find the A19 white bulbs for ~$10-11 if you wait for a sale. The color strip always seemed out of hand to me. They need to figure out a way to make that cheaper or eat margin, because at $90 msrp for one strip, that's insane. They had those on sale before Christmas too for $50.

Agreed on sales once in it gets addictive. The best app I have found is huetro and now that I have switched to Android can't find anything to compare. I have 9 bulbs but want more I usually wait til black friday or look on ebay.
Windows Central Newsletter
Get the best of Windows Central in in your inbox, every day!
Thank you for signing up to Windows Central. You will receive a verification email shortly.
There was a problem. Please refresh the page and try again.