Pinball FX2 adds Marvel Venom table for Xbox 360 today and Xbox One Thursday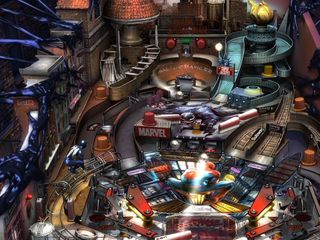 The team at Zen Studios will be adding yet another Marvel super-hero table to their Pinball FX2 game. This time it's based on Venom, one of Spider-Man's major villains. It will be released today, December 10 for the Xbox 360 and for the Xbox One tomorrow, December 11 for the price of $2.99.
Zen Studios says:
PC users can also get the Venom table for Pinball FX2 via Steam later today for $2.99.
Source: Zen Studios
If it was a universal app I might buy in. But the tables won't work on my PC.

In addition I would like it for WP. Of course, it exists for Android.

Yea it kind of sucks you have to buy the tables twice. I have the majority on pc

True. I dislike that too. Money pinching bastards.

There's nothing they can do about it. Steam isn't cross-compatible with Xbox, nor is Windows 8, etc.

Yeah but why not buy once for 360 and have it on One, Windows phone and Windows tablet?

Microsoft has not set up their infrastructure to do that. To even get Xbox 360 table purchases to register on Xbox One, Zen had to seek special permission from Microsoft. And that's a one-way street; Xbox One purchases don't transfer to Xbox 360. So far, no third-party developer has been able to have their Xbox purchases apply to Windows Phone or Windows 8.

I understand that it doesn't work that way now. I was just making a point that it should.

True that! Just gotta make sure we point the finger at the right company, not the game dev. :)

Absolutely. I know there must be many developers that would like to sell their games on dlc in this fashion.

Wish they bring it for Windows Phone and make it universal as well :(
Windows Central Newsletter
Thank you for signing up to Windows Central. You will receive a verification email shortly.
There was a problem. Please refresh the page and try again.