Pinball FX2 adds Star Wars: The Force Awakens tables for Xbox, coming soon to Windows 10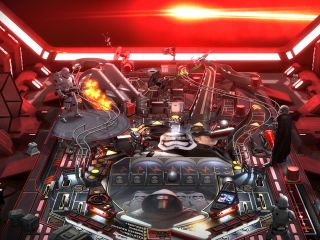 If you can't get enough Star Wars: The Force Awakens in your life, developer Zen Studios has the solution with their release of Star Wars Pinball: The Force Awakens. This is a two-table pack for its long-running Pinball FX2 game and its now available for the Xbox One and Xbox 360 console. It will also be made available for the Windows 10 version in the future.
Here's what pinball and Star Wars fans can expect from these new The Force Awakens tables:
Zen Studios says it is still working to give Xbox One Pinball FX 2 players a way to transfer their table purchases to the Windows 10 version, which is a feature that has been promised since March 2015 when the Windows 10 version was first announced.
Zen Studios also offered some hints about their future Pinball FX 2 plans:
Source: Xbox Wire (opens in new tab)
Windows Central Newsletter
Get the best of Windows Central in in your inbox, every day!
As an owner of real pinball machines, i'd love to play some of the virtual ones on the xbox one. Problem is that both the virtual pin games on the xbox one have severe flipper lag. Anyone else have this problem? Documented way to fix it? Right now i'd consider them unplayable (and i retried them less than a week ago, hoping for an update). There are even a few slow montion documentation video's of the issue on youtube. I'd gladly play the stars war pin if it was lag free.

I haven't noticed this. Seems to work fine for me.

Pinball games works great on surface pros as well. Posted via the Windows Central App for Android

Got this pack with my Bing credits. Now if we could get a KOTOR like game this generation. Too bad everything has to be canon though, so that will neve happen.

I really want a Windows Mobile version of that game.

I've personally contacted them about doing this too, as I would LOVE this game on my phone. I wonder how hard it is to "universal app" this up!

Seems pretty snappy for me, though your experience on real machines may make you more sensitive to it than me. Though I love Pinball Fx2 and have purchased a lot of the tables over the years.

Sounds fun, it's a mediocre movie though.

Nope. It was very very good. And the next one will be amazing as always

Agreed. I know people feel it was just a copy of the original movie but I think they did a good job of introducing new characters while giving nods to the original trilogy. I'd love for the people who complain to put forth ideas that would have made the movie as successful and respectful of its roots without making long-time fans want to burn JJ Abrams and Disney at the stake.

Meanwhile you can redownload the original pinball fx on xb1(if you purchased it)

The new table looks better than the movie.
Windows Central Newsletter
Thank you for signing up to Windows Central. You will receive a verification email shortly.
There was a problem. Please refresh the page and try again.