Ping Pong Masters, a fast paced table tennis game for Windows Phone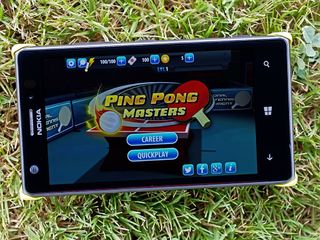 If you like table tennis or just a fan of fast paced games, Ping Pong Masters might be a Windows Phone game worth looking into. As you would guess, Ping Pong Masters is a table tennis game for our Windows Phones that offers two gaming modes, over thirty ping pong masters to face and over forty ping pong paddles to collect.
Available for low-memory devices Ping Pong Masters has nice graphics, speedy game play and while the disembodied paddles is a little creepy looking, the game is well done.
The road to destroying your opponent
The main menu for Ping Pong Masters is a little on the busy side with access to the game settings and your player stats running across the top of the screen and various links to the game's social media sites (Facebook, Twitter and Google+) running across the bottom of the screen. You also have access to the two gaming modes.
Settings are limited to turning on or off the game's sound and music. The player stats included (from left to right) your paddle choice, energy levels, ticket count, point count and player level. Energy is used to play the game while tickets and points are used to buy new gear and open up new gaming venues. Energy is replenished automatically with time with tickets and points being earned through game play. Alternatively, you can stock up on all three through in-app purchases.
Ping Pong Masters two gaming modes include a career and quick play mode. The quick play mode is a single match where you can choose among the 30 plus opponents from one of the 6 locations (basement, stadium, bar, etc.). Just keep in mind that all the opponents and locations are available. They progressively become unlocked as you advance within the game.
Career mode is a collection of six tournaments that include over 90 levels of play. You start your career playing games from your basement in the practice tournaments. Here you face opponents that include your grandmother, friends and neighbors. And don't let Grandma fool you. She is a worthy opponent.
Tournaments are progressively unlocked, become more challenging to compete in and culminate with a World Tournament where you face the best of the best from across the globe.
Look Ma' No Hands!
Game play with Ping Pong Master is a little on the strange side but only in appearance.
Across the top of the screen you will find the same player stats and controls that appear on the game's main menu. Down the left side of the screen are three control buttons that activate power-ups that include adding power to your paddle, slowing time and supersizing your paddle. Player scores are displayed on the upper sides of the screen.
The strangeness of the game screen is due to the lack of player bodies. Each player is represented by a floating ping pong paddle. To control the paddle, you tap/hold the screen and slide your finger around. Where your finger is, the paddle will follow.
Game play follows your typical game of table tennis. The first player to score eleven points (winning by at least two points) is the victor and each tournament has at least three opponents to face.
A quick note about your player's energy levels is that it will cost you a certain amount of energy to play in a tournament (per game) but it does not appear that quick play games cost you any energy. Energy is replenished over time (rather quickly I might add) and if you win a game, you will get your energy entry fee back.
While I'm not a fan of the game play tokens (or energy in this case) that can limit your playing time, Ping Pong Masters does give you a nice supply of energy that should get you through a tournament easily (especially if you don't lose).
As you win matches, you will earn experience points and as your experience levels increase more paddle options become available in the game store. You can use the tickets and points earned during game play to buy or collect over forty different paddles that have unique styles and abilities. The downside to buying a new paddle with better abilities, your opponent will also be fitted with the same paddle (I guess it's only fair).
As far as the gaming experience is concerned, it does take a little time to get used to not having a players body to control and your finger will seem to get in the way at times. But the first few games are a little on the easy side to afford you the opportunity to get used to controlling the disembodied paddle. Once you get past your first few opponents, the game has a little zip to it with plenty of lightning fast serves and volleys.
Overall Impression
Ping Pong Masters is one of those games that are easy to play but challenging to master. The graphics and animations are well done (I like how the ping pong balls begin to collect on the floor during a game) and game play is challenging enough to keep things interesting.
The only downside that really stands out with Ping Pong Masters is that if you have to leave a match in mid-stream, you will forfeit all tournament progress. It would be nice if the game saved your progress and allow you to pick things up where you left them.
If you are a fan of table tennis or sports games, there's really not much to complain about with Ping Pong Masters. Even those who aren't into sports games but are looking for an entertaining, fast pace game will find Ping Pong Masters appealing.
Ping Pong Masters scores a 4.5 Star rating in the Windows Phone Store which we see as being spot on.
Ping Pong Masters – Windows Phone 8 – 11MB – Free – Store Link
Windows Central Newsletter
Get the best of Windows Central in in your inbox, every day!
George is the Reviews Editor at Windows Central, concentrating on Windows 10 PC and Mobile apps. He's been a supporter of the platform since the days of Windows CE and uses his current Windows 10 Mobile phone daily to keep up with life and enjoy a game during down time.
So Table tennis 3D or Pingy pongy?

I think ping pong is alternate name of table tennis

I think the question actually refers to the 2 individual games themselves lol
EDIT: PING PONG MASTER IS BETTER! Faster and more intense!

I guess everyone has their favorite but this Ping Pong Masters stinks when compared to Table Tennis 3D. It's not even close in my book. But then again we all like what we like.

Table Tennis 3d is pretty good for controlling ball placement but the game play is frustrating, especially worth the existing bugs. I'm liking Ping Pong Masters better.

Thanks for the comparison guys, i was not going to download it as Table Tennis 3D is already installed but now will definitely give Ping Pong masters a try, though i still hate the term Ping Pong as an ex-Table Tennis player.

I still prefer table tennis 3d. Its more challenging

About the table tennis 3d, I hate the fact that it is on terms to difficult to force you to buy balls, and most people I know complain that these balls aren't even added to their game when they purchase them!!!

Agreed. The way TT 3D rewards balls is kinda underwhelming. But the game play is superior to this Ping Pong Masters IMO.

What's up with the graphics? Lumia 930: http://i.imgur.com/jceYgpk.jpg

Yea... I get the same. L1520

Yeah, exactly! Lumia 1520 here.

Clearly not optomized for 1080p displays.

I'm having the same problem. Graphics looks terrible. L1520

It's way too easy. I haven't lost a single match yet. I wish there was settings to make it more challenging.

The graphic are screwed up on my Lumia Icon

George never gets bored, he's just playing games XD

Superb game!! And very addictive game also!!!

Graphical issues here as well

Crash on startup offline, Lumia 820

I hate play for free games. To advance I need to keep buying crappy points.

Table Tennis 3D is way better.

Crashes right after I open it L920

it works when u have a net connection :(

Table tennis 3d is superior. Played masters for a second and was like how do I calibrate this shit. And power ups... Seriously? TT3D is a proper game, way more rewarding.
Windows Central Newsletter
Thank you for signing up to Windows Central. You will receive a verification email shortly.
There was a problem. Please refresh the page and try again.