Pixel Zombies sets out to scare you on Windows 10 and Windows 10 Mobile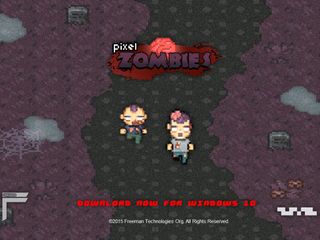 Just in time for Halloween, Freeman Technologies and TD2TL Games have released Pixel Zombies, a free-to-play game for Windows 10 and Windows 10 Mobile. The game features retro graphics and has a simple premise: Kill the zombies, and don't kill humans.
There are five different types of zombies to kill in the game. Here's what the developer has to say about the game:
What do you think about Pixel Zombies? Let us know your opinion on the game in the comments.
Download Pixel Zombies for Windows 10/Windows 10 Mobile (opens in new tab) (Free)
Windows Central Newsletter
Get the best of Windows Central in your inbox, every day!
Why new apps don't support windows phone 8?

Good question but the platform has been rebooted I guess. Nost phones will get windows 10 upgrade theirs no need to worry.

The upgrade starts in December, but will end in April 2016...

It's just a Zombie Smasher rip off which available on any smartphone, you're not missing anything.

It's more cost efficient to make a universal app that targets Windows 10 than to make it for Windows Phone 8 and Windows 8. Everything below 10 is meant to be killed off, sad for people stuck without 10 but good for the platform and the future.

So basically, this particular game is can only be seen by Windows 10 Mobile phone users?

Lol, I guess in some parallel universe today is 31st Oct 2015.

Why no wp8.1? Os Microsoft forcing people to download w10 mobile? No thanks but w8.1 is good and neat. W10 mobile isn't neat at all! Plus settings are confusing as well and completely changes in UI is a heart attack!!!

I felt the same way at first. But you get used to it and will definitely prefer W10M after using it for a bit.

Said the dinosaurs to the early mammals. Sad that they didn't even have an option to upgrade.

Exactly. And c'mon. Settings, confusing? It's way easier to find what you're looking for, and graphically goes in line with W10's "Universal" strategy.

The Personalization settings could be brought together, Colors and Transparency settings for example. No complaints though, much better organized than in 8.

wut? settings are a lot easier on wm10 :3 and now the app was made for winodws 10 so ofc it goes for mobile windows 10 too :P
its not that they tried a lot to make it diffferent for pc and different for phones :3

Maybe their main objective was the PC? And then they easily ported It to mobile.

Right when I was looking for some pixel game :) Thanks

W10M, check. Burnt orange phone theme, check. Zombie game, check. Bring on Halloween, Thanksgiving and the 950 with W10 ;)

these days the urls for apps on WC seem to be drunk

It seems, Microsoft forget that it also has WP 8.1 platform/store.
Users also wants new apps (unlike the dumbs store is filled with) & also updates for system apps.

Zillions of zombie games on windows phone 8 and 8.1 this one won't be missed.