Plantronics Blackwire C3225 review: The premium headset you need for handling professional calls
Plantronics is a reputable brand within the headset market and the C3220 is a great choice for the office.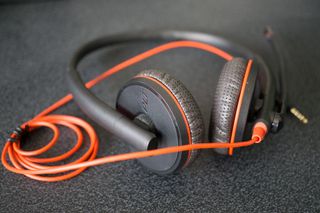 The Plantronics Blackwire C3225 is the more expensive and better-equipped brother to the C3220, which I reviewed positively. This headset series is for professional use in offices or on Skype calls. Just like the C3220, the California-based company boasts the C3225 to be an excellent corded USB headset designed to deliver high-quality audio with a solid microphone for calls and other communications.
For light use
(opens in new tab)
Plantronics Blackwire C3225
Bottom line:
If you need premium audio and microphones for the office, look no further than the Blackwire C3225.
Pros:
Great audio.Solid microphone.Lightweight.Detachable USB cable.
Cons:
In-line controls are a little funky.
What you will love about the C3225
Like the C3220, the C3225 has professional use in mind. Taking calls at home on a tablet PC or in the office on a desktop, the C3225 makes it easy to manage incoming and outbound communications. For those long shifts, the added padding the C3225 offers is a welcome addition to prevent fatigue and avoid uncomfortable strain on the ears. The excellent audio and great microphone are icing on this delicious cake.
What sets this model apart, aside from the extra cushion, is the ability to remove the in-line USB controls and connect the headset to a phone or other device using a 3.5mm jack. You'll be able to enjoy the same noise-canceling microphone that can be found on other models in the family, and the lightweight design makes it ideal for taking to and from the office.
As mentioned already, there's an in-line controller that makes calls easier to manage by allowing you to change the volume, as well as answer and end calls, and mute the microphone.
Image 1 of 3
What you may dislike
The same drawback I found with the C3220 is present here, and that's the in-line controller. While it's a nice touch, the fact that volume down and up are in reverse order to what you'd naturally expect throws you off at first. Aside from that, there's very little to dislike about the headset.
Image 1 of 3
Should you buy the Plantronics C3225?
The Plantronics Blackwire C3225 is a brilliant piece of kit. Costing around $68, it's not an expensive offering but comes rocking some serious features that matter most to anyone looking to handle calls in a work environment.
See at Amazon (opens in new tab)