PlayerUnknown's Battlegrounds now marketed as 'console exclusive' on Xbox One
By Matt Brown last updated
Microsoft appears to have shifted marketing for PlayerUnknown's Battlegrounds, referring to the game as "Xbox One console exclusive."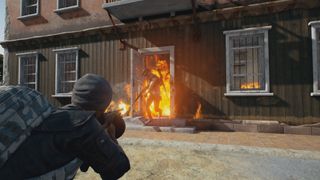 Earlier this year Microsoft picked up PlayerUnknown's Battlegrounds for the Xbox One, marking its console debut after an unmatched wave of success via Steam's Early Access program. When first revealed for the platform, Microsoft carefully marketed the game as a "console launch exclusive" – an ambiguous term, which pointed toward a wider rollout at a later date.
It now appears that Microsoft has begun shifting away from this phrase, with recent changes across Microsoft's site following the unveiling of the game's Xbox One debut date. The PlayerUnknown's Battlegrounds page on the official Xbox site now frames the game as "Xbox One console exclusive" – a change from the previous marketing of the game. This comes after reports that Microsoft was in talks to extend the exclusivity period on its platform.
Furthermore, preorders for PlayerUnknown's Battlegrounds recently went live on the Microsoft Store (opens in new tab), offering boxed copies of the game for $29.99. Once again, images of the retail packaging show the game as an Xbox One console exclusive, rather than specifying that a launch to further platforms could be seen.
So what exactly does this change mean? For now, we'd recommend taking any speculation with a grain of salt. However, explicitly marketing the game as a console exclusive points towards an extended exclusivity deal between the game's developer, Bluehole, and Microsoft. Alternatively, this exclusivity could refer specifically to the Xbox Game Preview release, ahead of the final release sometime in 2018. Or, this could simply be a marketing mishap, failing to outline the "launch" aspect of its exclusivity period.
It should be noted that the game has recently been referred to as a console launch exclusive in a post on Xbox Wire (opens in new tab), as recently as October 31. While this doesn't entirely rule out an extended period on Xbox One, it's a reminder to take differing sources with skepticism for now.
PlayerUnknown's Battlegrounds is currently on track for a December 12 release on Xbox One, with special enhancements to take advantage of the Xbox One X. What do you think of these recent changes? Let us know your thoughts in the comments.
See at Microsoft Store (opens in new tab)
Updated October 31, 2017: Updated to reflect a recent post from CEO of PUBG Corp, Chang Han Kim, where the game was still referred to as a console launch exclusive.
Matt Brown is Windows Central's Senior Games Editor, Xbox & PC, at Future. Following over seven years of professional consumer technology and gaming coverage, he's focused on the world of Microsoft's gaming efforts. You can follow him on Twitter @mattjbrown.
Even tho i do not see "launch" anymore, my guess is it is just for the preview only. But u won't see me complain if it turn out to be a full exclusive :P

b b b b but exclusives don't matter. LOL
Plus it was never going to be a full exclusive since it was already on PC. LOL

https://news.xbox.com/2017/10/31/pubg-coming-xbox-one-december-12-2017/?... Xbox fans, we know you've been waiting and we're so excited to finally be able to say it – PlayerUnknown's Battlegrounds is coming to Xbox One as a console launch exclusive through the Xbox Game Preview program on December 12, 2017! I am sorry, but this is straight from Bluehole CEO and Microsoft. Guess they are lying?

I hope this will be a REAL console exclusive.

Microsoft need really come back to REAL console exclusive games, like on Xbox Original & Xbox 360....no offence pc gamers

I don't think there's anything wrong with console exclusive also being released on pc. It's not going to switch console gamers from buying it. The appeal of consoles is ease of use and community. Most console players don't have capable pcs. I think it's a benefit if it's a play anywhere title and also cross platform.

Completely disagree. Xbox Play Anywhere is a huge win for Microsoft's platform. I only wish more publishers would come aboard.

Or, this could simply be a marketing mishap, failing to outline the "launch" aspect of its exclusivity period.

I'd say there is virtually zero chance of this being the case, given how precisely Microsoft has used this terminology since this year's E3. "Console exclusive" means something very different than "console launch exclusive". As for a marketing snafu? I rather doubt it, given how high profile this is. It's a virtual certainty that senior Xbox leadership has signed off on everything related to this game. As for it being true only for the game's early access preview... Yeah, there's that. I hope that's not the case, since it's stretching things beyond comfort, but the competition has been aggressive this generation.

Yep. It will now never appear on Playstation. For reference, Rise Of The Tomb Raider and Dead Rising 4 never said Xbox One Console Exclusive on the box or in the digital download. MS has clearly bought this game Phenomenon. Really good for Xbox. They will market the crap out of this. It's this years Number 1 selling game. This will sell Xboxs like hot cakes over Christmas and the new year. Congrats Phil Spencer and MS.

"Yep. It will now never appear on Playstation." You really need to stop lying and trying to mislead people with your usual lies and bs. It's already mentioned "console launch exclusive" on XB's very own site: https://news.xbox.com/2017/10/31/pubg-coming-xbox-one-december-12-2017/?... You did the exact same thing with City skylines. And you disappeared when it came on PS4 few months later... https://www.windowscentral.com/cities-skylines-xbox-one-edition-preview#... You do this so often... Mislead consumers and gamers with bs just to promote a brand/company... smh

If your referring to Xbox Wire, that quite easily could be a misinterpreted representation. However it is a fact that the marketing has changed from Launch exclusive to just Console exclusive. And timed exclusives on Xbox are not ever given this marketing. The marketing has clearly changed in the last 24 hours.

Please stop it. This is like Cities: Skylines all over again where you claimed it was not coming on PS4 or at least not in the next 2 years... LOL Now you're saying XBox's official site is a "misinterpreted representation". LOL How much bs just to mislead people... smh

Ok firstly my own opinions on Cities Skylines was my own opinions. Microsoft never once marketed Cities Skylines as a Console Exclusive. So you can't compare the 2 2nd a website writer could easily have misquoted the interview as Launch console exclusive. Because that's what it has been since E3. Microsoft have openly advertised PUBG very carefully as Console LAUNCH exclusive. 3rdly. Microsoft recently met with Bluehole specifically rumoured to extend the exclusitivty deal. 4th. After that meeting all Cloud servers for the game even on PC moved from Amazon over to Microsoft Azure 100%. 5th. Now Microsoft this week COMPLETELY remove Launch from all Marketing. Now saying Xbox Console Exclusive. Not Launch Exclusive anymore. 6th. No game ever in the history of Xbox has ever said Xbox Console exclusive on the cover of the bix or in the digital marketing if its a timed exclusive. Rise Of The tomb Raider did not have any Excluisve noting on its box whatsoever. Even at launch for example. with all these points considered something has DEFINATELY changed with the exclusitivity of this title. And the marketing of the title and its cloud servers suggest it will only ever be on the Xbox.

Here is a simple question, did MS or anyone from MS announce that this is a "Console exclusive" or that it'll never come to PS4? NO!!! The link I posted was the official announcement where they announced the date a few days back.
They are clearly talking of "console launch exclusive". No one announced that it was a console exclusive, it's just speculation from your part (like Cities: Skylines) until someone announces it.

you know what, I agree with you. We do need an official announcement. But its not as if the speculation is based on thin air. was my original comment bold and perhaps excitement in hyperbole? Sure. absolutely. And it wouldn't be the first time marketing has changed before an announcement has been made. It's interesting to note as well, normally a mistake in marketing would have been fixed by now. So the change in dialogue from admitting Launch now seems like a purposeful move. Surely they would have rectified it back if it was an accident. But we definitely can't accuse MS of being cheeky with changing it. Because they haven't done that with any timed exclusives ever before. ill admit it does seem weird with the interview stating launch exclusive. I suppose Phil could clear this up if he wishes.

"they haven't done that with any timed exclusives ever before." They have lied in the past: 1) Aaron Greenberg with this "#BOOM #XboxOne #Exclusive Rise of the Tomb Raider".
2) Larry Hryb with "Kojima on stage now to open the show and announce that the next Metal Gear Solid V is exclusive to #XboxOne"
3) The youtube video youtube.com/watch?v=XoFVrmb7jQk
0:28 "FABLE legends ONLY ON XBOX ONE"
0:41 "Ori and the blind forest ONLY ON XBOX ONE" And this is what Greenberg tweeted: "Excited to share @Xbox One will be the exclusive console home to @PUBATTLEGROUNDS this holiday!" This holiday. These are the same words they used with ROTR. This for me is probably just the "preview edition" that is console exclusive just because PS4 doesn't have a preview program. And again this is once again MS mislead people with a time deal that they are trying to pass as a "fake exclusive" and how their "fans" and other people are just running with the idea even though there isn't a single official confirmation...
Windows Central Newsletter
Get the best of Windows Central in in your inbox, every day!
Thank you for signing up to Windows Central. You will receive a verification email shortly.
There was a problem. Please refresh the page and try again.