Plex now streams music from Tidal, offers bundled subscription for both
The partnership also includes a discount of $60 per year on Tidal and Plex Pass subscriptions.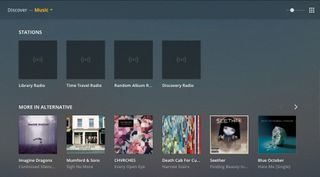 (Image credit: Windows Central)
Plex is teaming up with Tidal (opens in new tab), allowing subscribers to stream their Tidal tunes directly within the Plex app. The two companies are also making it easier to justify subscribing to their services, offering up a discount of $60 per year on a combo subscription to both.
Tidal's entire catalog of more than 60 million tracks is included here, and it'll live right along the songs currently in your local library. Tidal is integrated into Plex's playlist and search functions, allowing you to search across your own library and Tidals, and form playlists with tracks from both. Plex will also recommend new artists and albums from Tidal based on what's already in your library.
"An incredible music and media experience is something that matters to both TIDAL and Plex users, and the addition of TIDAL's music streaming service within Plex makes it the only solution that organizes and curates all major media types in one place," said Keith Valory, CEO of Plex. "It's another step closer to making all the media that matters to you accessible from one app, on any device, anytime."
Lastly, Plex and Tidal are offering a combined subscription for both services, coming in at $19.99 per month (opens in new tab). If you want to give it a shot, the company is also offering up a 30-day free trial to whet your appetite.
See at Plex (opens in new tab)
Why you should forget about Windows Media Center and use Plex
Windows Central Newsletter
Get the best of Windows Central in your inbox, every day!
Dan Thorp-Lancaster is the former Editor-in-Chief of Windows Central. He began working with Windows Central, Android Central, and iMore as a news writer in 2014 and is obsessed with tech of all sorts. You can follow Dan on Twitter @DthorpL and Instagram @heyitsdtl.
This is great. I don't use TIDAL, but more generally the idea that Plex could convince other paid services to partner with them and get content into one interface has so much potential. I've been hoping for years to find some way to combine Movies Anyway (UltraViolet before it) content into Plex, to at least unify movies I have paid for even if it doesn't unify streaming services.

I thought the same thing too! I have been wanting to see if Plex would be open to having our UV/Movies Anywhere libraries available straight from Plex and this TIDAL partnership shows that it could be possible in the near future. Anywho good news for those who have a subscription to both

But I have a lifetime plex pass...so no discount for me

I'm going to research the difference between lifetime Plex Pass and Plex Premium? Could someone explain for us?

I love that you can find more and more services and apps using Tidal, but I don't get Plex at all. Maybe it's a generational thing, but who still has media sitting on their hard drives? Is this 2004? I have some hard-to-find music on OneDrive and the rest - I mean everything, music, movies, TV - is all from streaming services. Do people save ISO's of video games on their hard drive, too?

Andrew G1, you would be surprised how many of us have our movie collections on hard drives. My collection is currently over 600 movies and growing. When Blu-ray movies go on sale it's easy to rip them to a hard drive. Since there isn't an elegant way to house your Ultraviolet movies and your Blu-rays together it just makes more sense to buy and rip. Plex allows you to watch anywhere and it's free.

I see, but does Plex let you access media in cloud services like OneDrive? It doesn't anymore, right? So everything has to be on a hard drive somewhere. That's very limiting. And kind of retro.

Streaming requires the internet and believe it or not, the internet isn't everywhere, all the time, fast, and free or cheap. It is limiting. If you say this isn't true for you, then I think you need too stretch yourself and get out and see the world. Just my thoughts.

Kevin Rush - Internet connectivity isn't very limiting for me, true. Clearly we lucky duckies in New Jersey are really spoiled. I've lived in five countries on three different continents, but maybe I should move to rural Kenya next and then I can say I've really seen the world. Also, streaming services like Tidal and Netflix allow offline play. As does Plex.

Hi Andrew G1,
Clearly, if you have lived in so many places and continents, you are fortunate and my comments don't apply to you. Nevertheless, I believe my points still stand and apply to many many places and people other than, and closer than, rural Kenya. I hope you know that. Access to fast, affordable, and consistent internet at home is a legitimate issue for many people. All that said, referring back to the original topic of hard drives, just let me say that it costs me quite a bit of money to stream. Money that not everyone has. That's the only point I was trying to make.
Respectfully.

I travel frequently across the country and have 200+ movies on Vudu and rarely have problems with internet connectivity. Your comment is bs and maybe you're the one that needs to either get out more or try a different service provider. You obviously live in a bubble and think if it applies to you then it must apply to everyone.

I don't think you give much consideration to "pirates". Using streaming services for music, TV, and movies could cost you as much as 100 dollars per month (if not more), if you want access to everything you want/need. That is a big expense compared to what you can do if you want to "cheat the system". And believe me, that is what MANY are using Plex for as well...