Plex for Windows 10 PC is now available with mobile coming later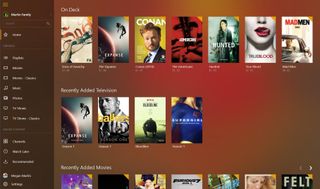 For those home streamers with a vast library of video, music, and photos, you will want to grab the all new Plex for Windows 10. The app update just went live in the Store and is bumped to version 3.0.31. Although the mobile version is still at 8.1, it too will be updated in the coming weeks for Windows 10 Mobile proper.
Plex for Windows 10 is re-written for the Universal Windows Platform (UWP) and brings with it some new advantages, including better UI scaling and a more modern look. Here is what's new in Plex for Windows 10!
Plex for Windows 10
Native Windows 10 app built from the ground up to take advantage of Microsoft's new Universal Windows Platform.
New UI A completely redesigned beautiful UI, which works and looks great across any device and screen size.
Cortana
Hubs and discovery!
Continuum (on mobile)
For those who are not familiar Plex is a free service (Plex.tv) (opens in new tab) that lets you stream media from your home PC or NAS setup to any other digital device at home and abroad. Plex is renowned for its flexibility as it is available on every major platform as well at its easy to setup and use design. The idea is simple as it lets you run a server app on your PC that has access to your media library. Family members can then log in and stream the content to their device including on the Xbox One.
If you have not tried Plex now is a good time to do. The new Windows 10 app has been in development for a few months now after some exhaustive beta testing meaning it should be fantastic out the gate. Let us know what you think in comments and why you like to use Plex!
We'll keep you posted on when the Mobile version of Plex goes live later this summer. For now, Windows 10 Mobile users can continue to use the app built for Windows Phone 8.1.
Download Plex for Windows 10 (opens in new tab)
Windows Central Newsletter
Get the best of Windows Central in your inbox, every day!
Daniel Rubino is the Editor-in-chief of Windows Central, head reviewer, podcast co-host, and analyst. He has been covering Microsoft since 2007 when this site was called WMExperts (and later Windows Phone Central). His interests include Windows, laptops, next-gen computing, and for some reason, watches. Before all this tech stuff, he worked on a Ph.D. in linguistics, watched people sleep (for medical purposes!), and ran the projectors at movie theaters because it was fun.
Nice to see this. The beta was pretty good.

This is why I have mine setup and it works wonderfully great to see an update to the app and even more reason for continuum!! About to purchase the lifetime but this has really helped me cut the cable, especially with PlayOn. For those who are looking for a cheap NAS check the forum ;)

Chromecast support still missing?

its not been missing for me in plex since i first bought my lumia 930 in 2014. so i have no idea what you mean as its always been in plex. Its the main reason i use it over kodi. If you said netflix then yes id agree but plex has always been able to cast using chromecast and miricast and airplay standards.

Continuum for mobile, I have been waiting for this.

I hope this time it's FREE. Been using Plex Home Theater on my Windows 10 PC because it's free when playing my media files. The previous Plex for Windows app needs activation or a Plex subscription to be able to play media files or else, you are limited to just 1 minute of playback.

So you don't have to pay? I thought it was a requirement for the windows app on xbox.

They have another app for Macs & PCs which they call Plex Home Theater. It's TOTALLY FREE! You're able to play all media files with no restrictions.

Yeah my problem when I dropped cable I purchased Xbox1s and fire sticks but discussed with wife and the lifetime just makes more sense.

I think that would be best for you. You purchase the subscription once and you're able to play all you media files on any platform using the login associated with the lifetime subscription. Really love Plex. Haven't seen any competition that can beat them. #suggestionsarewelcome though. ☺☺☺

you pay a small 1 time fee on 1 windows device and then thats it, itll work on all your windows devices. its about 4 pounds but there are other subscrition charges for other options, none of which you need if your just casting. personally at 4 pounds for perminant usage is so chaep. Id actually be happy to pay 100 pounds a year but dont tell them.

Really? If I activate Plex on my Windows 10 mobile, it will activate on my Windows 10 PC? I know, if you use Plex Pass it will activate everything. But if you only have sign up for the FREE account, the app should be activated in each device and pay $5/each device.

Coding, maintaining and updating Plex is no small task is it really so bad to support the developers for their hard work? Posted via the Windows Central App for Android

I agree with you. #justsaying #notcomplaining

I'm a fully paid up Plex Pass holder and have been for a long time. It's peanuts and the developers continually update and improve the experience across multiple platforms. It's an easy recommendation. They even cater for free to a degree which they don't have to. Posted via the Windows Central App for Android

I think you have something incorrect. I have been using the plex app for a while, and as long as I'm within my network it's free.when I leave my network I get the 1 minute of playback, but that's not just the Windows App, that's all of plex.

I'm not sure with you but that's my experience on my Windows 10 PC & mobile, iPhone & iPad and Galaxy S5.

Wondering why?? Why not on both pc and mobile, why pc first mobile later???

Different ui I suppose. We've only been testing the desktop version up until now

I wonder if you can stream dvd content ripped to a hard drive?

I do that a good bit I guess it depends on format.

"बहुत बढ़िया (very nice).....

Functionally the WP and 8.1 apps work well, but look outdated. The new one looks modern and just nicer. For me the real big deal is the fact that the Xbox app will be updated. It is a nightmare finding content on that app due to no search (just by alpha) and no folders.). So assuming this app is truly universal those gripes should go away and it will be way better on Xbox Posted via the Windows Central App for Android

Plex is pretty sweet, I'll be waiting on the mobile version :)

Id be surprised if mobile arrives that soon as beta test for desktop has been going on for a while. Maybe though it is just a ui change to get it on mobile

Any specifics on how the Cortana support will work? I've been hoping they add support for it, but I don't want to expect too much out of it.

Plex beta release notes said: Try Play the (movie, show, episode, song, album,artist) (title of the media) on Plex

I wish Plex mobile would read our local owned media (tv shows and movies) and organize them and keep track of them like it does for the servers.

I love the idea of plex, the problem comes with transcoding.. It uses a vast amount of transcoding where it shouldnt be needed..
Why burn subtitles in the movie? I don't get it.. All the others do not have to do this..
Why does it have to transcode a standard MKV/DTS file on all the apps, when no one else need this?
Just tried the new app, and it has the same issues as the xbox one app when it comes to DTS etc.. I have set up KODI with https access to my video library and my friends can stream what ever they want, and i'm using 0% CPU because everything happens on their KODI client and not the server.. This works perfect and always, and is only limited by my upload. I truly hope that Plex gets more native codec support on all fronts, because the idea that you just download an app and start playing is really good. The whole setup with KODI is not something my friends can do themselves..

And Kodi is not available on W10M or even WP. For many of us here, that's a problem.

Yup i know. Would love it on mobile and as apps on different platforms.. I'm just annoyed that even my Xeon CPU can struggle with playback because of this constant transcoding..

So, this is why I also struggle with the playback. It would say that my server is not powerful enough to play the file.

Exactly... The whole idea around plex is beautiful, apps on all platforms, easy setup, easy library sharing.. But it fails big time with codecs..
The ideal media library streamer would be able to directly play almost all content, and only transcode if you ask it to, or it sense a low bandwith connection. Plex apps on devices has next to none of the codec/containers that are standard.
Example.. You are running couch potato and your movies are downloaded automatically.. 99% of all movies available is in an MKV container with DTS Audio. DTS is not able to stream to any plex apps without being transcoded.
This would of course mean that it would utilize direct stream and not direct play, as it is only the audio track that needs converting. But 95% of all my movies are in a video codec that also needs transcoding..
The Kodi app has all the codecs needed to play all files. Therefore the Kodi app on Android has zero problems. Kodis problems is that it is only for Android hence missing the whole "All platforms" idea...

Thank you for sharing. Now I understand. I just installed Kodi, unfortunately, I don't like the UI/UX. I think I'd stick with Plex still.

i have about 100 moviesa and just under 100 tv shows, all my tv shows transcode and work fine and i have about 4-5 movies out of the 1000 that dontt stream well. Personally thats a amazing achievment on windows. You should try android its terrible with the transcoding, ive prety much given up on plex android and only use windows at this time. I love kodi too i have that on my windows dektop unfortnatly its not on my other devices. Personally i like both apps but i prefer plex just cause it auto plays things like series and orginises files a little better in my opinion but yeh kodi works 100% where as plex is like 95% with my windows experience. plex is like 60-70% on android lol, these are guesses but give you a idea what my experience has been

I will look into Kodi more I have it on my fire sticks but been using Plex just because the family likes the looks of it. It is a ton of options out there for these items. Maybe Windows Central can do a Window Home theatre setup comparison for options that work with W10 mobile.

Well Emby and Plex works on W10 mobile, but transcodes the most used formats, so it will take a CPU load to watch anything..
Kodi is only Android/Win32/OSX, has tons of features and customization options, but is a lot more difficult to set up than Plex..
Plex is very easy, Kodi plays anything you through at it... A comparison would however be nice! But Plex will be the go to streaming player for the most people.. I'm keeping my fingers crossed that the UWP app can get more native playback on at least the video formats..

Can't get background images or the Live Tile to work. Even did a restart. Not sure what the issue is . . .

i loved the plex app untill today, this new app just feels morew cumbersome. Its not a deal breacker just a personal preferance thing. I get why they did the changes and feel it was probably needed for new users, unfortunatly for more exp[erienced users its a little bit less intuative. I use plex on both windows and android devices and one thing i have found is windows mobile, windows desktop run the app alot better than android. Android just struggles with alot more video transcoding than windows devices. Does anyone know why that is? I see alot of people hoping plex is free. Its software made by people that need to get payed and iots grweat software, i payed 1 time and have it on all my windows devices, i payed for it one time on my iphone too and i payed for it on androdi and why, becausde at under 4uk pounds iots extremely cheap for what it gives you and worht suppoorting. Plex is awsoem. My only hope is that netflix learns soemthing from plex, hell from tubecast too, neflix needds a cast button and ability.