Plumber Reloaded, a twisted pipe of a puzzle game for Windows Phone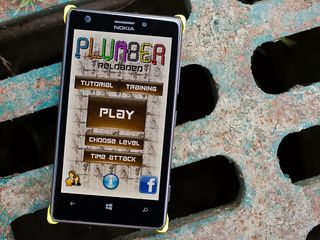 If you are looking for a casual puzzle game, that has plenty of challenging levels to tackle, take a look at Plumber Reloaded for Windows Phone 8.
Available for Windows Phone 8 devices, including low-memory models, Plumber Reloaded calls on you to connect various elemental symbols together with pipes. The challenge comes into play in that you cannot cross the pipes.
Plumber Reloaded isn't an overly complicated Windows Phone game but six levels of difficulty, 430 puzzle levels and three game modes it'll keep you busy for a while.
Plenty of gaming
Plumber Reloaded's main menu offers opportunities to access the game's tutorials, play a training game, jump into main game play, choose a level of play and opt for one of the time attack modes.
The three game modes include your standard game play where you are trying to solve the puzzles as quickly as possible with the fewest errors. There are also three timed modes, sprint, summer run and marathon as well as the training mode (no time limit, no score).
Standard game play includes 430 levels of play that is spread across six different difficulties that include:
Piece of Cake
No Sweat
Could be worse
Hard as a rock
Mission Impossible
Bonus Levels
The timed modes will randomly pull puzzles from these levels and have you race the clock to solve them.
Game Play
The goal of Plumber Reloaded is to connect elemental tiles with pipes in a manner where the pipes do not cross. Each puzzle level will present you with a grid that has pairs of colored tiles marked with various symbols (water, fire, radioactive, bio-hazard, etc.).
Just tap on one of the tiles and drag your finger along the grid's columns and rows to generate a pipe connection between the two tiles. Should you need to re-draw your pipe connection, just tap on one of the tiles.
Below the gaming board you will find your lives available, levels to complete, score and a timer. Each game mode will have a timer (time limit will vary) and if you haven't solved the puzzle before time draws to an end, you lose a life.
There is also a pause button at the bottom of the screen. It seems to be a little buggy in that it sends you back to the main menu instead of pausing the game.
Overall Impression
Plumber Reloaded is a fun, casual styled puzzle game. It has plenty of gaming modes and levels of play that helps the game from growing stale too quickly but I found that a few performance bugs in the game, held its appeal back just a tad.
For example, when you move to complete a puzzle the scoring summary jumps into place before the last section of pipe is drawn. There feels like a slight pause should be in place to reveal the completed puzzle.
You also have the pause button that serves more as an exit button and while you can lose a life in the standard game, you have 9,999 lives. I would have rather seen the time limit removed from the standard game or set the lives to a reasonable number to add to the game's challenge.
While Plumber Reloaded needs a little work, as is, it's a puzzle game worth trying. There is not a trial version available but the developer does offer a free demo version to let you try things out. Why the developer didn't simply offer a trial version of the paid version is a bit of a mystery.
Both versions are available for 512MB devices as well as the 1GB+ devices.
Plumber Reloaded Demo - Windows Phone 8 - Free - Store Link
Plumber Reloaded - Windows Phone 8 - $.99 - Store Link
Get the Windows Central Newsletter
All the latest news, reviews, and guides for Windows and Xbox diehards.
George is the Reviews Editor at Windows Central, concentrating on Windows 10 PC and Mobile apps. He's been a supporter of the platform since the days of Windows CE and uses his current Windows 10 Mobile phone daily to keep up with life and enjoy a game during down time.
We need more interesting games
especially there's no horror games out there in our WP.

Been waiting for Acedia 2.0 for ages...

What plumbing pipes not fascinating enough? Let's get hundreds of junk food apps, weather apps & daft games which are sold as special cause they are unique to WP ecosystem...

-720. It doesn't seem that interesting to me.

No? I'm in agreement, it's got some so-so reviews on Google Play Store. Ever tried accessing Google Play with IE11? It tells you, rather alarmingly that you're using an old browser & can't access your account details...? Old? I'm using WP8.1!!

+1020 downloading right now

Don't take me bad, but I think WP has enough puzzle games

You can never have enough puzzle games. They are the only type of game that I bother with on a mobile device.

So its just Flow Free..but not free.

LOL. This made me laugh.
But yeah, flow free and flow free bridges are must have games. My first game in WP.

The thing with this and Flow Free is it gets boring after about 20 turns. It's the same principle but just more pipes each time. Like doing a bigger and bigger word search. That's not a puzzle game for me. Doors is a brilliant example of how a puzzle game should be done. Or Machinarium.

I didn't even try this game I could tell by the screenshots Flow Free is way better, its clean, simple, and has a ton of levels with different solutions. Doors is good never tried Machinarium

What the fuck...please no more new puzzle games!!!...

Hey too much puzzle games there, how about horror games?

There's plenty of them around, believe me...

Looked interesting until I found out you're racing against the clock. I race against the clock in my real life all day every day and don't need any more of that. Can anyone recommend a puzzle game with no clocks?

Te Well, Kami's Nightmare is kind of a horror game and is addictive as heck.

Flow Free clone, even Flow Free has time trial game mode along with normal puzzle solving mode and a hell lot of puzzles to keep you interested

Haven't played it but reminds me one of the puzzles in Bioshock series.

I know what your talking about..that would make one kick ass app

I just submitted update to the free version of Plumber Reloaded. It now contains all 430 levels from full version and you've guessed it - thanks to the ADs. I hope you'll have more fun this way. I also addressed some issues like delay after finishing the level, pause button and so on...