Pocket Casts upsets loyal customers as it switches lifetime purchases to three-year plans
Pocket Casts once stated, "If you like what you see, we'll ask you for $9. Just once." But that seems to no longer be the case.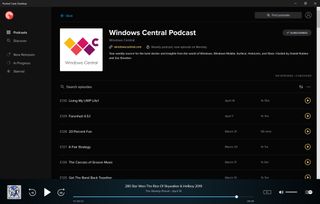 What you need to know
Pocket Casts recently switched to a subscription model for web and desktop users.
Desktop and web users that purchased a $9 lifetime plan now only receive a three-year "Pocket Casts Plus" subscription.
The switch has upset many users who have voiced complaints online.
Updated September 18, 2019: Pocket Casts has changed its plan and will now provide lifetime access to Pocket Casts Plus to all customers that previously purchased the desktop or web app. The original story follows.
Pocket Casts recently switched its business model by making its mobile apps free and charging a subscription to "Pocket Casts Plus" which allows users to use the service on desktops and the web. The move has led to heavy criticism and feedback from users who feel that the makers of Pocket Casts misled them and committed a bait and switch.
Pocket Casts' switch to a subscription model is normal in the app industry, but it does seem to go against Pocket Casts previous marketing efforts. When you purchased Pocket Casts before, its webpage stated, "No monthly subscriptions or freemium hoo-ha. Start your 14 day trial now. If you like what you see, we'll ask you for $9. Just once." Now, Pocket Casts users who purchased the app for $9 will receive a free three-year subscription to Pocket Casts Plus.
Many users on Reddit have shared frustration for not receiving a lifetime plan. Pocket Casts did not specifically use the word "lifetime" but the use of phrases "just once," "no monthly subscriptions or freemium hoo-ha" implies that a purchase work perpetually without requiring additional payment.
Another user pointed out on Reddit that Pocket Casts specifically stated that they wouldn't switch to a freemium model.
A customer that will be referred to as "Y" shared an email exchange with Pocket Casts customer support. Y outlined many of the same complaints shared by other users online and stated
Russell Ivanovic, Chief Product Officer at Pocket Casts (opens in new tab), responded:
After being pushed by Y to refund the purchase, Ivanovic responded:
Y's sentiments have been echoed around the web, especially on the Pocket Casts subreddit. Ivanovic's response does not seem to indicate that Pocket Casts plans to reverse its stance or to grandfather in customers who previously purchased the app.
News Writer and apps editor
Sean Endicott brings nearly a decade of experience covering Microsoft and Windows news to Windows Central. He joined our team in 2017 as an app reviewer and now heads up our day-to-day news coverage. If you have a news tip or an app to review, hit him up at sean.endicott@futurenet.com (opens in new tab).
I can't say I'm happy about this shift. I purchased it twice. Once for Android and again for Web/Win 10 Desktop. The 3 years free is certainly nice that they offered it, but once that's up, I don't think I'd pay a monthly subscription.

Same. I bought it on Windows for my Windows Phone (which if I remember right carried over to desktop, but may not have), and later on Android, so now I'm not happy about this.

Looks like they backtracked and gave anyone who purchased web/desktop lifetime access to Plus.
https://blog.pocketcasts.com/we-heard-you/

I just posted my thoughts in the Reddit chat. Pasting here as well.... I'm of the understanding that for those who do not wish to upload their own media to the new "Premium" service, nothing really changes other than the fact that those of us who paid for the app (myself on Android, iOS, web and even their short lived Windows Mobile app) helped support them to the point that NPR purchased the app so that anyone who will be downloading it in the future will get the base app that we have been using for free. I have no current desire to upload my own audio to this new Premium service, so I think things will work as usual. If I am wrong in my thinking, then I guess I will switch over to Spotify for all my podcast needs since I'm already a Family Subscription subscriber.

What about desktop and web users though? You won't be able to use it on desktop or the web after three years even though you paid for it.

That is a big problem then for those that use that method on a regular basis and it is the most recent version that released I believe. I liked having it, but I could never get it to sync between what I listened to last on mobile, then pick up where I left off on the desktop/web version.

I didn't realize it was purchased by NPR. Good enough reason for me to find another app.

Their blatant slant to the left.

Isn't the subscription for the Plus features? I don't think existing users are going to lose anything they're already getting when their three free years are up, but I could be wrong. In any case, I ain't mad, even though I paid for both the Android and desktop versions. I think I paid for the old Windows version too. The three free years certainly eases the pain.

Users will lose the ability to use the app on desktops and the web as part of what they paid for if I'm understanding the changes correctly.

That's a good point. I use the Windows desktop app (which is just a web wrapper) at times for convenience, when working on my laptop. However, it would be trivial for me to switch over to using a phone or tablet instead. I have Android devices I'm no longer using that I could even dedicate for that purpose. When they started syncing queue progress across devices, that changed everything. It's so easy now to move from device to device.

How is Windows Central the only blog doing honest reporting on this? Everybody else (including you, AndroidCentral) seems to be drinking the coolaid and saying "BEST PODCAST APP NOW FREE!" Oh yeah... it's because Windows Central users got burned by this company already. Because ShiftyJelly is a terrible company. Nobody remembers. But Windows Phone users do. We never forget.

I appreciate the compliment. I think there's a chance that Android and iOS-aimed sites focused on the app becoming free on mobile devices because Android and iOS devices are mobile and users gained a free app that is very good. I focus on Windows and Windows 10 apps and reviewed Pocket Casts when it came to the Microsoft Store so it was more in my mind. I agree that the price change was a big story. At least Pocket Casts has changed their minds due to pressure. I'm gonna update this to show the change.

Their smug, pricky response is the norm for them too. I still use them against my better judgment. But after the previous major update and change that didn't go over well, they were absolute a-holes to their loyal customers who voiced their concerns or displeasure and treated everyone like ****. Not just being dismissive but purposely being complete jerks to everyone. I hate that I still use them but I just couldn't find another 1 that did everything I wanted. Castbix is close, maybe I will look at them again. These guys just don't the success they have had.

I always thought going freemium was about getting new customers not fleecing people that already paid

It looks like I have 3 years to find a new pod catcher. There isn't a chance I'm gonna pay an annual fee after I've paid for it on multiple platforms already.

Probably should update this article now, since it's not accurate to the current situation.
Windows Central Newsletter
Thank you for signing up to Windows Central. You will receive a verification email shortly.
There was a problem. Please refresh the page and try again.