Podcast Lounge receives major update for Windows Phone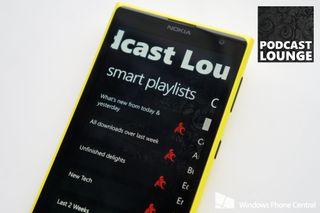 The highly popular podcast app for Windows Phone, Podcast Lounge has received a substantial update today. If you're not familiar with the name, the app enables users to stream and enjoy a variety of podcasts covering multiple genres.
Originally starting off as a unofficial BBC podcast client, Igneous Software has broadened the appeal of Podcast Lounge by adding in a new catalogue of podcasts, bringing with it international support. Should you be an active user, you'll love what's new in version 2.
So what's new in the latest release? Here's a quick breakdown:
Added Smart Playlists support
Lots of improvements & fixes
Backup/restore functionality
New player screen with scrubbing support
Revamped settings area
Added share status via Email
Support for HTML podcast show notes
Block auto-sync of specific favourites
Lots of fixes and other small features
This list doesn't cover everything, so head on over to the Igneous website for the full change log, but that's quite the update. There's a tonne of new functionality in Podcast Lounge, making it a must-have for any Windows Phone owner.
Podcast Lounge has led the way when it comes to platform support in its genre with not only a fully featured Windows Phone 7 version of the app, but also being first to implement technologies like background syncing of podcasts. Version 2 further builds on the array of features available.
One of the more interesting new additions to the experience is smart playlists. These provide the user with the ability to compile a list of podcast programming that will play automatically through to the end once started. Not only can you add in audio-only or video playlists, but you can also mix it up with both.
Smart playlists are also included, which auto-compile a playlist based on user criteria from a favourites list. These playlists can be configured to absorb content from selected favourites, include downloaded, new or partially listened to podcasts, restricted to podcasts published within a certain time period, and more.
Version 2.0 is a massive update and we're enjoying the latest functionality added. Ready to enjoy some podcasts on your Windows Phone? Download Podcast Lounge for $1.99. A limited trial is available, which sports the following restrictions:
Downloads (user-initiated and automatic sync downloads) are disabled.
Smart Playlists are limited to a maximum of 3 (those three can be renamed/edited to suit the user's needs)
Windows Central Newsletter
Get the best of Windows Central in in your inbox, every day!
Rich Edmonds was formerly a Senior Editor of PC hardware at Windows Central, covering everything related to PC components and NAS. He's been involved in technology for more than a decade and knows a thing or two about the magic inside a PC chassis. You can follow him on Twitter at @RichEdmonds.
Windows RT on the otherhand...

Awesome! I've been trying to find a good podcast manager since Zune, and Podcast Lounge is the only one I could find in the store that handled everything I needed without tons of bugs. It had a couple of little glitches, so the 2.0 update is welcome.

Podcast Lounge is an outstanding app. One of the most used apps on my phone and such a relief from the built-in podcast player on WP. Easily worth much more than whatever I paid for it.

What is the advantage compared to the built in player? I I am just asking because I have so far found that one to work great for me. However if Podcast Lounge can offer something I'm not aware of than it might be worth checking out.

People outside the US don't have the built in app.

That makes sense. I got the impression though that jason8957 had access to the built in app but preferred Podcast Lounge. Just wanted to know the differences in US.

For me the built-in player was not working. I listen to daily podcasts and like to have them available when I leave for work, but the built-in app was not updating overnight. Even when a podcast was released at 6 or 7 PM the previous day, it still wouldn't be there in the morning, and the built-in podcast app didn't have a way to force updates. Podcast Lounge actually allows you to refresh a podcast manually, but I never have to since it is accurately updating and downloading all my podcasts as I sleep (or whenever). There was also a constant issue of subscribing to a new podcast and wanting to mark a bunch of them as listened to. One podcast I subscribed to in November had a podcast for every day since January 1st. I had to wait for them to download one by one and could only mark as played one at a time. Now I can select multiple and mark as played without downloading in Podcast Lounge. I could go on, but managing podcasts in the built-in app sucked so bad. Something unexpected in 2.0 is the playlists feature. If you listen to multiple podcasts and just want them all to play sequentially, you can use the playlists.

Ehh never do podcasts reminds me of Apple.

Great reply. Please come again. Smh.

He also doesn't eat fruit because they remind him of Apple.

I also don't play packman because that's were the bite of the apple came from. And i eat fruit just not bitten fruit

And i eat fruit just not bitten fruit

So... does that mean you only take one bite of any piece of fruit?

Doesn't eat veggies because they remind him of fruits that remind him of Apple. Posted via the WPC App for Android!

You may be missing out on some good podcasts then. Podcasts sometimes make me actually look forward to my commute.

Exactly. I have a long enough commute that the night/morning before my drive in, I'll load a few up. Digest some during the drive, possibly at work, and then more on the way home. Love it.

As a podcaster and one of the founders of LA Podfest, that is one of the dumbest responses I've seen to anything, anywhere, ever.

I never liked podcasts and it reminded me of a iPod that's why I threw that In to bash Apple inc.

Whenever someone says they don't like podcasts, the first thing in my mind is that they have listened to the wrong ones. The fact that anyone can do one is wonderful, but it also means there are a lot of poorly produced, lazily edited, and poorly hosted ones out there. I always recommend people try something from the TWIT network before giving up.

Use this all the time, great app good to see such a big update.

Does it seem faster? I can't tell.

Great update!!! Proper scrubbing support finally! One of my most used apps so im glad to see it get some love.

Heard about this app from Darren Cohen of the Surface Geeks Podcast yesterday and immediately downloaded it and find it is the closest podcast app to PocketCasts (which I absolutely love on Android) I have found on WP. One nice thing I personally like about it is that if you search STLTechTalk, it brings up both of our podcasts. The original, and our newest podcast CodeCast by STLTechTalk. iPodcast only brings up our regular podcast and for some reason, CodeCast is nowhere to be found.

shameless self-promotion! :P

It might be, but iPodcast's search isn't as good as it should be

Have to spread the word somehow :p. You should have a listen sometime, you might enjoy it ;-).

I use this for my daily commute, hit up What The Tech and Windows Weekly, great stuff!

I expect this change for looooong time.

Finally! Afraid there still is work needed. Volym "crash" after awhile and you can't raise or lower the sound. Still not correct in this update. Only way to get podcast lounge to respond to volume again is a restart (L1020)

I'm having this issue all across the OS. Only games seem to be accepting my volume changes. I started having this issue after installing the black update. It's definitely not related to Podcast Lounge.

You don't need to restart your phone, btw. A simple stop the music app will do: http://www.windowsphone.com/s?appid=0899997d-c25a-4075-9b28-685308e1568b

You can press and hold on the "now playing" menu entry on the main panorama within Podcast Lounge to reveal a menu that will do the same thing. #protip :o)

It's not intended, but launching Amazing Weather HD torpedos all the other apps that were playing something and is an easy way to sort of just reset things for me.

Yes - we can confirm it's an issue with the OS, although we're told that Microsoft and Nokia are looking into the issue. At the moment it's outside of our control. Sorry.

Sounds like some good new features. I will check it out, but honestly preferring Podcast Critter at the moment. It's much cleaner.

Yes! Finally you can jump to any point of the track! Great update!

Hoping this fixes the eating up all space bug

The space bug is yet another OS issue unfortunately that is completely outside of our control. We have a write-up explaining what we think is happening within the storage section of the app (there is a hyperlink in there). With the backup and restore feature, it's much easier to reset the app without loosing anything.

Been using PODCASTS! since WP7, but may give this one a try.

Can you use list to subscribe and auto-update to Podcastone.com podcasts? Right now 2 things are making me keep my ipod touch.. 1 is the podcasts 2 is 64gb and I want at least 128gb from my next mp3 player.

Yes you can. We auto-update when the phone is charging overnight so your podcasts are there when you wake up in the morning....

Rich, which one would you recommend, Podcast Lounge or Podcast Critter? I have used Podcast Lounge a bit and found it a little buggy. Before I try Podcast Critter, I just wanted some advise on its pros and cons.

Yeah, would be nice to see a breakdown of Podcast Critter. It seems to be getting some love from AAWP, too. http://allaboutwindowsphone.com/flow/item/19444_Podcast_Critter_a_feature-pack.php

Purchased and used this for a while, but then it started to feel cumbersome to use, so I switched to Podcast Critter...might have to go back to PL and give it another go.


"no internet connection". Unable to update podcast feeds. WTF

I'm looking for a podcast app that allows 1.5x speed playback. Anyone know of any that they can recommend me?
Windows Central Newsletter
Thank you for signing up to Windows Central. You will receive a verification email shortly.
There was a problem. Please refresh the page and try again.