Get Pokémon Go on Windows 10 Mobile right now with the PoGo-UWP beta client!
How do you get Pokémon Go on Windows 10 mobile? With the PoGo-UWP Universal Windows Platform client!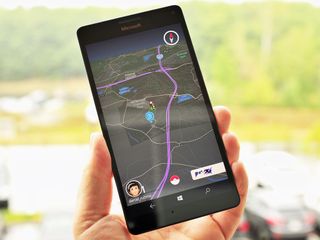 Up until now, Windows 10 and Windows 10 Mobile users have been shut out of the fun, with very little information on whether or not we'll ever get an official app, like Pokémon Go on iPhone enjoys. Thankfully, ST-Apps has managed to port Pokemon Go to UWP (via Reddit), running it as an open source project on Github. This is an early beta test version, so it's missing a lot of Pokemon Go's best features including the game's augmented reality features and 3D models.
Still, if you want to help test the app and contribute to development, you'll need to follow some simple, but advanced steps to get it running on your phone, as it's not available in the Windows 10 Store.
Update: Head to the link below for the most up to date method for installing PoGo-UWP beta:
How to set-up PoGo-UWP beta for Pokemon Go on Windows 10 Mobile
Note: Since PoGo-UWP is an open-source beta test, expect bugs, crashes, and other issues. You might want to check back on Github in the coming weeks for updates. You can follow the list of known issues right here. We'll also be following the app's development intently, so stay tuned to Windows Central and we'll let you know when there's a new update.
While this solution isn't as ideal as an official app from Niantic, it once again shows how impressive the Windows developer community can be when it comes to bringing us apps and services the platform has historically lacked.
Windows Central Newsletter
Get the best of Windows Central in your inbox, every day!
Jez Corden a Managing Editor at Windows Central, focusing primarily on all things Xbox and gaming. Jez is known for breaking exclusive news and analysis as relates to the Microsoft ecosystem while being powered by caffeine. Follow on Twitter @JezCorden and listen to his Xbox Two podcast, all about, you guessed it, Xbox!
Did this about an hour ago after the Winbeta report. Worked like a charm. Rough but works.

How you did it? I get the error message: "Failure reason: Failed to start deployment. Failure text: Install failed. Please contact your software vendor. (0x80073cf9)" everytime I try to deploit it

Yea. That's the error i get. I thought the author stated they were going to stick around and answer questions...?

You must install 3 three file that you download , i have some problem and now every thing is alright

Make sure your new apps install to device and not to SD Card. I was having the same issue and I tried to change that setting and it worked.

You are a right i did and isntalled :3 so to update app if you add the next package it knows? will have to try on next one :P Hope author sees that and mentions it!!

hey bro ,,, i got stuck on step 7 ....am i supposed to enter that ip address on my mobile or PC ? and do ineed to save all those git files #1 #2 and #3 on my mobile phone or PC ? i m clueless

You enter the ip from your pc browser, just like you would to connect to your router. Then follow the steps to add the files and install them on your phone, the files are downloaded onto your PC first. But don't waste your time because this doesn't work, app fails to deploy.

Make sure your new apps install to device and not to SD Card.

I'm putting together a video which should make all of this clearer. Stay tuned.

@arnoldandino I agree a great start to the app. I hope he manages to get everything up and running. Also be really cool if he went one step further and created an app for the Ms bad that can track like the Pokemon band so you don't always need your phone/app when on the go that could be asking to much though.

For starters it would be good to be able to add the starting log like the app so that they remove the need to already have an acc with pokemon :3 ofc that can come later if they decide to put the app in the store too and can do so!

Good for people waiting for it

This is what the developer wrote on the Github Wiki: "Because Microsoft rejected my job application saying that I wasn't showing enough "passion", and this proves them wrong :)" Pretty awesome!

Hard to argue with that seeing all the passion Microsoft has put into destroying their mobile division..... /s

You need to knock it off.

I am a WP user and I can agree, the CEO has f**ked it over...they have killed over 10 Nokia phones and the release the 950 and XL which are bulls**t cause the 1520 is better!

actually the 950XL blows away the 1520, i have both phones and the 950XL simply wins in all aspects.

I have them too, but truth is that 1520 was better by the time it was released, crushing even competition from other platforms, while the 950/xl barely just holds up for today's flagships. Posted via the Windows Central App for Android

the 950's have a better camera than any flagship today, the 950's with the current ANV update runs smoother than any other phone, the screen on the 950's are beautiful, battery life is great, The 1520 were good phones, but they never crushed the competition by any means. The 950's hold up very well to current flagships which i also own (S& and iphone).

I'm not saying by any means that the 950/xl are bad devices, but in my opinion they are not as good, camera quality is debatable since in most cases I feel my s7 edge takes better pictures, plus is way faster and way better in low light conditions, which for me are most everyday scenarios, so it fits my needs better. The design on the 1520 was (again, in my opinion) really good and the 950 just feels not so pretty and I know experience is really smooth on it, but SoC was not the latest when it got released, and while Windows is far better optimized than android, which is why I like it the most, reality is that in future versions of the OS you're really going to miss that extra power that right now is not necessary, but later might come in handy. Also the iris scanner experience I have had is mediocre, would have rather had a fingerprint one, but again is a matter of tastes, only thing I hope is that Windows Mobile gets better and better because is such a pretty platform Posted via the Windows Central App for Android

The 950XL is better hardware in many respects, but I miss the 1520's significantly better battery life.

the app is a big drain on battery life, Some players are reporting up to 10% power loss in 20 minutes on some phones, while others are reporting a more conservative 10% to 20% per hour. If you're getting frustrated by your smartphone dying while playing Pokémon Go, then read on to find out how you can save the battery life of your phone while hunting for Pokémon.

You had me until you said the 1520 is better. It's objectively, not better.

AT eaah phone's time or release, the 1520 WAS objectively better than pretty much any phone at the time. The 950/XL, not really. Even now, close to 3 years later, the 1520 is still amazing, till you stick W10 on it, then it turns to utter crap.

From what i see the 950 series now is a real killer now its a great phone got double tap too and many more fixes with firmware and anniversary windows. But yea now its a bit late for people to know it but it is very good!

Well that explains why Windows 10 UI is so half assed.

So people downvote me because I don't want it? Awesome community...

Maybe if you quit your job and dedicate your life to playing Pokémon Go you will start seeing lots and lots of upvotes.

Thanks, but no thanks :-)

What do u get from quitting your job just for Pokémon GO? Nothing. I call them retard.

Why do you not want it though? Technical reason or you dont like the game. I for one do not care for the game but installed this anyway because I think that it is great the developers are able to do this ONE and TWO, the fact that this platform allows for this. Reminds me and everyone that WM is indeed a more open platform than iOS for example. Maybe not like Android but we are able to do cool thing like this and that id a good thing.

Don't like Pokémon or anything related to it...

Hans, then why bother posting in a Pokemon article other than to spread negativity? I don't care for NASCAR but I don't go to NASCAR articles and post that I'm not interested.

Honestly? Because I'm totally fed up with everything that's Pokémon and I just want to say i am. I'll probably get downvoted again for this but why only respond when you like something?

Diddums. Did the big bad man say pokemon and TRIGER you?!

Honestly, you have a much better peace of mind when you choose to ignore the things you don't like.

You were down voted because it's a useless comment taking up space. How about you go to every article here and comment "No thanks," to express that you're not interested from new app updates to enterprise news? Get a clue.

True, I should have argumented more on the why. Agreed.

Well, that's a reasonable response. The why would be adding to the conversation. If it is just to hate on something though, the question would remain, which is why not just skip the article?

Here's a novel idea. Try not reading the story or placing a comment because it didn't add anything of value to the conversation. Pokemon go is not my thing either but I had two family memebers leave Windows Mobile in order to play this game. So it was definitely of interest to me!

Yeah, there are quite some ******** around here. Just ignore them...

They downvoted you because all you said was "no thanks." W10M is frequently cited for lack of apps, so when an app does come (official or not) and it is perceived someone just dismisses it then it comes off negatively. You don't have to use it if you don't want to, but for some people having an app they like that is available on other OSs is nice.

This so much. My goodness. Something nice happens to the Windows platform, and someone just has to crap on it.

Agreed. Apparently no one has learned from previous illegal game/app ports.

Just me personally, I still do not care about this, but I'm sure there are several that will want it. This will make them somewhat happy I hope!

So, MS can start selling Windows Phone to kids again (LOL)

How do you thin Android became so popular? Do you think it has anything to do with the vast availability of budget Android phones out there?

Yes, It does. Budget Windows Phones over the past 2 years haven't been worth considering over Android ones (if you aren't a die-hard WP fan). Lagdroids people say? An Android phone with SD 650/3GB RAM would run better than a W10M phone with SD212\1GB RAM any day (unless it's a Samsung).

We have a 640 and a Galaxy Grand. Very similar hardware and price and they both run fine. I would take the Grand Prime before the 640. It just isn't as limited. Posted via the Windows Central App for Android

Funny how u get downvoted for just giving your opinion and even explaining how u formed that opinion. I just upvoted you. Can't stand the guys downvoting stuff they just don't agree with on here. Sometimes, the fanboyism is just too much.

So a phone with a stronger processor and more RAM runs better than one with a weaker processor and a third of the RAM? Do tell. Did you also know the sky is blue? A better comparison is how well an Android phone with the same specs as a 650 runs.

Firstly, the sky is pitch black and seems blue due to divergence of light by the dust in the air. Secondly, the Android phone I'm referring to is Xiaomi Redmi Note 3, which costs 15% less than Lumia 650 so it is a fair comparison. Third, you seem unfamiliar with the specs isn't everything notion as the end user experience matters, not the specs. The point I am making here is that the efficiency of W10M cannot makeup as an excuse for putting in a stupidly low powered processor. Also, I am not comparing both the phones only on specs, I am saying on the basis of reviews and people's actual experience.

A) Giving the scientific reason for why the sky appears blue to the human eye doesn't make your comparison any less silly or invalidate the fact that obviously a phone with close to mid-range specs is going to run better than one with entry level ones. Anyone who looks at the sky will say it's blue because that's what it looks like to the naked eye but I can see you don't know a rhetorical question when you see it. It was meant to be ridiculous, just like your statement. B) You said "Lagdroids people say? An Android phone with SD 650/3GB RAM would run better than a W10M phone with SD212\1GB RAM any day (unless it's a Samsung)." At no point in this statement did you even mention the Xiaomi Redmi Note 3 or what people think of it. You literally just compared two phones with uneven specs, said that the one with weaker specs is 15% more expensive then sat back, folded your hands and expected me to accept that price, even more than specs, is why one performs better than the other. At no point did I even state that the efficiency of WM would make up for low specs because obviously there is a point where specs must enter into the conversation for a better experience. Also, the 650 is currently $109.99 with activation and $69.99 without and the cheapest Redmi Note 3 is $150 and I'd still like to know how an Android with the same specs as the 650 will run.

Even Samsung makes good phones with the SD200/400. There is a reason they sell so well and people continue to buy them year after year. They have been proven to give a good experience. People wouldn't continue buying them otherwise. Delusions aren't going to make Windows phones more compelling. That is up to Microsoft. Posted via the Windows Central App for Android

I think you effectively got destroyed with his response right there. But seriously. No offense but why is everyone arguing over a phone and not the customer service or lack of care that Microsoft puts in to their company and consumers? Like Android is so much better for me, and I dread my WP, every day goes by and I seriously want to run over it with my car. It's not restrictive like apple, but it's so half-assed, so annoying. So to be blunt. Nobody actively cares what phone they have unless they're some entitled child being herded into dishing out money to a developer that doesn't actively care about what their consumers are asking for, because this Pokemon Go app isn't going to be released by them, it's going to take a third party to intervene and make them look lazy and like they don't care, because they don't.

If you also don't understand the concept of rhetorical questions and feel like agreeing with his illogical comparison of an entry level phone to a mid-level one based on price over specs, then by all means do so but don't try to turn this into a MS did me wrong conversation. I will simply tell you the same thing I tell everyone who complains that they have the short end of the stick with Windows Mobile and that is that the power to change your situation and get a phone that you want is always in your hands. If the phone and the customer service isn't meeting your needs then exercise your right as a consumer and move on like an adult with spending power.

That is so correct :D just change dont complain for it i mean you came for a reason(sometimes) you can leave for a reason if you dont like it come back no one judges(at list proper people) :3

what is the point of arguing about phones here?? this article is about the game ..

Man i had 3 phones at the same price with lumia 535 they are crap compared to my 1 and half year phone with so many upgrades on insiders :P and still not even one time laggged. It lasts longer than my older phone would and i get updates to latest windows updates. Always when there is one, and thats great ;). on other hand my android phones would never do one was samsung but its 100€ phones they don care. Plus most times its custom android so the company depends on wheter it has crap store and wont let you use original and other things we hate AND YOU can get virus installed on ROM on androids that wont be removed if you dont use another program to reinstall Whole rom no reset saves you because its basicly not a reset.... Been there 2 friends been there 1 lost availability on using phone and everything had to remove who rom so no androids anymore too unsafe and he only used playstore.

windows phone is getting better now. more UWP apps. update 2 times a weeks. android phone have same UI from 1.0 to 7.0, never update. Android M came out last year, now still 90% of the phone wating for offcial update. can't wait? buy a new phone.

Can someone explain to me how to find Pokémon's and how to catch them?

You must first download and install the game. (haha)

Please search YouTube. There are loads of videos.

go read Android central. they have all guides available Posted via the Windows Central App for Android

Head out into the city (Or countryside), look for a small group of teenagers wandering about holding their phones up, then mug them of their phones.....................

Follow the vast majority of those who are already playing it and live vicariously through them.

Stop asking for Pokémon GO, we will never have it. Ask for Father.io instead of it.

I totally agree with the father.io part

"Don't ask for what you want, ask for something you've never heard of instead!" I'll keep asking for MLB.TV, what I want (and we used to have), rather than asking for an unknown thing you want...

Check it out. It looks much more fun.

Agree. Father.io is way better

So people should stop asking for something they want and instead ask for something you want based on your own personal tastes. No, that doesn't sound selfish at all.

So don't ask for what seemingly half the damn world plays, instead ask for something obscure that noone outside a small community probably ever heard of. Great.

Now if only I logged in with a Pokémon trainers club and not google sigh. Im too high lvl to start over

Try contacting them to see if you can transfer it to a Google account.

The guy says he plans to add google sign in, in a later update so maybe ill just have to wait a bit lol

Thanks for the info! I'm definitely going to wait for the Google sign-in, but maybe I should download the files now just in case Niantic decides to shut this project down. Hopefully they decide to hire the guy as their resident Windows developer instead.

No you can not connect both accounts

I meant contact Niantic to transfer a Google account's Pokemon GO data to a Pokemon Trainer Club profile. I wouldn't expect them to enable signing in to the same profile with 2 different sign-in methods.

Its so hard and my PC is not working :C

Don`t care about the game but I`m happy that the people willing to play this game on this platform has this app. Also who knows, Nintendo might just hire the dev to make the app for the Win platform :)

Niantic should hire the guy

I'd rather have a root canal..sick of hearing about this thing.

And yet you opened an article just to leave a useless comment. Just keep scrolling to the next article.

Yep. Just so I could tell you that. Mission accomplished!

In my dreams I can see Pokémon Go as the Xbox Live games with the real achievements.

Cool! I heard there was a third-party app in the works, but I'm surprised it's this far along... Here's hoping Niantic doesn't kill it somewhere down the line!

The more Pokemon Go players there are is beneficial to the Darwin Awards.

I prefer playing classic pokemon on gameboy advance emulator.

Appreciate the effort but using this would just make more difficult to get Niantic to make an official app and it's much too complicated for my taste

I don't think you know what pirating is.

worked fine the first time but then if I wanted to open the app again the app crashed. And there are 0 Pokémon in Thailand. I know it isn't available in Thailand. Trying it again...

The overall hype for the game is starting to die. I love that someone took the time to do this for us, but hate the fact that we have to look to these "Band-Aid" solutions at times.

I can't help but wonder the dangers of getting banned through this.

Please make it available on Windows 8 $ 8.1

why is this game so important ??

For the same reason SnapChat and a number of other popular apps and games not available on WM is.

Not another pokemon go article!!!:))))

Alternatively, you can download it straight to your phone, go to http://127.0.0.1, and install the app

I'm happy for all who love this game. The negative comments, really? Nothing else to do?

It's a bit like my FB feed. People with nothing better to do than to hate on a game they don't understand, but it's popular to do so. Kind of like people who hates on MS and WM.

People have to act like sanctimonious pissholes about what they don't care about though they forget this bit of wisdom about any product discussion on the internet: 1/10 times most people would take note of your advice, 9/10 most people don't give a rats ass about what someone thinks about the platform anyone recommends.

What the hell! Installing the game is harder than catching mewtwo lol

If you don't want to, just wait for it available in the Store.

Or will it ever be available on the store

Die hard Pokémon fan and glad to see 3rd devs making up were Niantic is ignoring. Though id like to jump on this 3rd party app, I fear that Niantic might lock out these 3rd party apps soon and kill the efforts of not only the dev but those that have started the game on this port.

I'll be doing this as soon as I get home.

I have been watching Pokemon for 10 years it Would be a dream come true to play Pokemon go

I'd love to get it but its too convoluted a process for a non techy person like myself. Will wait for something more straight forward.

Is it necessary to have a pc to download Pokémon go game on W10 mobile . I am using Lumia 730

Not working, Deploy fails, reason - failed to start deployment - package could not be registered - 0x80073cf6

Make sure it's installing to your phone's disk space and not an SD card.

No thanks dont want this crap enough idiots running around with their face in the screen acting like little children and breaking the law to get pukémons

Yep. You sir, are correct.

As he updates this we just need to replace the files?

Tried... First It worked (but was only able to turn the map and click on pokéstops) then does not work anymore :/ So... uninstalled :(

Why isnt it in the Windows Store with all the other 3rd party clients?

Because this is illegal and would probably be rejected by Microsoft. Posted via the Windows Central App for Android

Windows store has already apps using Niantic ipr without permission and even selling ads MS gets its share. Nadella is not too picky nowadays what comes to laws and such.

In this case you have also Nintendo property being violated which opens it up to a much "violent" reaction by Nintendo's lawyers.
If Microsoft allowed this in the store, they'd be opening themselves up for unnecessary legal battles.

How is it any more illegal then all the other 3rd party apps?

It's not. Which is why the likes of Snapchat can have them taken down and Microsoft can do absolutely nothing about it. And if some of the owners of the original apps (Niantic in this case) wants to go after the developer with a lawsuit, the developer is in hot water.
In the case of Pokémon Go it can go particularly bad because not only there's the illegality of the app itself, there's also the violation of copyrighted material and trademarks property of Nintendo (the entire Pokémon graphics, names etc). Posted via the Windows Central App for Android

Worked once when you play, wait som h want to play again nothing happens

Where the pokemon appx file .. Anyone can give the link

Like really many devs do this for Windows platform they should be hired to make te representive apps on the windows platform like Valve did for steam app. And if for someone is so easy to do it on his free time(some do it on free time) imagine how easy it could get for a company to pay them or someone to do it and how good it would be :3 graphics could be the hardest part..

Failure reason: Failed to start deployment. Failure text: Package could not be registered. (0x80073cf6 How to fix?

Make sure your new apps are set to install to device and not to SD Card

Sounds like a lot of work to end up getting your account banned lol

Oh its the same guy that said if niantic does nothing about it he will start a project for it :D good thing he started!!!

Did you try this Multihack for windows? No running arround ;-) http://go-unleashed.online

Help, I downloaded this now my computer wont turn on. /s

I successfully deployed the app but not able to log in

This is so going to get shutdown by Niantic.

I'm still getting login error. The best part is, I get login error even on bluestacks! :D So either I banned myself off the service with a new account (possible because I didn't know from another guide you have to catch the first pokémon) or either the login server just hates me! :) Altough I can still login on the website! :)

The username was case sensitive for me, I had to re-enter it as WindowsCentral rather than windowscentral - tried that?

This is not offically a beta app. By downloading it iligally, your setting yourself uo for being hacked. If it were official it would be in the app store. Trust me when i say its iligal. Raddit hasnt given them the rights, thus why its not on the app store.

Also if you download it raddit can see your using it and possibly hack you. Cause you have to put in your personal details etc etc. Just a warning to those whom are wanting it.

Just for the sake of trying I installed the app on my Lumia 950. Thx dev. Now I can move on without ever (thinking of) needing to have the app. I think it's nice to do a couple of times, but it gets boring fast for the majority of users. And you need to have a lot of time. The stats on Mashable of last week state the number of Pokemon players went down quit fast.

Will someone port Mini Militia?

Tell us if it will be an update! Because I do not even know how to instal a future update...

Installed it, it works... as much as it can :D Can't wait to "test" it in the morning, outside :D I'm so happy there's a version for WM10 :D even if it's just a port :D P.S.: I went for Squirtle as recommended, haha :D

it went toversion 1.6 already as i can see xD

please help where is this PC browser?

So I stuck at 0.3%... How long should deploying be?

Just try it multiple times, mine got stuck at 0,1% like 4 times and worked on 5th time :)

You have "all the apps you need". This is not necessary, right fanboiz?

This how-to article is actually doing a disservice to WP/W10M users. Just wait for the official app, folks. Or better yet, move along and play something better.

So this will be released for everyone in next month?

Back in my days, we caught pokemons by beating the **** out of them until they barely survived, now all you chumps do is feed them berries and fruits.