Polarr Photo Editor Pro for Windows 10 down from $19.99 to $0.99 until April 24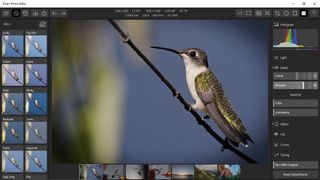 Polarr Photo Editor Pro for Windows 10 is getting a big discount this week. The price has been reduced in the Windows Store from $19.99 to $0.99 until April 24.
Here's a look at the app's many features:
Designed for mouse and touch
Proprietary controller-inspired design for speed and precision
Interactive in-app guide to photo editing
Expandable and collapsible workspace
Responsive and adjustable user interface to fit your screen
Hand-crafted collection of over 50 preset filters for quick edits
Import multiple and exports in batch
Light: exposure, highlights and shadows
Detail: clarity, sharpen, denoise, diffuse and dehaze
Optics: distortions, vignette, fringing
Advanced HSL and RGB Curve tools
Filter blending and mixing tools
Highlights/shadows toning tools
Multiple local adjustments areas
Circular and gradient filters
Powerful cropping and aspect control
Create custom filters based on history
Export photo at different settings
Persistent edit history tracking
Infinite undo and redo
In addition, 50% of the proceeds for the app this week will be given to the Conservation International Foundation in celebration of Earth Day. Again, both the discount and the charity proceeds will end on April 24.
Thanks to AntonGhost for the tip!
Download Polarr Photo Editor Pro from the Windows Store (opens in new tab)
Windows Central Newsletter
Get the best of Windows Central in in your inbox, every day!
Am not believing this. ....Niceeee**Pari**

Already capitalized on it

Filter, rotate and crop... I remember when "Photo Editing" was about actual editing

Those actually are "edits" that I do all the time, in Photoshop. If those were the only features, I'd say it had minimally basic editing capability. Posted from this here device.

PicsArt is free and even has cloning tool for both phone and pc.

This does a lot more, plus the difference between free and 99 cents is miniscule. Besides, PicsArt has a lot of iap's. I use Adobe products on my laptop, including Lightroom and Photoshop, but this might be good for quick stuff and I'll support some charity and the dev. Win-win-win

It would be nice if there was a mobile version at least with features that make sense. For me it's the mobile version of pics art being available as well as desktop. This app does seem better after giving it a closet look.

On my phone, I have WAY TOO many photo apps installed. I have a problem! ha ha I do find that I tend to use a few more than others. Currently, my most used is PhotoShader and I'm not alone. It's got a 4.7 and is amazingly free. I almost feel bad that it's free because it works so well. Besides that, I use the usual suspects of Fhotoroom and Fantasia.

That's probably because they're isn't one good one and you need many for diff tasks

I do a lot, so not every one of them is best at everything. Fantasia is too involved for quick stuff, for example. Photoshader is only missing simulated HDR.

I purchased this one but curious what you would think is the best app that lets you do custom blur settings on large 1440x2560 photos? Picsart allows it but it's really slow with these large images. I need to be able to do things quicker. Maybe she's born with it, maybe it's Lumia 950xl

Just tried the free version. No way to manage blur. I like that picsArt has many different blur types but also adjust the bluring intensity. I use it quite often to blur images for my start background.

How good is this? I mean I don't edit photos much, but at this price maybe I would, if it's good..

I'm not sure. For 99 cents, I'll jump in and try though. :) I'm going to a birthday on Friday and I'll be taking a lot of pics, so I'll give it a workout.

It's pretty good. I'd say it's 50% of Lightroom so for $0.99 that's definitely worth it.

Uhm, No -- but it is good enough for quick edits without opening LR. Sometimes LR is over kill. More like Adobe Photoshop Elements Light or ACDSee 19 Light.

Ok, thanks for the answers. I think I'll just try it out ;)

I'm in. I have so many photos to manipulate. If it had dng support that would be perfect. Oh well. For the price, how can I not try it?

The reduction is too high@RumoredNow

I would download it for the sake of the charity: 50% of the proceeds for the app this week will be given to the Conservation International Foundation in celebration of Earth Day Posted via Universal Windows App on W10

It should have touch support as it's mentioned in the features. Don't know about layers. Going to buy it anyway at this price - Might be lighter than GIMP which I use for very basic things every now and again

Oof! Read it again and still didn't see the mention of touch support. Just saw it on the third read. I'll get it just because. I also use Gimp to play around with, might as well give this a shot.

Though I have PhotoShop installed on my PC, and there are plenty of photo editor apps in store, I buy the app for the sake of Earth.

I think this is more of a Light Room alternative than Photoshop, although it doesn't have any sort of library management features I don't think it needs them

Does this support importing RAW formats ? CR2 ?

The actual app description in the store says it supports most raw formats.

I wonder if this app can edit 42.5MP photos. I read a review where a customer said that the app crashed when trying to open 16MP files. That could have been an issue with their computer though. Has anyone used this app to edit pictures taken with a Sony a7Rii or another high resolution camera such as the Nokia 808 PureView and Lumia 1020?

I've used it for 24 MP files on 8 GB RAM machine. Don't know about 42 MP.

Thank you for your reply and information.

I just imported an image I took when I had my 1020 (The largest sized JPG it can produce) and it opened fine. Did the reviewer say what kind of computer he's using? It could depend on that. The PC I'm using now has a Dedicated GPU and 16GB RAM, I'd imagine the photo would still open on smaller tablets and things but the lower spec you go the more likely it'll have issues. I have a HP Stream 7 (Which is crap) so I'll try opening the same image in there when I can charge it tomorrow and see if it works on there too.

Will try on Surface Pro 3 for a middle ground as well, but I think that should handle it no issues too

The files opened just fine for me but after doing edits, the app would crash on Export. Back to Lightroom for now. I hope to see updates to the app as I really liked it while it worked. Thank you for conducting your tests. I'll have to install it on my Dell Venue 8 Pro and see how it goes as well.

Like some others, the charity angle got me -- how could I not afford $1 when 1/2 gets donated? That said, purely FWIW, also stuck it on my small Windows tablet, finding 1) the dev forces the install to C: drive, & 2) on the tablet it consumes 40-50% CPU when it's open & idle, i.e. not doing anything, no image opened etc.

Your donation gets doubled so you actually donate the whole amount!

Dev here- thanks to everyone who purchased! It's true: a $.99 purchase means $.99 donation to Conservation International Foundation. (Source: http://www.conservation.org/Pages/default.aspx)

Good alternative to Lightroom.
My photos edited in Polarr Photo Editor Lite (from now Pro;)
https://marketplace.500px.com/antonivanchenko

Is the app for PC only or I can run it on mobile?

Too bad, I watched youtube video https://www.youtube.com/watch?v=r06ru6qhB_A ​, the official tutorial runs on iphone. I need a good phot editor on phone, I use RawTherapee on PC already.

The developer could potentially be bringing it to mobile but without asking I wouldn't know what his plans are. Still, 99c/79p won't break the bank and at least you'll have it in case it ever does come to mobile. Plus your 99c/79p will go to charity which is a bonus.

Always good to hear :) I did too if only to support the dev and the more support he gets the more likely he is to continue supporting the app and potentially bring it to mobile too. Possibly even add other apps to the store which is something I'd never say not to right now!

Yah I bought it it's actually pretty quick with even large photos. And if it goes UWP then I'll already have it. I think as far as the full price goes having it on both mobile/PC would be a better selling point. Maybe she's born with it, maybe it's Lumia 950xl

I know what you mean by "if it goes UWP" - You mean if it comes to mobile. But I think it's important to use the correct terminology here; This app is already a UWP app, it's just not available on Mobile. If we use the term "UWP" incorrectly to mean "on PC and Mobile", then when the Xbox Store merges will "UWP" then mean "on PC, Mobile AND Xbox"? Like I say I know what you meant, so I'm probably being a bit pedantic, but I think around here we should use the correct terms, because even if you and I know what "UWP" really means (That it's the platform) there's a lot of users on here who don't and they pick up on the use of it and start using it incorrectly.

Yah true it's built for windows 10. But I think that this is a valid point that the general public would not understand. And that kind of confuses the mass consumer market who doesn't care about the specifics but rather were told "1 app that will run on all your devices".

You have a valid concern and it's something Dan (iirc) tried to address in an article too, but assuming someone read the comments they would have seen my initial response saying "mobile" and would likely have made the connection that "UWP" in this case meant "mobile" as it was a response to my comment.
So maybe you were being a little pedantic, or I'm just giving the general public a little more credit than they deserve lol.

I didn't want to buy Lightroom, so this app looks exactly like what I was looking for. Awesome!

BOUGHT! I am just getting used to everything in it now....its really good so far.
Windows Central Newsletter
Thank you for signing up to Windows Central. You will receive a verification email shortly.
There was a problem. Please refresh the page and try again.