Polarr Photo Editor – a pro-styled editor from the Windows 10 Store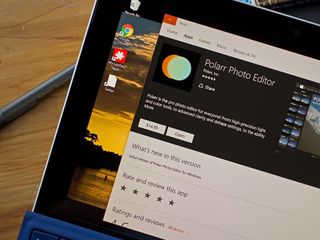 Polarr Photo Editor is a relatively new offering in the Windows 10 Store that offers you a feast of pro-style features in an easy to use package. The photography app also has a slim footprint, only taking up 5MB of storage. Editing tools include exposure adjustments, cropping, filter applications and much more. Plus you have support for RAW image files.
Overall, Polarr is an attractive photo editor for those looking for a lightweight, feature rich app. I can see it appealing to those looking for a mobile editor for the Windows 10 tablet or for those who want to dabble more with photo editing, but aren't ready to invest in the more expensive options.
When you first launch Polarr, the app will walk you through a brief tutorial that highlights the layout of the editor. The app also offers you the option to walk through editing two sample photos. With regards to the design of the editor, you have a series of control buttons in the upper left corner, your image details in the top center, and another string of controls in the top right corner.
The image you are editing fills the center of the screen and a photo bin lines the bottom of the editor with thumbnails of your most recently edited images. You can empty the photo bin by tapping on the three-dot menu on each thumbnail. This will pull up options to close out all the images, close just that single image or save the image. There is an "X" button on each thumbnail but do not tap on it. Instead of closing the thumbnail, the "X" closes the entire app. It is one of the handful of bugs the developer is working on resolving.
Editing Controls
The controls in the upper left corner cover opening up the effects menu, revealing your editing history, importing/exporting options and undo/redo buttons. You also have a hamburger button that provides you access to the About Screen, an option to change the language and an option to become notified of app updates.
The effects filter menu will drop down the left side of the screen and includes over fifty preset effects filters. These filters include modern, film and artistic options. You also have the ability to create your own custom filters to add to the mix.
Polarr has support for importing or opening the most commonly used file formats, such as .JPEG, .PNG and more. You also have support for .CR2, .RAF and .NEF RAW file formats. You lack any adjustments that can be made as you open a RAW file, like you would see with Photoshop, but the automatic settings work well. The developer does not that RAW support is experimental and we hope this feature sticks around.
Just a quick note about importing and exporting images. You can import images to the editor from your local drive or cloud services such as OneDrive, Dropbox, etc. Saving an image will save the photo as is. If you want to resize an image or add a watermark to the image, you will need to choose the Export Image option. Here you can set the pixel dimensions of the image as well as the quality of the compression. Polarr also has support for batch exports to let you re-size and save multiple images at once.
The information at the top center covers includes the image size, the file size, lens focal length, exposure settings and more. Keep in mind that this information is pulled from the image's EXIF file and will vary depending on the amount of information your camera records to this file.
Your control buttons in the upper right cover zooming into the image, pulling up the editor full screen, launching your cropping tool, two before/after views, a radial mask took, a gradient mask tool, access to your adjustments menu and access to an online help/support section. The cropping tool allows for free-form cropping or cropping based on eleven preset ratios. You will also have the ability to rotate the image and flip the image from the cropping tool menu.
The adjustments menu will drop down the right side of the screen and will have a Histogram at the very top of the menu. Polarr's adjustment tools include:
Color: Here you can adjust the image temperature, tint, vibrance and saturation.
Light: This adjustment category has a broad range of controls that include exposure, brightness, contrast, highlights, shadows, whites, blacks and a diffuse and dehaze tool.
Detail: Fine-tune your images clarity, sharpness, color and luminance here.
Optics: Tools include adding vignette to your images, adjust the grain of the image and add or compensate for any distortion or fringing.
HSL: Here you can adjust the Hue, Saturation and Luminance for individual colors within the image.
Curves: Edit the color curves for RGB collectively or the Red, Green or Blue tones individually.
Toning: Adjust the color highlights, shadows and balance with this tool.
Your adjustment options will run down the right side of the image while your filter selection will drop down the left side of the image.
Adjustments do have a live preview feature in that as you tinker with the image's attributes, it is reflected in the photograph. There's no application button to push or save adjustment tile to have adjustments applied. You can pull down the editing history and revert back to a particular editing point or you can use the undo button to remove the last edit.
Editing Performance
All in all, I found Polarr to be a very competent photo editor. It took a little time to get used to the layout and remembering where individual tools were located, but you will have this type of learning curve with just about every editor. The collection of tools can really ad some flair to your images or just polish them up a little. I did not notice an editor wizard for automatic adjustments, so Polarr may not appeal to the casual photographer who doesn't care to do much editing of their photographs.
I did notice a lag time between making an adjustment and seeing it reflected on the image. The image will also blur as you make the adjustment. It felt as if the editor needed a second to catch its breath and then catch up with your workflow. I don't think this lag time is a deal breaker but can be frustrating.
The only other performance issue I experienced with Polarr was with saving an edited image. The app should create a Polarr file folder in your Windows Picture Directory. Any saved or exported image will then be sent to that file folder. However, it took several attempts for Polarr to create the save destination. Fortunately, your edited images are temporarily saved in the editor's photo bin. My advice is to verify the image is saved properly before closing out the thumbnail. It took me about half a dozen attempts before the Polarr file folder was created.
Overall Impression
In using Polarr over the past few days, it comes across as a solid photo editor from the Windows 10 Store. The editor offers pro-styled tools that covers a lot of ground when you need to polish up your images. I like not having to confirm every adjustment I make to the photo and support for RAW files is very useful.
The app does need a little fine-tuning, but none of the performance issues were fatal. The developers are aware of these issues and are actively working to resolve them. Hopefully, we will see fixes pushed out with the next update.
How does Polarr compare to other top photo editors? In many ways, Polarr is what I expected to see with Adobe Photoshop Express. Photoshop Express is an attractive, lightweight editor, but lacks the horsepower Polarr offers with its tool set.
Polarr and Fhotoroom are very similar with respects to the amount of editing tools, but I think Fhotoroom has more creative tools such as the HDR converter and Tiny Planets integration. You also have design differences between Polarr, Fhotoroom and Photoshop Express, but that may be more of a personal preference than something you can objectively compare. I think it is a coin toss as to which is better, Polarr or Fhotoroom. It likely boils down to personal preference and I can see a place for both of these apps on my Surface 3.
While I still prefer Photoshop Elements for my heavy lifting, I can see Polarr being an attractive mobile editor for tablets where storage space is at a premium. Polarr Photo Editor is easily one of the top four or five photo editors in the Windows 10 Store for those looking for pro-styled features. The app is currently running $14.99 with a thirty-day, fully functional trial version that will let you put Polarr through the ringer before buying.
Download Polarr Photo Editor from the Windows 10 Store (Trial / $14.99) (opens in new tab)
Windows Central Newsletter
Get the best of Windows Central in your inbox, every day!
George is the Reviews Editor at Windows Central, concentrating on Windows 10 PC and Mobile apps. He's been a supporter of the platform since the days of Windows CE and uses his current Windows 10 Mobile phone daily to keep up with life and enjoy a game during down time.
Nice to see an app where devs seem to have put in some real effort and are not afraid to charge real money for it.

Could you do a roundup of the best editors in and out of the store (also from the web)?

Yeah I'd like to see an article on this as well!

Kind of hesitate to pay this amount of $$ for an app. If publisher unpublish the app from store, you'll lose it if you uninstalled it.

Take advantage of the 30 day trial version. It won't take you long to decide if it's worth the price of admission.

Nice to see some really good photo editors coming to the store. I would still love VSCO more than anything as a universal app.

There's also a web app and a Firefox app, both available for free. www.polarr.co Is there a difference?

I suppose it isn't a universal app. Anyway for what it offers I think the price worth it. I work with photography and sometimes I dont need all the power Photoshop (and lagginess) has to offer. Plus, I work on the fly and I carry my Surface Pro with and I could need an app which is light and fast, for preparing images for a fast proof when I'm on the client site.
It will be good for working with personal photos too, not only work.

I hope they will improve the RAW module and create the mobile version app.