Popular email client 'Newton' makes its official debut on Windows 10 today
Newton for Windows makes its official debut today on the Windows Store.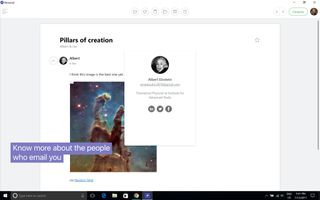 Newton, an extremely popular email client on iOS, Android and macOS, is finally coming to Windows 10 today with an official launch on the Windows Store. After being in closed beta testing on Windows 10 over the last few months, the Newton is finally ready for the masses.
What is Newton?
Newton for Windows (opens in new tab) is the only email service that works across all accounts and is available on all platforms. iOS, Android, Mac and now Windows too. Newton is a paid subscription service and client that offers you email in an incredibly clean, simple and friendly UI. I've been playing with it over the last few days, and I must say I really like what this app has to offer.
The app supports all the major email services, including Outlook, Gmail, iCloud, Yahoo Mail, Exchange and more. You can have multiple email accounts accessible via a unified inbox or separately if that's what you prefer. The app uses Windows 10 notifications for alerts, but unfortunately doesn't support Actionable Notifications at this time. It also doesn't appear to have a live tile just yet.
If you're someone who already uses Newton on other platforms, you're going to love the new Newton client for Windows just as much. If you're new to Newton, you can sign up today for a free 14-day free trial (with no credit card required) to test the waters, and if you like it, you can subscribe at any time.
You can get a years subscription for $49.99, which I admit might be a little steep for an email client. If you already have a subscription, all you need to do is login to Newton for Windows with your account, and everything should be exactly how you left it on other versions of the app. Pretty neat!
I would love to see a dark mode added to Newton for Windows at some point. As you can tell from the screenshots, the Newton app is primarily white. A dark mode would be an appreciated addition to an already great email client.
Newton for Windows is now available via the Windows Store. (opens in new tab) It's great to see more apps make their way to the Windows Store on Windows 10, and is hopefully a trend that we'll see continue now that the ball is rolling. What are your thoughts on Newton for Windows? Let us know!
See at Windows Store (opens in new tab)
Windows Central Newsletter
Get the best of Windows Central in your inbox, every day!
Zac Bowden is a Senior Editor at Windows Central. Bringing you exclusive coverage into the world of Windows on PCs, tablets, phones, and more. Also an avid collector of rare Microsoft prototype devices! Keep in touch on Twitter: @zacbowden.
When did email clients start costing $50 a year?

I guess at the point when all companies that charge 1$ lifetime went nearly bankrupt. Because you can't charge that much and have a viable business. Of course, every kid can take 6 months and make something and charge whatever. However in the long run updates are needed and the business model is needed too.

With $50/year what make this better than my Windows 10 mail app or Office 2016/365 version of Outlook?

Some people would pay that....espeically business users.

I wouldn't compare this to powerhouse Office Outlook, its obvious which is more powerful. But sure when compared to Windows 10 Mail app, this seems better in many ways. Mail app in Windows 10 still lacks important features like Categories, Rules, Pin, To-Do integration, and several other features that Outlook.com have but not the native app, which doesn't make sense. Mail app even lacks real-time syncing and even syncing problems. It is better to use the Outlook Web app instead. This 3rd-party email client have its own unique set of features and integration such as Todoist, so for people who use that integration will benefit them using this. It even have this delayed send, mail read status, snooze and some others I think. All with clean and simple UI.

Im willing to pay on $20 year though...heard they have sales for $25 a year from time to time.

You fail to mention whether it can send email to a group of Contacts. This would be the main reason for many of my customers to try it out. But $50/yr, no way. I'm still thorougly disgusted with Microsoft for not implementing Contact Groups in the Mail/People App. Its in the Win10Mobile app, what exactly is the technical limitation here? Not even the new People Feature which I have not used one single time solves this issue. Whey don't any of you bloggers ever ask the MS folks about this glaring ommision, its pathetic and unneccessary of them to disconinue WinLiveMail and then replace it with something that does not have this basic functionality. I have worn out my welcome in the forums at MS trying to get his question answered.

$50 a year when you can pay not much more and get Outlook 2016 (never mind all the other benefits). Thanks, but not thanks. Plus, if you use Outlook.com or Exchange there really isn't a better option than Outlook. I wouldn't use this over Apple's PIM Apps for iCloud. Maybe Gmail users will like? Most businesses I know who use services like Google Apps, Exchange, etc. prefer to use Outlook, Web Clients, or other 1st party clients for PIM data. They have policies in place for these things. You may be able to BYOD, but you can't BYO-IT Policy with it ;- ) Sending email to a group is one of the easier way to land in the junk mail box of many people.

This doesn't sound terribly different than the program I started using a few months ago Mailbird, pretty cool app that acts as my portal to all of my emails accounts, Todoist, Slack, and a lot more... for a lot less! Read my opinion here.

I'm not sure there are perpetual $5 worth of features in this plaine jane app. If you want to spend money you are better off with Postbox for a $40 lifetime update price.

Really like the simple design! Really like the integrations with third parties. Really like the consistency across platforms.. To me, those are the main differentiators from Microsofts offerings. Microsoft should offer many more integrations than they do today, both with their own services and with third parties. They also really need more consistency across Outlook.com, Outlook 2016, Outlook Mobile and mail/calendar on Windows 10.

Oh, and really like that it is published through the Store. Do we know what framework was used?

lol, a subscription for an email client? are they smoking something? FFS they are either complete idiots or really high on something

It is not available for Windows Phone, so it has limited useability. Cross Platform? It does not even have SAME Platform!!

What does it do better than Outlook?

I'd rather stick with Thunderbird.