Bridge Constructor hits Xbox One August 21, Xbox integrated Windows Store versions incoming
Bridge Constructor is a wildly popular physics-based puzzle game, currently available in the Windows app store for both PC and Phone.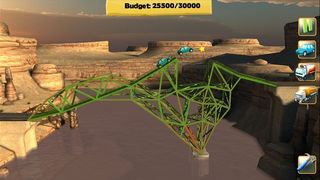 After enjoying a ton of success on iOS, Android, and our favourite mobile platform, Bridge Constructor is crossing the gulf to Xbox One tomorrow.
In addition to the Xbox One version, Headup Games has told us that they'll be including Xbox integration for their Windows Store versions in a future update.
Bridge Constructor in Headup Games' words:
64 Levels
6 Settings: City, Canyon, Beach, Mountains, Hills, Grotto
Option to build sloping roads
Map with all unlocked worlds/levels
Four different building materials: Wood, Steel, Cables, Concrete pillars
Color coded load indicator for different building materials
Three different load bearing levels: Car, Truck, and Tank Truck
High score per level
Achievements & Leaderboards
I've been playing Bridge Constructor on Xbox One, and it's every bit as maddeningly addictive as the mobile versions. It includes all the levels from the Windows Store versions, in addition to the Slope Mania! expansion. The UI design is identical to its Windows Store counterparts, but it translates surprisingly well to a Xbox One controller.
A tap of "A" acts as your selection button, for placing bridge materials. Hitting "B" brings up the material selection menu, as well as save controls. You can cycle back through the menus by hitting "B" as well, mimicking the functionality of the back button on a Lumia. Other controls are displayed persistently on screen throughout the game's various menus.
As an Xbox One title, you might find that the graphics and physics display a little better than on your phone. However, Bridge Constructor appears to be a straight port of the Windows Store version, complete with simplistic mobile-level visuals - albeit in HD. It doesn't matter, though, as Bridge Constructor's strength lies in its addictive engineering sim gameplay.
As you progress through the game's 60+ levels, you'll find that the difficulty increases exponentially testing the very limits of your inner bridge engineer. You're scored based on a combination of the integrity of your bridges and the amount of budget used when building. You can only progress if you can successfully transport two vehicles across your bridges. When your designs fail, your bridges will explode into a satisfying cascade of struts and girders - which even makes losing addictive.
The Xbox One version comes with 1000 Gamerscore of achievements and Xbox Live leaderboards, which shows your global ranking for each level. As mentioned earlier, achievement hounds will be glad to know that Bridge Constructor is picking up Xbox integration on the Windows 10 and Windows Phone stores in the future.
If you can't wait until then, Bridge Constructor is available now in the Windows 10 / 8.1 app store without Xbox integration. The full Xbox One version will be available tomorrow on Xbox Live.
Download Bridge Constructor from the Windows Store (Mobile/PC) (£2.29 / $2.99 / Free Trial) (opens in new tab)
Windows Central Newsletter
Get the best of Windows Central in in your inbox, every day!
Jez Corden a Managing Editor at Windows Central, focusing primarily on all things Xbox and gaming. Jez is known for breaking exclusive news and analysis as relates to the Microsoft ecosystem while being powered by caffeine. Follow on Twitter @JezCorden and listen to his Xbox Two podcast, all about, you guessed it, Xbox!
Games and apps coming to the platform.. And developers have the benefits of making their apps and games more popular by bringing them to Windows 10 PC, Mobile and Xbox (to millions, or billions of users around the globe, altogether).
I guess Satya Nadella's plan is working... ⌒.⌒

At first I thought Xbox integration of the Windows Store on PC.

I mean, that's exactly what is happening, right? --> "they'll be including Xbox integration for their Windows Store versions in a future update." This is good news for the future of Xbox, Windows 10, and Windows phones. This is exactly what they need to do: get developers to making Xbox games with unified experiences across consoles, computers, tablets, and phones.

You realize it's Ballmer's plan, right? It takes year to unify platform like that.

It takes more than a year lol, it's a culmination of alot of things done in both the foreground (visible to everyone) and background (behind the scenes).

Here's hoping we see some voice controlled home automation functionality through xb1. Seems like an obvious opportunity to partner with someone like smart things.

I second this. Should be very easy for Insteon (even though they broke their phone app a bit with the last update, which they'll hopefully fix soon)

When can I get this on Windows 10?

Read the end of the article

1. Read
2. Scroll down
3. Read some more Posted via the Windows Central App for Android

Keep'em coming. The more the merrier.

We nEed Homerun Battle for our Windows platform.....

Any word on whether progress syncs between devices? It's the only problem with games like Machinarium and Hitman GO

This! I am so happy to see games ans apps coming... But I hate that I cannot save the files and worse there is no loud save/sync. I windows 8.1, I used to manually copy the app data of store apps if I was transferring one that was really important. Worked like a charm... I planned on writing some script that would run to copy the selected games/apps to OneDrive and compare the dates so I could at least sync ans play games on on one on one of my many devices... This problem alone keeps me from playing many games on the phone as I dont have a easy way to sync the apps... So PC and tablet get my attention.

So do I get the game via cross-buy if I already have it on Windows? Or do they expect me to laughably pay 1000% more than what I already paid for it (assuming they release it for $10, although a lot of these free/$1 mobile games are trying to sneak into the console store for $15 or even $20 recently).

On a second, only kinda-related note, could you guys mention something like "pricing was not announced" in news stories like this one where the pricing is still unknown? I always feel compelled to do a quick Bing search for another article to see if its mentioned elsewhere. I figure not seeing it means its not known, but it would still be nice to see in the article regardless.

So dont buy it then. Why should you get I for free when its been upgraded for console? It's not the same game...

There is no cross-buy with Xbox One right now. Things like Fable Legends are first party and free downloads with cross-buy IAPs. That stuff isn't here yet. Reward developers though. If you enjoy something and want to show them the platform is worth it, give them a few bucks.

Exactly, some people need to stop and think. Without devs there aren't going to be any apps or games, they don't automagically appear in the store.... Lol.

I should clarify a bit. I wasn't complaining about the lack of cross-buy (I won't support a game like this without it until it reaches ultra-sale point, but I understand why a developer might choose not to support it). I was more commenting on the fact of these mobile games, despite being at most $3 on every mobile store (and even free on others), have been turning around and demanding $15-$20 for consoles for some unknown reason. That's a 500-667% markup if three dollars, or a whopping 1500-2000% markup if it's a dollar. I understand there is less competition on consoles (for now), but there's not that level of derth in competition that these mark-ups should keep happening.

Looks fun. Played games like this on pc well before it was popular on ios or android. Just had to put that out there.

The only thing that confuses me about this game on windows phone is why does a 3 dollar game have in app purchases?

Look, developers are no different then anyone else. Everyone has bills etc to pay.

But to me it's just sponging.

Used to play this on my phone but I found I needed oven gloves to hold the 920 afterwards lol. If you bought the mobile version does that translate to a universal license or the xbox version is a separate purchase? Just wondering out of curiosity.

Saw the price at the bottom.... Then noticed it was not for the One version. Doh! Hope it is below £10.
Windows Central Newsletter
Thank you for signing up to Windows Central. You will receive a verification email shortly.
There was a problem. Please refresh the page and try again.