Potential Surface Pro 7 variants appear online
New variants have leaked online of what could potentially be the range of Surface Pro 7 variants.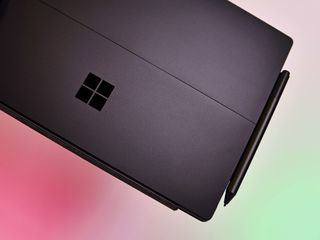 What you need to know
A list of variants leaked online of what could be the Surface Pro 7 variants that are on the way.
Microsoft is holding a Surface event on October 2, 2019, which will likely include a new Surface Pro.
None of the variants listed use an ARM processor.
A list of variants has leaked online of what could be the upcoming Surface Pro 7. WinFuture reports that information about the upcoming Surface Pro 7 has appeared at retailers. If the information is accurate, it would confirm that the device is called the Surface Pro 7 and confirm details about internal specifications.
The list of storage and processor variants that WinFuture reports ranges from an Intel Core i3 with only 4GB of RAM and 128GB of storage up to an Intel Core i7 variant with 16GB of RAM and 512GB of storage:
Microsoft Surface Pro 7, Intel Core i3, 4GB RAM, 128GB SSD
Microsoft Surface Pro 7, Intel Core i5, 8GB RAM, 128GB SSD
Microsoft Surface Pro 7, Intel Core i5, 8GB RAM, 256GB SSD
Microsoft Surface Pro 7, Intel Core i7, 16 GB RAM, 256 GB SSD
Microsoft Surface Pro 7, Intel Core i7, 16 GB RAM, 512 GB SSD
Notably, none of the variants listed run an ARM processor. Instead, they all stay on Intel's chips, most likely Intel's 10th generation chips considering where the Surface line is in its refresh cycle, but that's simply speculation. Of course, since this is only a leak of variants, it doesn't confirm that there is not a version of a Surface device running a Snapdragon 8cx. A potential ARM Surface could be listed separately, not have the same naming scheme, or the leaked information could be incomplete or inaccurate. Microsoft generally keeps Surface information close to the vest, so we won't know all of the details until the October 2, event.
How to watch the Microsoft Surface event live stream on October 2
In our breakdown of what we expect to see at the October 2 event, we discuss a potential Surface Pro 7 as well as several other devices and accessories that will probably be announced at the event.
News Writer and apps editor
Sean Endicott brings nearly a decade of experience covering Microsoft and Windows news to Windows Central. He joined our team in 2017 as an app reviewer and now heads up our day-to-day news coverage. If you have a news tip or an app to review, hit him up at sean.endicott@futurenet.com (opens in new tab).
It works for some use cases and noticeably lowers the price. It also is in balance with the small ssd and the i3. The only real disadvantage is that unsuspecting customers buy it but later find out it is not enough for their needs, which is far less likely happening with 8gb ram.

An i3???? I hope that's not true...

Why does it matter? Just buy the i5 or i7 version, or do you want a i5 or i7 with 4 gb ram lol?

I have a Core m3 version with 4GB of RAM. Don't imagine doing anything more than consuming on a 4GB computer these days. I only use it to read PDFs and take notes, so it's not an issue for me. But I don't think they should be putting out Surfaces with 4GB RAM these days. It might be to introduce a super low price point.

That's what allows the tagline, Starts at $9.95.

While that certainly is true of many OEMs and has seemingly been the case with the low end surface variants in the past. I think the idea really is to offer a the Microsoft brand to as many potential customers as possible. There are likely a lot of people that don't want the much smaller surface go that don't necessarily want to spend over twice as much on a pro but still want a tablet directly from MS. This is for those people. I think the issue stems from people feeling misled after some time due to them finding the hardware limitations of their purchase down the road and buyer's remorse for not going for a higher end configuration. Those people will obviously be more common if a company actively tries cutting down a variant to reach more frugal customers. It's a double edge sword though, because you'll find just as many people complaining about the bar for entry into the surface pro line being set too high if MS decides to "require" a certain minimum configuration level to assure fewer people run into hardware bottlenecks. Some companies try to strike a middle ground but at the end of the day you're going to roughly get what you pay for since very few companies have the ability to sell their devices at a loss (and even if they do, it's not a sustainable business model). MS has a certain standard they set for the fit and finish of the surface pro line and so they have to determine how low they can go with the internals to offer a cheap variant to more frugal consumers. Since the best surface pro will be in the same chassis as the lowest end variant, you've gotta understand they won't make a version with a Pentium processor but simultaneously they'll want to strike a middle ground by skimping enough to get the price to something that appeals to those who want a surface pro but don't necessarily want to spend $1500 on one that won't feel outdated or limited in capacity down the line. I think a good way to avoid this would be for MS to offer a cheaper surface with cheaper materials and maybe a SATA SSD to cut costs. Have it top out around the point where the pro line comes in with regards to processor/RAM configurations. The issue with this idea is they'd then require a whole new design/testing/production phase (aka lots of upfront cost) for a line that would likely have low profit margins and they'd end up in fierce competition with brands like Chuwi which already make products exactly like I describe and offer them for prices I don't think a company like MS would be able to compete with directly. They could do this anyway and hope that customers will want to spend the difference between the two for a product directly from the manufacturer of the OS but I genuinely think MS sees the surface line as a way to showcase what they see the future of their operating system can/should be. Much like how Google and Apple do with their phone lines and how Google does with their tablets/laptops. You're just not likely to see these companies make budget entries into the market because if they don't set a high standard for their products then it kinda goes against that "showcase of the future" mentality. Sure, mid-range options will come from these companies like the surface go, pixel 3a, iPhone SE (and maybe the iPhone 11 since carriers will likely bring the fairly reasonable $699 price down to true "mid-range" prices within a couple months) but you'll likely never see them trying to compete directly with budget options because the companies that work in these segments are very efficient and great at putting together products at price points that these companies can't really match.

I assume the 10th gen i3/4gb will work for a lot of people and the ones who that won't work for, already know they need a better processor + more ram. Also, i can bet the 10th gen i3 stacks up nicely and very closely to the 8th gen i5.

It's all the same as last year, the least they could do is provide a larger HDD/RAM options over last year.

That's disappointing. I was hoping they'd have 256 SSD minimum for the i5. The price jump between 128 and 256 is ridiculous.

You could use a good SD card for more storage, works pretty decent for work files etc.

Yeah, but it works terribly for applications.

That is true, but do think the 128 gb version might still be interesting for some. I have w10 on my Surface Pro 1 with 128 gb, in storage in settings I see that 120 gb really usable and 20 gb is reserved/used for the system. Lets say we keep another 20 gb as reserve (for temp files, installs and updates etc). Than you still have 80 gb for applications, so you could e.g. install Office, Visual Studio, a bunch of random apps and a few indie/old games than dump the rest on the SD. Bit cramped but doable if your workflow is not to varied, might be a good deal than. :)

Just remove the i3 version.

Same variants as the Pro 3... come on we're in 2019 now. I'd like to see a 256GB/16GB i5.

Hoping to see some changes for the 7th generation. Otherwise the surfaces have been fine so far in my eperience. 1. more reliable performance and reliability of windows hello for face and fingerprint login. 2. A better hinge performance of the kickstand. In multiple surface pro devcies I've owned (surface pro 1st gen and 5th gen) the hinges are not sturdy at 10 degrees and 150-160 degree angles. They actually wiggle. This in stark contrast to microsoft's Panay "perfection pitch" of the hardware in all his presentations 3. A surface pen with more buttons. Would like to see two more button shortcuts on the pen. Another options would be a minature version of the surface dial as the click/eraser button at the top. This would allow for more control options. 4. A smart surface pro design to more easily be able to replace the battery, without having to break the whole device. 5. 2 camera's: 12 mpixel wide the other 12 mpixel macro lens.
6. integrated a-gps. Wishes for improved windows UI software for surface pro devices: 1. Be able to open an enduser custom onenote template page/form with the surface pen
2. Auto-rotate 2 snapped apps in tablet mode between landscape and portrait mode (5 years overdue)
3. Be able to snap apps in tablet mode both vertically and horizontally (one app above the other or side by side respectively)
4. Windows search integrated in the action center
5. A time and date stamp in the action center (just like with the charms bar in windows 8)
6. Be albe to pin all file types as a live tile
7. More live tile sizes
8. interactive live tiles
9. Tablet mode UI explorer catered for touch and pen input.
10. integrate windows image composite image editor program within the photos app.
11. support drag and drop email invites, for example with html posters for conferences within the email body, into the calendar app to compile a new calendar event. The email content will be integrated in the text body of the calendar item for future reference (just like how it works now with outlook desktop app).
12. Be able to send a sticky note digitally to the desktop of a colleagues windows msft account. This would be a similar surrogate to real world use, just like sticking a sticky note on the monitor of a collegue as a memo. With microsoft sticky notes, this would appear virtually on the windows dekstop screen as a floating sticky note window on top of all apps, like a virtual sticky note.

No Amd version? Strange, an Amd version would be interesting for 3d content developers or casual gamers and for businesses (no meltdown vulnerability iirc). Or perhaps MS is waiting for Amd's 7nm mobile procs.

It would probably require an entire motherboard redesign to support an AMD processor. It may not be cost effective to support in only one model.

That is a good point, I do hope that MS will add Amd procs in one of their Surface tablets; I feel Intel's weak igpu is not in balance with the cpu and ssd etc. Ice Lake iris igpu will improve it but those versions will be expensive too.

I think an AMD version is rumored for the Surface Laptop.

That would make sense to let the laptop standout more.

Needs a dedicated gpu imo. Using the integrated Intel chips is what limits it's gaming

And also nice in 3d programs, like solidworks and blender etc.

So true, but for the average joe that just wants to load a game from the store, it leaves a bad taste in their mouth when basic mobile games can't run as good as on smartphones/iPads. But of course, MS store needs more support first and foremost.

im looking to replace an ipad with a surface Go, hopefully the sept 2019 models will be available in October incase there is something i don't need, like in the newer models, like a foldable surface.

I just hope they have the black version as standard for ALL variants and not just the more expensive ones.
I never got the black Surface Pro 6 to replace my Pro 5 because of that. I had to pay 1400€ to basically change the colour because the black one was only available on the 8GB/256GB configuration.
And here's the truth: I don't need more than 128GB of storage on the Surface Pro (specially with an SD slot) nor do I even need more than 4GB of RAM. All I do with it is drawing and using word. That's it. I don't need massive amounts of storage nor of RAM for that. If the Pro 7 comes in all black for all variants, good. I might ditch the Pro 5 for the i5/128GB model of the Pro 7. Otherwise, I'll be better off just buying the Pro 6 once its price is inevitably massively cut by the launch of the new model. But hey, if Microsoft wants less of my money, I'm game ¯\_(ツ)_/¯

I would just put a black skin on your Pro if I was you (not a cover though since those cause more heat but a skin apparently does not).

128GB of SSD for a Windows PC in 2019? (128GB is the base memory for Samsung Smartphones, Surface is supposed to be a full-fledged computer...)

Eh, it's for the two baseline models. Apple, Lenovo, HP, Dell, Samsung, and others have models that start with 128GB SSD. There's always the option of spending more for 256GB of storage or using a microSDXC card for media storage.

Still waiting for a 15 inch variant for sketching
Windows Central Newsletter
Get the best of Windows Central in in your inbox, every day!
Thank you for signing up to Windows Central. You will receive a verification email shortly.
There was a problem. Please refresh the page and try again.