PowerA to sell charging stand and component kits for Xbox Elite Wireless Controller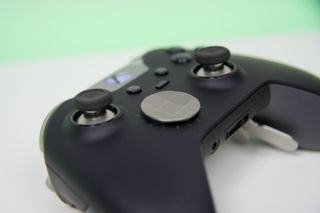 Microsoft's upcoming Xbox Elite Wireless Controller for the Xbox One is due to ship on October 27, but the company is already working with third-parties so they can offer accessories for the gamepad.
Microsoft stated:
The company has also announced that the Xbox Elite Wireless Controller has been approved for pro gaming use in the Major League Gaming and ESL organizations. Finally, it revealed that they have nearly sold out of their first shipments of the controlled but added:
Check out our extensive review of the Xbox Elite Wireless Controller
Buy the Xbox One Elite Controller at Amazon for $149.99 (opens in new tab)
Source: Xbox Wire (opens in new tab)
Call me crazy, but I don't intend to wrap up $200+ in a controller.

Yeah, I'm really torn. I want to try it, but it's such a big cost for trivial improvements. I'm hoping there is a Black Friday deal on it. Otherwise, first time it's about $100, I will probably get it.

Especially when you eventually get thumbstick drift and it's out of warranty so you either buy yet another one or get it fixed

I'm in. Cost or no cost. I have to have this controller.

Mine hasn't been sent yet. Excited!

will wait 'til next year but then def' call it my dear

Yea this controller is to expensive better wait to black Friday

They're not putting it on sale a month after its release. Half the back orders wont even be filled by then.

Amazon, Microsoft store, best buy, WalMart have all sold out of the initial release shipping batch. Not sure about Gamestop.

Would've been nice if they offered backlit abxy buttons or a way to add it as an aftermarket

Yea been waiting for backlit buttons for ages! Keyboards and even mice are backlit nowadays. Might affect battery life slightly but worth it for me!

on my second controller in 4 months .....so yes getting one

This thing will sellout in like 3 minutes and be on backorder for months. This has been the case with the last three items I've trie dpurchasing from them (Band 2, Surfacebook and the wireless xbox controller adapter for pc). It's like MS has low self esteem or something lol. I thought it was just amarketing scheme, but a wireless controller adapter? Really? At this rate the Lumia 950 will be released and I'll have 4 pending items form MS. ms = Maybe...soon?
Windows Central Newsletter
Thank you for signing up to Windows Central. You will receive a verification email shortly.
There was a problem. Please refresh the page and try again.