Project Cars 2 announced for PC and Xbox One with off-road racing added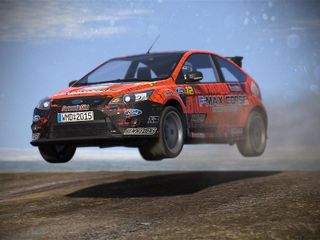 Developer Slightly Mad Studios is wasting no time in making a sequel to its recently launched racing sim Project Cars. It has revealed plans to develop Project Cars 2 for the PC, Xbox One, PlayStation 4 and SteamOS platforms. The sequel will include off-road racing for the first time.
Here's what Slightly Mad wants to include in Project Cars 2:
THE LARGEST TRACK ROSTER EVER – 50 unique locations and 200+ courses including 'loose surface racing' on dirt, gravel, mud, and snow. All will have dynamic time of day and weather allowing you to play anytime, anywhere
THE WIDEST VARIETY OF MOTORSPORTS with 8 different disciplines now including Rallycross, Hillclimbs, and Touge. 200+ cars from over 40 different vehicle classes including never-before-seen Concepts and Banned Race Cars
CO-OP CAREER – Play as the Teammate Driver, Spotter, Driver Swap, or Co-Pilot. More choices, more opportunities, more strategy, greater risks and greater rewards
SEAMLESSLY CONNECTED – Socialize and compete via Online Track Days, have players from around the world take the place of AI-controlled drivers in your solo play, and get news updates on the Driver Network around you
PRO ESPORTS RACING – Skill & Behavioural-based matchmaking, create your own Online Racing Leagues, and Live Broadcast and Spectator functionality YOUR HOME FOR RACING – Your own personal, customisable Test Track to tune and test your cars. Invite others to showcase your passion for racing and learn race craft and engineering with the Project CARS Academy
As with the original game, Project Cars 2 will receive much of its funding via the World of Mass Development portal, which will allow gamers to put their own money behind its development as well as give their feedback to the game's creators. There's no word yet on a release date for Project Cars 2.
Source: World of Mass Development
Windows Central Newsletter
Get the best of Windows Central in in your inbox, every day!
The game physics !!! mind blown !!!

And after 15 years Dead or alive can't get breast physics right. Lol

And u still think that they can't? They just won't

Really project cars only just came out. How about debugging and sorting that out first. Maybe they could add 3d puddles with full aquaplaning physics like forza 6? I love racing games. With launch forza 5 the anomoly, forza games tend to only implement things when they can do I justice. Like they have with wet weather. Aquaplaning I a big part of racing in the wet.

They're already actively debugging and sorting it out. Point invalid. :)

I agree. But announcing a 2nd game so soon? They could have waited till the bugs were gone. They are even apparantly improving the rain effects on the windows to. They could add 300 more cars etc. Not announce another game now. There's so much that project cars could improve on. It feels unfinished. This is my point.

Developers won't use the entire team for debugging and extra content. Even Turn10 move a large part of their team to developing the next game almost as soon, or maybe even before the current game is released. This does show that Project Cards has had some success, which bodes well for the future of racing games, as more commotion means more innovation. And those PlayStation boys at least have one racing game to enjoy now and look forward to in the not too distant future.

Didn't know you're friends with people in Turn10

They have talked about it in the past. I read their news blogs. With Forza 4, they talked about how they had no plans to create DLC maps after the release because members of the team had already moved on to the next project.

It does seem soon, but this may be a few years away.

It is hard to say what "starting" really means. They may be sending a team off to laser capture new tracks, or record new engine noises. Or they may have started in board room meetings, discussing what their plans are for the sequel. I can't imagine there isn't a team of coders trying to fix any issues that are coming up in the game. But as was pointed out before, I am not an insider, that is just my guess. I like to be a glass half full.

Wasn't this an Early Access game on Steam that JUST launched, came with a bunch of console bugs, lacked a bunch of content, and now they're moving on to the sequel? I'd be a bit annoyed, if I backed this early.

Seriously? Project Cars - which, I must stress, I really enjoy when it works - is a hot mess right now. They really need to prioritise getting the first game to work properly before they move on to any sequels. For shame, Slightly Mad Studios, for shame.

Well, they did tell you up front that they were slightly mad.... Just sayin' ;)

Awesome pic, that's my next car right there (The new onw that is). I have it's baby brother, the ST. Maybe I'll buy this until I can afford the RS.

How do you sort out the vast amount of bugs and problems this game has... Announce the sequel... Sloooooowwwww claaaaaaaaaaap.

WTF its only been out 2 months !! Does this mean no more support and they are gonna concentrate on Project Cars 2 hope not ..... Love this game

I'd like a proper WRC sim. Get to work.

Try Dirt Rally; best there is right now.

I've stopped playing Project Cars on Xbox One. The controller mapping is still messed up making it impossible to drive without a wheel.

Wonder if they can beat Dirt Rally with their off-road racing offering. But regardless, its great to see a new racing game that will go beyond the tarmac.

Oh, these guys can screw off. Hey, guys! Wasn't your original pitch for a Wii U game? Why don't you, I don't know, DELIVER ON THAT?!? Grrr......

It's better for Wii U not to have this piece of crap. Sure, there are no autosims to enjoy, but I didn't enjoy PC when I tried it on my PC (pun not intended, lol). The game is semi broken and it's "realistic" physics engine is something in between NFS III and riding ice on your bottom.

LOL Offroad? The title must be Project Cars Horizon.

Only it'll actually have realistic physics I imagine.

Honestly.. less than 2 months after Project Cars hit the shelves? Yes, you can go on playing your already old Project Cars, yea it's buggy and all but hey there's rain! In the mean time would you mind giving us some more money? No matter how efficient, business-wise correct, logic this thing is, no matter how you put it, it just sounds wrong. Sorry.
Windows Central Newsletter
Thank you for signing up to Windows Central. You will receive a verification email shortly.
There was a problem. Please refresh the page and try again.