This is the kind of Windows 10 app developers will be able to design with Project NEON
You can get an early glimpse of what Project NEON looks like in the latest preview of the Interop Unlock Tools app.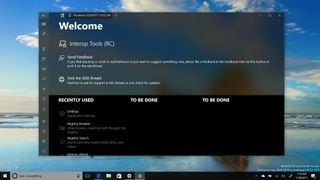 Late last year, we exclusively revealed that Microsoft is working on a new, improved design language for Windows 10, called Project NEON, that aims to bring more fluidity, blur and animation to the OS. Since then, concept images have leaked, and now Insider Preview builds feature some early Project NEON APIs and elements.
Because of this, one eager developer building an app called Interop Unlock Tools has released a preview build that features early Project NEON designs, giving us a good look at what we can expect developers to achieve with their own apps once Project NEON is officially unveiled. Interop Unlock Tools, for those who don't know, is an app that allows you to access the registry, enable tweaks, and more on a Windows 10 PC or Windows 10 Mobile device.
So far, the Interop Unlock Tools app using Project NEON designs features blur elements, which display whatever is behind the window. It also features a few animations, but the app is still in preview, so more animations should be added down the line. Check out the quick video above showcasing what the app with Project NEON elements looks like in action.
Per our original Project NEON article, we're told the bulk of Project NEON won't show up system-wide until Redstone 3. It appears part of Project NEON is showing up in the latest Redstone 2 builds for developers to take advantage of, however, meaning we might see more apps utilizing Project NEON sooner than anticipated. Regardless, it's exciting to see an example of how Project NEON can provided additional flair and "sexiness" to apps that just isn't possible with Windows 10's current design language.
You can download the preview build of Interop Unlock Tools and check out the Project NEON designs yourself. However, keep in mind that the Project NEON elements only work on the latest Insider Preview builds, and they do not yet show up on Windows 10 Mobile.
Zac Bowden is a Senior Editor at Windows Central. Bringing you exclusive coverage into the world of Windows 10 on PCs, tablets, phones, and more. Also an avid collector of rare Microsoft prototype devices! Keep in touch on Twitter: @zacbowden.
Meh. Don't care for transparency. I hope you can turn it off.

If you want to turn off transparency, go ahead to Settings > Personalization > Colors. This option has been provided since the dawn of time Windows 10 arrives, to satisfy the diverse Windows users.

i guess a different toggle for apps would be useful when neon launches.

Looks nice, but they need to hold off on introducing pieces of Neon to the OS. For developers it's fine, but for the general OS they need to wait, and introduce the new look all at once,, even if we need to wait till RS3.... We don't need an OS with three different design languages present, even if only for a few quarters..

There are no significant NEON bits in RS2, but what they added is being able to have a transparent background so you can replicate the NEON leaks yourself (which is what this app did), but there are no actual NEON controls or new premade animations etc.

That already looks fantastic.

Nice, I'd like to see blur effect in the notification pull down as well as for the one handed mode.

The transparency looks like a return of aero glass.

Yep, Aero 2.0. Welcome back! :-)

It looks great, and fluid. I would like to know if the window resizing is improved too.

Looks sexy AF 👌🏼 Where can I get the wallpaper shown in the beginning of the video which looks like a painting? It's beautiful 😲

That's what id like to know

Seriously? Its called Interop Tools, not "Interop Unlock Tools"...

But it Unlock Tools after all xD.

The great thing is that since you would probably be able to control levels of transparency from Settings you can have the best of either an Aero-like design or the more Spartan/contrast-y look the OS currently has. I can imagine IT default setting the Aero quite low enterprise-wide to reduce resource usage.

That isn't how it works, though. You either do the computation for the transparency or you don't. If you want any transparency at all, it's more or less the same work from 1% to 100%.

yep u are right. i doubt there will be any significant differences of resource usage between having 1% transparency vs 100%. maybe some will be, but not any major ones, compare to on/off transparencyy altogether

How would it look on mobile ??

Sorry, but I find it a bit chaotic.

Just put the transparency in 0%, simple.

There is no doubt, but the aesthetic decision/usability is still bad.

Wow. Makes current apps on any platform look S**t

Although I will definitely look great, I think some phones will definitely have performance problems with it, like my old lumia 640 which struggled a little bit with the blur effect in the Groove music app. Another example would be when Awesome Tube used all those blur effects, as it was completely unusable with my 640. However, the 950 and higher end phones might not have much trouble with it

Is this feasible on mobile? Or will it be too resource intensive and slow things down?

With windows 10 on arm it should be

But what does that mean for previous Lumias? There's already dropped frames in Groove on my 950 XL when scrolling through artist or album collections that have blurred/parallax elements.

I don't have that issue on my Lumia Icon on the latest build. I doubt that has anything to do with the processor. Pretty sure if you're skipping frames it's something software related if my 929 can scroll through without hiccupping. This throughout the OS would def hobble my phone though.

So basically it's the current design language + semitransparent background, or am I missing something?

Animations, icons, and probably more UI stuff.

It's supposed to be a natural evolution of the current Modern design language.

Yeah, all I'm seeing is a new tranparent blur option. That's cool, I guess..

Well that's the most obvious change, I'm sure there are other subtle changes

Da dammmmmmm that looks nice, real nice. I'll download this app once we have a new mobile build to see how it looks.

Its also available on mobile with the Neon design?

Question is, (even though this looks amazing!) what does this mean for current apps and developers? Are they gonna need to rewrite the code, or just port them to this new language, or create apps from the beginning?

My guess would be that they only need to rewrite if they want to use the new features. Nothing is being deprecated here.

There's no porting to a new language. Apps will still be written in the same programming language. It's just that some new APIs will be available to them through whatever language they're al;ready using. If they want to make use of those new APIs then they can make the appropriate changes to their current code, either in one fell swoop or piecemeal.

I really want to like it. I mean, when we looked at the concepts, it looked really promising, but I was uncertain, remembeing how MS always wasted it's design guidelines with inconsistences and bad decisions. And now, with this, I'm even morte uncertain. How are people saying "fantastic, great, fluid"? It has NOTHING different, besides the blur (and even the blur is misused here, where all the sessions have the same level of blur in the same shade of gray). I know neon is not a new language, but a upgrade of the current one, but it also should solve some inconsistences and actual problems. Looking at that colored back button, and this not attractive blurs, and the bad mix with black background (i don't know why MS has such a fixation with absolut black and absolut white in some areas, even in the taskbar context menu), I just want to be prepared for some frustrations. I'll just hope this is just a bad example, and that we'll see more interesting ones.

This isn't the prime example or standard for Project NEON. Nor is it a direct reflection of what Project NEON will be. This is simply one developer's take on how they would design their app around Project NEON's new APIs and elements. This is still in its early stages and could easily change later on to fix some of the "problems" you see in this mere example. Side note: All black/white backgrounds can look amazing when paired with good design. Plus it looks great on OLED screens. Give it a chance.

Yes, i know this is in its early stages and can change later, but titles and subtitles like "This is the kind of Windows 10 app developers will be able to design with Project NEON" and "You can get an early glimpse of what Project NEON looks like" just give people the feeling that this is the path that everything is leading up into. In fact, it can end up being a reflection of what project neon will be, seeing the countless times we all said "this is early stages" for everything this new Windows fase brought (actually, besides loving the "always in work" idea of new Windows, in the end it just became an excuse to deliver unfinished and unpolished products, and now even MS has to do a whole project to improve and polish it). Side note: I know black/white backgrounds can look amazing when paired with good design. The fact is that it doesn't look any good with the way it was put in certain Windows areas, looking more as an "broken thing" than a design consistent choise. Examples: the programs context menus, with the 'fixed' and 'most visited' lists in an all black background, which doesn't constrast well with the gray color in the same context. Other one: some apps with white sidebar, white background, white in everything, with no lines or clear division (hi Feedback Hub), making all the UI just sounds as a giant notepad.

I agree with Guils. MS needs to put 10-20 boss designers in charge, or we'll never have a consistent, nice GUI...

Finally someone with idea of design and usability!

I actually love the blacks and whites. Especially on PC. They're just so clean

Ok, can someone explain to me something? How hard is it to build a High quality app for Windows 10 UWP? Developers like those from Plex have NOTHING but problems with the way their app performs, looks, and acts. These developers nonstop blame it on two things....the difficulty to code for this platform and glitches and shortcomings with the OS itself. Is this complete BS code for they are lazy or is there really some serious issues? The Plex app for both iOS and Android is fantastic. On UWP it is sluggish, ugly, and a crash fest full of glitches.

I think it's more about the design chops of the devs for Windows 10 UWP, though the platform has its own challenges, same as any other.

What do you mean exactly by "design chops"? Sorry, im not familiar with developing an app? Even with apps that work nice, they often look amateurish or are just plain ugly. Its almost as if most of the better developers lack an artistic touch. Even worse, the layout is often just plain bad, making an bad looking app just ugly.

If I was to bring a broad generalisation to the discussion, I'd say that a lot of developers DO lack an artistic touch. Which is why a lot of software development houses have a design team, which is separate to the coding team. It's also one of the reasons tools like Expression Blend exist: so that the "design" part of the process can be handed off as a separate task to the "coding" part of the process, without breaking anyones workflow. Coming from a small software development house with an LOB application, we rarely go out on a limb with design. It's far better for us to mimic the designs of something that has had millions of users, and hundreds of thousands of hours of dedicated design input ... like Microsoft Office.

It takes work. The UI is all laid out with xml and the lack of useful templates makes the barrier to entry even higher. There are finally some templates on git, but I haven't tested them to see how robust they are. The thing NEON will bring to the table is a more mature xml layout model with in-the-box templates for different application styles, as well as better managing the layout transitions between HoloLens/Xbox/PC/Mobile/SurfaceHub/et al.

I have built the apps for all three, and I have some of the top paid apps on Windows Store. Big apps probably earn like 100x more on iOS and Android. So they just don't put the same number and same quality of people to UWP apps. Android and iOS are based on the same logic of connecting data and user interface, while UWP has a completely different logic which might be superior, but clearly it means you can't just do whatever you do on Android and iOS. I believe you are talking about Windows Mobile 10. It is kind of buggy. Windows 10 unification turned out to be mostly cost cutting for Microsoft while still providing some support for Mobile.

I don't understand how Windows 10 isn't generating a pretty penny. With over 30,000,000 users that is just crazy
I keep hearing "use the web page" with PC's about everyone I know, me included, thinks 9 times out of 10 times, the apps work and look so much better.

Some developers love to blame the tool and/or OS. People especially love to marginalize Windows because they think it makes them cooler, smarter, etc. They're wrong. This is a more common trend lately given that every dipshit who uses a tablet or phone thinks they know what makes for a good app or mobile OS. They don't.

Fantastic! Hope we will see any kind of these UI elements within RS3 Insider builds! Well, will be happier if some of Project NEON UI elements reach RS2 ;)

Please be ready and fully intergraded in to the os by the release of the surface phone

Needs more work on animation, transparency looks bit overkill, nevertheless a better design system

It's beautiful, love the Neon design.

I think the blur should be stronger to the point that you will only see colors and not anymore discern what's at the back of the window.

Agreed. Seeing too much behind the window was a big distraction for me and got very messy when I used to have multiple windows open on Windows 7. I hope that they increase the blur intensity slightly more like you said

I don't like it. The simplicity and minimalism of Modern UI felt like a step forward whereas this feels like a step back. The decorative UI elements, i.e. transparency and animations, only serve to create a barrier between the user and the interactive UI elements.

Agreed. Why does the whole window need to be transparent? What's with everyone's obsession of needing to see through everything? These effects do nothing but cause distractions, and "noise" on UI chrome with everything in the background bleeding through. I got tired of AERO in Windows 7, and really don't care to see it come back, and have it punch me in the face with being overused.

So iOS UI, don't mind, it looks superb

Hopefully the old elements like drop down list, textbox, bigger scroll box, toggle, and buttons gets a face lift. They make the app look ugly.

Hmm, I trying it, and it fails to install (side-load). It says that the certificate is missing.

Hmm, I trying it, and it fails to install (side-load). It says that the certificate is missing. [Update] Nvm I got it. For those who wonders, run the certification first (InteropToolsApp_1.9.418.0_x64.cer), on the panel that will show, click on "Install", then on: "Local Machine", then on "Place all certificates...", then click on "Browse..." button, then a small panel will open, pick: "Trusted People", click on OK, then on Next, and then it will install it. Now you can run "InteropToolsApp_1.9.418.0_x64.appxbundle" to install it. If that doesn't work, set WIndows 10 to developer mode (Start > Settings > Update & security > For Developers), and pick "Developer mode" (restart may be required))

nothing to see here. Animations were there since WPF days over a decade ago. Transparency and blur were in vista. This is all gimmick without true innovation. dissapointed.

There hasn't been true innovation on phones since the original iphone's release. All efforts put into mobile are just improvements, be it android, IOS or windows.
However I don't find it gimmicky, it's an effort to improve their work, and besides, eye candies are always welcome.

Where can i get wallpaper from video?

So, project Neon is basically about transparency and extra bold fonts. IMO Windows 8 did better in terms of UI!

that is why people dislike Windows 8

Welcome back AERO! Truly been missing you on my Surface Pro since 2013 :D No more lazy, fugly flat app UIs nor tiles, something I always missed from Windows 7. Sure can't wait to develop my app with it.