Project the screen of your phone, tablet, or laptop with the Wireless Display app on Xbox One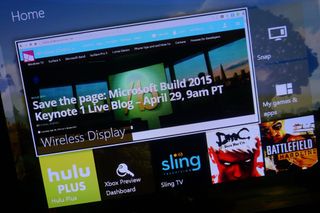 The Wireless Display app is now available for preview members on the Xbox One. This new app allows you to project your device's screen to the Xbox One via Miracast. However, the only way for preview members to download the app they must complete the "Extend Your Screen" quest in the Preview Dashboard app.
The Wireless Display app allows you to project whatever's on your phone's screen to your Television. This means you can easily play games and apps, like the recently released Hitman Go, on your television in all of its glory. The app can also be projected to while in snap mode.
Once the app is downloaded and launched, you will be welcomed by a screen stating that your Xbox One is ready as well as the nickname for your Xbox One. Once you figure out the name of your Xbox One, grab your phone head to the Project My Screen section in your Windows Phone's setting and you should see the Xbox One's name there for you to select and voila! You are now projecting your device's screen to your television through your Xbox One.
If you're using your Windows 8 device, open up the charms bar>select devices>choose project>then finally select your Xbox One.
NOTE: Your device must be connected to the same Wi-Fi connection in order for it to work. It must also support Miracast.
The only problem with the app (especially for Windows Phone users) is that the magic is only possible because of Miracast. If your device doesn't support Miracast (which most older Windows Phone 8 devices don't) you won't be able to take advantage of this sweet app. If you have any iPhone you are also out of luck since Apple continues not to support the protocol.
One of its other small but disappointing quirks is that you cannot project apps such as Hulu+ or Netflix due to its content being protected.
I was able to test it out with my laptop for a short time before it lost signal. Once I restarted the app back up on the Xbox One it was reconnected. On a side note, the app does lag a second or two behind what's happening on your device in real-time. That being said, I think it is a common flaw of Miracast as my experiences with Chromecast had that same lag.
So if you're in the preview program grab your Miracast enabled device and start projecting your screen with this awesome new app and let us know in the comments below how you plan on taking advantage of the app.
Source: Xbox Forums
Is this Windows for Xbox One Preview?

No, it's a different preview program for Xbox One.

No. That is the normal Xbox One dashboard.

Can I play my phone games one my Xbox one with my Xbox controller???

No it only projects your screen, so one direction only. Like an HDMI cable without the cable.

But project my screen on PC lets me control my phone with mouse and keyboard.

This is wireless; for "project my screen" on PC you connect through USB.

Throwing myself at the Xbox to try it out as we speak. :)

Microsoft Windows is the king of OSes, but their Windows Phone is..... I hope this will change with Windows 10

It's not the system. It's the hardware.

No, it's the system. They've put WP on top end hardware. WP just doesn't support it.

WP doesn't support? How I'm sending my Start Screen to my Xbox?

And now.. SplitView is coming to Windows 10 :)

It's pretty great to have Adobe Premiere open on my SP3, and have the Program window displayed wirelessly on my television. So much more room for editing on the Surface, and a much larger preview window of the project on my TV. No strange issues other than the frame rate being around 20fps. Could've gotten a Miracast dongle long ago, but I figured they'd add it to the One eventually. Yay! Doesn't work that well on my 1520, though. The video jitters/flashes often and audio doesn't send.

for the record, when i was trying the wireless casting feature using my sp3, it was very herky jerky compared to the microsoft miracast dongle. I know it's a preview, but if it remains in the current state, i would still prefer to use the dongle over the xbone for miracast. if you are just using it to look at one big picture, then it's probably fine. but if you're using it to watch video, go for the microsoft dongle at this point.

My wife likes dongles too....

Can I project Xbox screen onto a tablet??

Windows 10 is not yet a Miracast receiver and the Xbox doesn't have the functionality to transmit Miracast. Transmitting Miracast specifically from the Xbox wouldn't be very useful though.

He was referring to the ability to stream games from your Xbox to your Windows 10 machine. Which doesn't require Miracast, but an app.

No, it would be useful to watch TV anywhere in the house.

Miracast works great on,my 1520 and Minix Android box, I have. All I need is an XBOX one.

I have a 930. How do I check if it supports miracast?

It does, I have one also and tested it a couple of hours ago. For the rest who wants to check, go to settings and find "project my screen" and open it. If it does not say "This phone can't project your screen with a wireless connection... " then it is supported :)

How do I know if my WP supports Miracast?

Go into settings and then tap on project my screen, then you will find there, this phone cannot project screen wirelessly but can with a USB that means your phone isn't capable, and the phones which came with windows phone 8.1 OS already loaded they are capable :)

I've had my Microsoft Wireless Display Adaptor plugged in the back of the Xbox since last year. It's an awesome feature, glad to see we're getting native support.

Off topic
No screen projection apps are there for non Lumia phones...someone please make one....or at least a DLNA app.

There are DLNA sending apps and Miracast is native supported if the hardware supports it. Not sure what you are requesting here.

The only problem with the app (especially for Windows Phone users) is that the magic is only possible because of Miracast.

This is a problem for older Android phones also, not just for Windows Phone users. I do not see the point of that comment. And WIDI (base of Miracast) is adhoc connection technology. So I do not think you have to be on the same Wifi. Specially since my XBox one was not on any wifi when I tested it this morning. I will confirm that later on.

Yeah you do. I recently changed out my(Windows 7 certified router) and Miracast on my roku stopped working

well since I am unable to add any link or reference to source material you just need to go and search for your self on the miracast tech. It does not need any existing network to be available. Not sure why your Roku is failing but that is clearly not related to Miracast, maybe they added something cusotm, dunno.

Standalone adapters like the Netgear don't require a WiFi connection, the devices communicate directly. The Xbox and roku are doing it differently than all other Miracast adapters.

This is a Windows Phone site. That was the point of the comment.

Even a Windows Phone doesn't need to be on the 'same' WiFi network if Miracast is being implemented they way it is intended. Ther intent is the receiver establishes an adHoc network, even if it is already connected to an infrastructure network (most multi-user WiFi). The sender then joins that adHoc network establishing a point-to-point connection between the sender and receiver. It amounts to having a wireless HDMI cable between sender and receiver. As I said, the receiver can have an infrastructure connection set up connected to your home network for internet access, as well as establishing the adHoc network. The sender as well could have an internet connection to your Wifi network as well as being connected to the adHoc network created by the Miracast receiver. Of course the hardware involved needs to supporet the capability as well as the software enabling it. My cheapo Lumia 635, (Win 10) actually does this quite well. It has no SIM so it can only get on the internet via my home Wifi. At the same time it can Miracast to my ScreenBeam Pro Miracast receiver. The receiver has no knowledge of my home network, it just creates its own network. I can pull in You Tube from the internet with the 635 over my Wifi, and send that to the ScreenBeam connected to the TV. From the article it appears the XBox is setting up and adHoc network as it is supplying it's name. I expect it is capable of doing that while also connecting to your homeWiFi simultaneouslty. With the XBox being Win 8 based, I hope the ability to act as a Miracast receiver makes it's way into Win 10 for PCs. Sort of seems that is some of the underlying technology for continuum. Would be nice to send my phone screen to my PC, as I currently can to my TV.

Does anyone have any extra preview invites? My gamertag is drivercentric. Much appreciated if anyone can spare an invite

Thanks again for the invite man!

hi. mind sending me one handle javagotainment THanks!

Hey man, think you could help a friend out? ii st4rs ii? If there was reddit gold, I'd give you reddit gold.

Same here, would love to be able to test and respond to new features.

I'll tag along the post would love to check it out, EliteWolverine is that tag

Great! No problems about Netflix or Hulu. I'm gonna test it tonight!

Think this might be the easiest way for me to get Spotify on the TV untill an official app turns up.

I have a Lumia 730, and I can project my screen wirelessly to my TV but I wanted to know is there any way to project screen to my pc without USB, I want to project it wirelessly to my computer, I don't have an Xbox, but I want to project my screen to computer, if there's any way then help me out please :)

Not yet. There would need to be Miracast receiver capability in the PC. It seems this sort of thing may be coming in Win 10. It is clear that continuum provides the ability to make your PC a virtual second screen for your phone, and that new hardware is needed for that. What isn't clear is if we may get some Miracast capability to just mirror the phone like we already can. I hope that is a pleasant by-product. It would be nice to use the PC as a second screen like you can with a PC (Surface) but I'd be happy with just the mirroring capability if older phones could do that. (Older meaning those that can do Miracast now, but not Win 10 continuum)

Chromecast does not have Miracast. Miracast is device to device connection so shouldn't have lag. Hopefully 2sec lag is fixed by final update.

The Xbox comes closer to being Windows TV. Now just set up a full featured DVR and I'll buy one today.

Can anyone anyone invite me to preview program. It would be greatly appreciated!!

invite me please, Gamertag is Behzad Ahmed

I'll send it later tonight.

Me too please,gamertag TrepanViper. thnx in advance!

please invite me too! mloucks27

How do I get an invite to become part of the preview program? REALLY been wanting this feature... I have my 1520 running Windows 10 and my desktop but haven't been able to get my Xbox one on the preview ☹

Need gamertag, i will send one

Could I get an invite please, Gamertag is Behzad Ahmed

Can someone send me an invite too? :) GT: IvarGod Ps. how long it usually takes for MS to accept invite?

I will send you one, i put a post a little ways down explaining it

Yeah I have 1520 too, best phone to be able to test out features like this! Shame not all of us can =(

My 1520 and Hodor "smart" LG tv is hit or miss for mirracast...

Does the LG TV support Miracast on it's own? I've found all Miracast's are not created equal. My 1520 is rock solid to a ScreenBeam Pro receiver and MSs own Wireless Display Adapter (surprise!), but spotty to my Roku and just doesn't work on the Fire TV stick. My 2520 is flaky no matter what I send it to. Just seems to struggle with the whole idea. Miracast seems fairly new in getting implementations out. May be some growing pains. Roku and Fire are still beta implementations AFAIK, and are likely worried more about Android than WP. My Android stuff works well with the latter two.

The LG so called smart TV is horrible at Miracast. If you have downloaded a movie, it may not play the file type. You have better is playing Russian Roulette... And a potential better outcome...

Whenever I want to use an app on my PC which is not available for PC but is in phone I just use project my screen app on PC and use it from the PC. And mind you it does make a difference in few apps.

Just to inform, the 920 can not project... At least mine can not

Neither can the 928. I wonder if the Icon can.

Icon supports last time I checked. It worked nicely on the M8 w/ Win from Verizon.

I wish app like this would be for Xbox 360 too

I was casting from my android tablet to the Xbox last night and there was almost no lag, it was a really great experience. My phone, Lumia 925, will only cast via USB :(

I can't get it, as it wants me to add a credit card to get a free app. Any ideas?

Only thing to say is caution to those with led displays shouldn't view static content for very long

Can someone invite me to the preview please?? Gamer tag= ANOXanubis

Your being very helpful, thank you for that...

Doesn't work with my lumia 925 on 8.1 and laptop on Windows 10 via media connect. Gonna try it with surface rt on 8.1 :-(

For those that are trying to get into preview program on xbox one- 1) you need to be friends on xbox live with the person sending the invite. 2) The invite is sent to the preview program 3) within 48 hours you are sent a message on your console telling you that you are invited, and you now get to download the preview app. 4) it still can take a day or two after for it to be set up and ready in their system.
If you still want in pm me your GT and i will send out later today. You will know i have because i will send you a message on xboxlive telling you who i am and that i sent it.

Shoot me an IM as well if you want in...I've only invited a few people so far.

How do I do that? On xbox you mean? Once invited will I be able to help other to get this preview? :)

gamertag JRustyCage por favor...

Shows ghosted image switching from portrait to landscape & back on wp8.1.1

I'm getting a 640 when it launches down here in Argentina. Does it support wireless screen projection?

Does anyone one if Windows X is already able to use Miracast??? I'm on 10064 and want to screen my desktop to my X1. Thx in Advance

Please could someone help with getting onto this preview list , xbox is the only one Im struggling to join , have it on my Lumia and PC both latest Windows 10 builds , please help ...

For xbox one send me your GT

Willing to help send me your gamer tag

PurpleOmen bro :) do you get a bunch of invites when you join up? Would like to help others :)

Tried it with my Lumia 930 and my surface pro 3 without a hiccup, another step in the right direction :)

@Jonathan: For Miracast to work the devices do not need a wireless access point (a Wi-Fi router for example). They can connect directly as long as the display device and the projection device support Miracast

When I try to connect my windows 10 (build 10061) PC to my Xbox it ask me to "Enter the WSP PIN for your device" it adds "You can find the WPS PIN on your Xbox One or the info that came with it." But I don't know what they're talking about...

I protected my 1520's screen for a little bit last night while I was playing a game. It was super cool! I don't remember a lag though

Yeah, I did that too, was playing...Riptide 2

I too wish to beg for an invite. My tag is - DamagingCupid53 Thank you greatly!

Can some one shoot me an invite, please. Would love to be on on this action. Gamer tag:Dmost185

Can I have an invite too please ? GT : yocks972

I'm glad they fixed the price on it. For the first few days it was showing up as $99.99 instead of free like it was supposed to :).


Cool, once I get my Xbox One I won't need either a bluray player and an HDMI cable or Miracast adapter

Will this work if my Xbox is hardwired but in the same network as my phone/tablet?

Why can the Microsoft Wireless Display Adapter stream things like Netflix, but not this? Technical limitation, or imposed artificially?

P.S. I'd appreciate an invite too, if anyone can spare one :) madmunsterdaddy

Imposed. For reasons stated in article.

Read every word of the article. Yeah, it's protected... i get it, but why does one Microsoft Miricast receiver allow it, and this one not?

My test was lag and quality issues

About damn time! Wtf Microsoft! Why did it take so long to add support for something so freaking simple? Otherwise what's the point in unifying platforms if I can get better functionality elsewhere?

I assume you are working as an engineer or developer, as you claim it is so easy. So, who do you develop for?

Can anyone invite me to the preview? My gamertag is Duedal

Can I get an invite to the Preview? Gt Kuthumii

Use the windows wireless adaptor if you don't have an xbox

Could someone please invite me? I have been dying to somehow get in and still know no one :(

My gamer tag is Denver Moskel

My computer supports WiDi. Is there a way to check if it supports miracast?

Gonna try this out tonight! Thanks for the info!

Could anyone send me the preview invite? Gamertag is szechla Thanks a lot!

Added u to friends and Sent u the Invite gamertag is ChuchoF3TT

can someone shoot me a code for the preview tag is dastardlydo7vut

you want an invite to the preview program for xbox one? EDIT: anyway i didn't knew if that's what you wanted but i added u and sent you the preview program invite, tag is ChuchoF3TT

When will this be coming to non-preview users?

Why can't they make this work inside of the network ... i'm using Wired Xbox One and Wired PC with Windows 10 Technical Preview (10074) it sees my xbox under the Play Devices and Other Devices... if i remove either or both it still wont project my PC screen into my xbox one... i tried going wireless with the xbox and now it doesn't even show up on my pc... Please fix this!

I just started the Xbox preview program and the Wireless Display worked great while doing the quest but as soon as I completed it it stopped working. Has anyone else had this problem?

Does it work for Windows 7 on PC?

Can i get an invite ? Gamertag: FogboundPuppy56

if a $50 device like chromecast can help cast both protected and non-protected videos, what I dont get is why a $500 device like xbox one will only be to display non protected things. there are video streaming apps in australia like Presto, Stan etc, and with an android device and xbox one, we should be able to cast this to our tv, but no. theres always something which will be lacking or a bit late in the ecosystem.

Can L730 support mircast with android tv (with built in Wi-Fi)wirelessly?
Windows Central Newsletter
Get the best of Windows Central in in your inbox, every day!
Thank you for signing up to Windows Central. You will receive a verification email shortly.
There was a problem. Please refresh the page and try again.