Project Spark's Conker game and content packs out for Windows 8.1 and Xbox One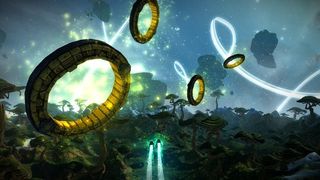 As promised, Microsoft's Team Dakota has released its new Conker game and content packs for Project Spark. The Conker's Big Reunion DLC pack costs $4.99 to download for Windows 8.1 or the Xbox One, or you can pay $9.99 for the Conker Mega Pack, which has Conker's Big Reunion, the Conker Creation Pack, the Conker Champion (playable in Champions Quest and Crossroads) and episode 1 of Champions Quest.
Conker is the very adult squirrel who first appeared in Rare's classic M-rated action-platformer Conker's Bad Fur Day for the Nintendo 64. Microsoft released a remake, Conker: Live & Reloaded, for the original Xbox in 2005. Conker's Big Reunion for Project Spark is a one-hour first "episode" in that same style of gameplay. However, Team Dakota decided to give its Conker Creation Pack to a number of Project Spark community members ahead of today's release to see what kinds of games they could create. The result is that there are now 10 more games, all made with the Conker Content Pack, that are available to download and play inside Project Spark.
You can see those early creations in the video above. They include a Conker multiplayer arena shooter, a Plants Vs Zombies-style of strategy game, a simple RTS game and much more. All of these games available to download for free inside Project Spark.
Download Project Spark from the Windows Store (opens in new tab) (Free)
Source: Microsoft
Sweet . It is a fun game to run around.

It is pretty unique. Wish it wasn't so limited though.

Limted how? I find the difficulty, and what makes it so good, is how unlimited it is. I've seen just about any type of game possible made using Project Spark.

Conker actually first appeared in "Conker's Pocket Tales" on the Game Boy Color in 1999.

And I have that game. Lol

Which was not at all packed with adult content.

Not to mention other appearances such as the outstanding Diddy Kong racing, also pre-CBFD.

Team Dakota huh, wonder if there is a MS team Wyoming, Texas, Washington and Carolina eh? ;)

That red vs blue! You are the man! My favorite was Wyoming for the voice and Texas for the badassery.

And it costs like way too much :P

Project Spark is a free App in the Windows 8.1 store - The Conker Play DLC is available for $5 inside the game

5 dollars just for conker? do you not think thats expensive? counting all the DLCs I already have... imagine paying $5 each one. some poeple might say "but you don't need to have all DLCs" but if there are there, I buy them sometimes. premium account is expensive, and this DLC is expensive even buy it with credits would be expensive compared ot other DLCs. for what? conker? I am sorry but that's still expensive for a stupid squerrel that likes chocolate. I didn't buy a premium again for the same reason. Project Spark = expensive. I don't expect it to be cheap, but sometimes they really exaggerate. like i have said million times, even building worlds nowdays have no benefit, if nobody needs the DLC to play whatever I build, so I make all the waste of money and time, while others click and are happy. so yes, conker is expensive for a simple DLC, it's not like it's a conker's "real" game. it's just a character in project spark and an adventure with him. end.
Windows Central Newsletter
Thank you for signing up to Windows Central. You will receive a verification email shortly.
There was a problem. Please refresh the page and try again.