Project Spark's Conker game and content packs out for Windows 8.1 and Xbox One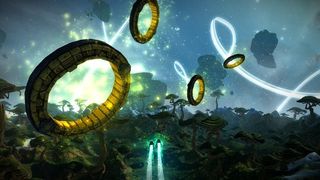 As promised, Microsoft's Team Dakota has released its new Conker game and content packs for Project Spark. The Conker's Big Reunion DLC pack costs $4.99 to download for Windows 8.1 or the Xbox One, or you can pay $9.99 for the Conker Mega Pack, which has Conker's Big Reunion, the Conker Creation Pack, the Conker Champion (playable in Champions Quest and Crossroads) and episode 1 of Champions Quest.
Conker is the very adult squirrel who first appeared in Rare's classic M-rated action-platformer Conker's Bad Fur Day for the Nintendo 64. Microsoft released a remake, Conker: Live & Reloaded, for the original Xbox in 2005. Conker's Big Reunion for Project Spark is a one-hour first "episode" in that same style of gameplay. However, Team Dakota decided to give its Conker Creation Pack to a number of Project Spark community members ahead of today's release to see what kinds of games they could create. The result is that there are now 10 more games, all made with the Conker Content Pack, that are available to download and play inside Project Spark.
You can see those early creations in the video above. They include a Conker multiplayer arena shooter, a Plants Vs Zombies-style of strategy game, a simple RTS game and much more. All of these games available to download for free inside Project Spark.
Download Project Spark from the Windows Store (Free)
Source: Microsoft
Get the Windows Central Newsletter
All the latest news, reviews, and guides for Windows and Xbox diehards.