Put your selfie skills to the test and win a Lumia 730 from Microsoft India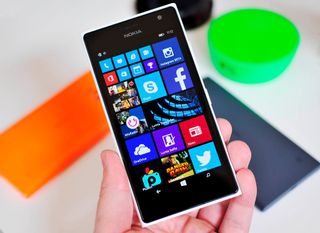 Want to get a Lumia 730 for free? Then better get all your friends together and start taking selfies, as Microsoft India is running a contest to see how many people you can get into a single selfie.
To be eligible to win, all you have to do is take a group selfie with a bunch of your mates, share the image on Twitter using the hashtag #GoWider and tag @NokiaIndia. Winners get a brand new Lumia 730, which features a wide angle 5 MP shooter at the front that is aimed at taking great selfies.
There's also an MD-12 Bluetooth speaker on offer, which will be given away by our very own Abhishek Baxi (@baxiabhishek) in collaboration with Nokia India. Same contest rules hold true for the MD-12 as well.
What are you waiting for? Go ahead and start taking those selfies.
Source: Microsoft India
Thanks joyson for the heads up!
Windows Central Newsletter
Get the best of Windows Central in in your inbox, every day!
Harish Jonnalagadda is a Senior Editor overseeing Asia for Android Central, Windows Central's sister site. When not reviewing phones, he's testing PC hardware, including video cards, motherboards, gaming accessories, and keyboards.
K, so basically buy a 730, as they want as many people as possible in a single selfie, then take a selfie and enter a contest to get another one.
I just didn't get the logic.

LOL no just take selfie and post it

They want as many as people possible in a selfie.

I used to take selfie with my main camera not with front camera, +920

Change the way your logic works, then :)

I was just kidding, but I was thinking of taking a selfie while standing in a queue for a tatkal ticket, I would definitely win.

+930
Creative idea indeed!!! :P

Bhai you would surely win but you will have to go to station before 4a.m. otherwise you won't get to stand in front.

Stand in queue for tatkal train? Online booking bruh! :D

Of course, I book online, that was just a joke.

If you are staying in Mumbai, enter Virar local at peak hours, shout out loud about a bomb, take a selfie. Name it #fakebombthreatselfie

And then get trampled to death.

Or better go to some movie.. Stand in the front and take the pic.
Or if you go to college, then take the entire class and take the selfie.

The photo should be taken with Lumia 730 only??

Y would any enter the contest if he's already having one L730...selfie from any phone or dslr(if u really want to win) ;)

India only! Always India only :/s

Simply.. No , if you already have a 730 why to get another one ?? Just take a selfie with your current device .. I have a question by the way .. This contest is only in India right ??

The selfie does not need to be taken with a 730

Hello? Who doesn't love getting another lumia for free? You can Gift it to anyone you want.

Lumia 730 launched yesterday in Bangladesh and it's overpriced -_-
23.5K BDT!

Still waiting for it here is Saudi Arabia

hey Microsoft India where is 730 commercial for India ?

Me waiting for the same...

they are really bad at marketing. Nokia would have done the work quickly and shown ads till now plenty times. and Microsoft don't show more better ads. they had to hire the nokia marketing team but dont whats the matter with them. till noe Microsoft is onku playing good with the corporate sector from who they earn more.

Agree. Microsoft is a snail in terms of marketing. Not only television, but also on newspapers (say TOI), Samsung often gives full feature page Galaxy Note 4 ads very often. On the same newspaper I can hardly see anywhere the ads of 530 and 630. Obviously, no ads for 730 at all.

Seriously?! Wtf do you need stupid ads for? Being popular is so... populace. Be different.

Being different is fine, WP is already different but lack of ads shouldn't result in people's unawareness of the phone. Marketing is everything in today's world, you're not living in 90s anymore.

How am i supposed to take a selfie with Lumia 520..!!

Lol! You can take it with the mega cam of the L520

Put you and your friend in front of a big mirror, for example in a commercial center, and shoot yourself the mirror with your main (and only) 5mpx cam... I'm sure they accept it as a selfie as the pict show you itself taking it...

Try with lumia selfie app

Actually there is selfie tools called tongsis (tongkat narsis) or in English you call it narsicus staff or selfie staff. That's ridiculous staff help people do selfie
I guess the inventor has big problem in selfiying

WINDOWS PHONE IS THE BEST MOBILE

Okey : Give your winphone to someone - enable the from camera - get about 1000people together - take the selfie from a distance where all those people fit in - you won( seriously they didn't say what kind of selfie it should be )

Attach it to a tripod extender and take a selfie...

Ok, how difficult it will be ? I just have to go to a bar full of people, open my camera, and than scream out loud. Everyone on that bar would turn around and look at me. Best time to make a selfie :D

Ohhhh... great...!!!! but my badluck.. almost waited 2years for 730.. 730 is beast...my dream phone. but I don't have that much money to buy this beautiful device..
n also not have any selfie phone to participate in this contest...:(

y'know, selfies can also be taken with the rear camera....just sayin.

Talking about a prizes, see link for top awards in the netherlands for Nokia 1520 and 930. http://www.pcmweb.nl/mediaawards/

What's the last date of the contest ?

I am gonna post one with my batch mates...,.

I should get ready ......with the priest....to inaugrate the phone if I win it.....

Ok inaugtate inside my house!Lol.

I posted mine on twitter hope they see it :P

If you remember your Windows Phone history, the original 'selfie' windows phone was the HTC 8X, it had a 2.1MP f2.0 aperture front camera with 'ultra-wide angle' lens and 1080p (not a typo, it is 1080p!) video recording.

Yup, I'm a proud owner. Phone is awesome and front camera is real killer!

Since I don't like selfies much, I would consider taking one if I am getting offered a 1520 or a 930.

Yet another Twitter dependent contest... :-/

I hope the contest is not entry limited??

I have Nokia Asha 210, so can't really take selfies

Finally.. I can put my class mates to some use..

The way to win this is depth and width, as many out as many wide.

Hey can a Lumia 730 have glance screen in future updates ?

If only my 920 front cam wasn't filled with dust (and live in India) then I could enter

no, thanks. i believe my selfie skills are so honed that i feel no need to undergo any tests.
in fact, i hold a bachelor's degree in narcissism. and i'll be taking masteral by next year.

I will install Lumia 730's front facing camera to my 920 eventually

marketing is everything today even our prime minister marketed himself b4 elections. remember Abki Bar Modi Sarkar. we knew that he was going to win still he did marketing of his party.

There will be too many people eyeing for this prize! Better to admit defeat. I wont win, I know. :P

What about the winner...or MS forgot about thia contest???...or i missed the announcement??
Windows Central Newsletter
Thank you for signing up to Windows Central. You will receive a verification email shortly.
There was a problem. Please refresh the page and try again.