QBracelet wrist battery is stylish, gives you half a charge for $100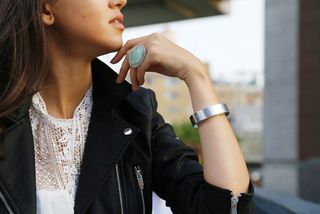 There's something to be said for convenience and fashion in one, though we might have to question just how convenient the battery-as-a-bracelet QBracelet really is. The band splits in the middle, with a hinge on one side and your choice of a microUSB plug or Apple Lightning connector on the other. Simply pop it off your wrist and plug into the charge port on your phone to juice up. But how much juice are you looking at? Not enough, especially not for the $99 asking price. It's not a smartwatch — it's just a battery, for your wrist.
Inside the curved metal shell of the QBracelet you'll find 1160mAh of battery. That's good for a touch over half a charge on some older smartphones, and barely a third on the new larger flagships that dominate today's shelves. But hey, it comes in your choice of brushed silver, gold, and black, or matte black or white. And it measures 8mm thick and weights up to 1.6 oz (depending on the size you choose). That counts for something, right?
The QBracelet is up for pre-order now, and they're even offering a discount to $79.99 for those that do pre-order. The question is, even at that price, is the QBracelet something you really want dangling on your wrist when a much-larger-capacity battery can be had for much lower cost and just reside in your bag or pocket?
Source: QBracelet
Derek Kessler is Special Projects Manager for Mobile Nations. He's been writing about tech since 2009, has far more phones than is considered humane, still carries a torch for Palm, and got a Tesla because it was the biggest gadget he could find. You can follow him on Twitter at @derekakessler.
But will it electrify my blood!?

I think after some days i can get a smartwatch in this price ....

It will likely unlock the remaining 90% of your brain's potential.

Sleeping with it'll make you like "I am feeling electric tonight " lol :p

The lanadelreyness made me want one desperately.

Only if you wash your hands while wearing it

Its a clever idea, but yes battery is lacking especially as there's never a 100% transfer. It actually makes it more like a 700mah device at which point it becomes useless really

That's what i was thinking. This product won't really be worth buying but its a fantastic idea.

Sorry. I have never worn bracelets in my life and never will - batttey or not. Next.

No, not really ... But out looks cool though.

I'm pretty sure knock off versions will appear shortly for that price

Love the idea but that way to expensive. Agree would be good for 20$

I think I'd be willing to pay up to $40. It's cool, but I have other portable battery chargers that double as something useful, for 1/5 the cost.

Come back at me when it can charge my phone while on my wrist with my phone in my pocket.

There have been designs for wireless charging jeans! Put your Qi enabled phone in the charging pocket :D

Apparently this is as unrelated to the qlink as ilive is to the iPod... But what does the q stand for? Quality, quantity, quantified, quantum, questionable... Lots of q words...

For someone who wants that style bracelet... It's worth it.

I can see this as an emergency power source just to get the phone going if you run out of power. The big question is how long it will actually hold a charge...

If it had some sort of side connector so that you could stack them together to get more battery and then have the look of a bigger bracket. Put all of same color together or mix it up for fashion's sake. Then you could match or exceed your particular phones battery capability.. Or for that matter an optional thin cable so you could keep wearing the bracelet\s and charge\use your phone at the same time. Just thoughts, smart phone kinda killed my watch wearing days, plus I'm not a bracelet wearing kinda person.

Everyone has to start somewhere, unfortunately for these guys it's at the bottom

Screw the device...show me the rest of mama-sieta'...

It's a great idea. When girls go out, they don't always have a lot of pockets for extra stuff. Our grown up daughter sometimes stuffs the phone in the bra. Truly. This is a nice looking way to bring that little extra charge. And 100,- for jewelry isn't too bad, if you like the looks.
(fearing the responses from this comment, but I think its a good idea)

Someone design a Qi charging bra and possibly make a fortune, maybe :D

I'll just wait for Anker to do the job properly (and at a fraction of the cost!).
As it stands, I would suggest using a case with a battery built in....or just learning to use the power options on your phone! If I'm going away for a couple of days, I switch my WiFi/bluetooth off, put battery saver on, and switch my network to 2G. My 1020 will happily go for 48hrs+ under such settings.

Great idea, terrible execution. This with a 1800 mAh battery and a piezoelectric generator (enabling me to charge the battery with my own movements) would have been the bomb.

They would have been better off putting a battery in that giant ring she's wearing. That thing looks like it could power a Tesla. ;-)

Not worth it. Go back to the drawing board and integrate solar panel to recharge the battery.

Needs to charge by wearing it.

Actually not bad for an iPhone, as that's around 70% charge (5s has a 1500mAh). But yeh for a 2500 ish Lumia, not as good, but still perfect for last minute juice.

Worth buying for 25-30 bucks maybe

I can get a wireless pocket charger for 20-40 quid.

Good gift for your girl friend
Windows Central Newsletter
Thank you for signing up to Windows Central. You will receive a verification email shortly.
There was a problem. Please refresh the page and try again.