Qualcomm's Steve Mollenkopf reportedly joins CEO candidate list for Microsoft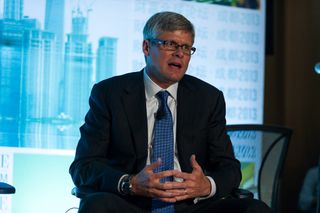 Update: Yeah, Mollenkopf instead became CEO Of Qualcomm the next morning.
The hunt for Microsoft's next CEO has just taken another slight twist. Sources have revealed to Bloomberg that Steve Mollenkopf is now among the candidates being considered to replace Steve Ballmer. Who? Mollenkopf is the COO of Qualcomm and the latest individual to join the CEO dance at Microsoft.
Bloomberg's sources say that the Microsoft board is working to get a CEO lined up before the end of 2013. As you may (or may not) know, 2013 ends in less than three weeks. Hopefully the board doesn't rush a decision and instead fights the right candidate.
So is Mollenkopf the right candidate? That's tough to say. Right now he's the number two at Qualcomm, a company that is kicking ass in the smartphone space with their range of mobile products. For example, their Snapdragon system on a chip (SoC) family is just one product that you'll find in a variety of Microsoft products. You know, like every single Windows Phone handset and other devices like the Lumia 2520.
Mollenkopf himself has been with Qualcomm since 1994. He joined as an engineer and worked his way up the corporate ladder. He holds two electrical engineering degrees, so he's definitely cut out to understand the technical needs at a place like Microsoft.
The search for Microsoft's next CEO started earlier this year when Steve Ballmer announced plans to step down within 12 months. Since then we've seen the list of both internal and external candidates grow and shrink. Stephen Elop, Alan, Mulally, Tony Bates, Satya Nadella, and Kevin Turner are just some of the names that have appeared on the candidate list. It's worth noting that all names so far are from sources within the company. Microsoft has not released any official candidate list.
Who do you want for CEO?
Source: Bloomberg, Image: Fortune Line Media
Windows Central Newsletter
Get the best of Windows Central in in your inbox, every day!
If he joins, he'll make WP a huge priority and put the right amount of resources it needs to compete in the future. Mobile is the future.

Yes, but he has to manage all of Azure, Windows, Office, and Devices, not only Devices.

Of course. Mobile without cloud service is the key. So yeah, Device, Azure (and all their cloud services) and of course, Office will be the key.

We can put this rumor to rest, Qualcomm just offered him the CEO position, starting in March.

I wonder why this gentleman suddenly got thrown into the mix. Interesting.

Because Mulallay isn't leaving Ford is my guess.

Agreed, hasn't Mr. Mullaly said that all along?

He sure has and from what I read about it, the board at Ford is not to keen on losing him neither.

This ... I found amusing :D

Hard to say who would be the best candidate without knowing their "plan" for the company. I would prefer someone who will embrace the devices and services direction the company is heading down. I like using my Windows Phone, Xbox One, and Surface Pro all under the Microsoft umbrella.

What he said. Whoever takes over has to make sure that Microsoft doesn't become a one-dimensional company as well as makes sure they don't fall behind on emerging technological trends like they did with mobile and tablets. They have to have vision and not be afraid to make mistakes and be able to own up to them when they do. It's a tough job because no matter what they do, they're going to be criticized.

Interesting, Microsoft needs someone like him, a guy who knows how technology works and knows how to manage the mobile world.

This dude looks like the former CEO Thorsten Heins of Blackberry

He'll be done within a year.

He's like a bulkier, beefier Thor. You're right hahah

Thorsten can go fuck himself

I still think Tony Bates would be the best option for Microsoft.

Yeah, he's done great with Skype in supporting Microsoft.

I certainly hope they don't 'fight' the right candidate ...

The candidate must defeat each of the MS board members in single unarmed combat to prove their worth!

Ok, starting to grow on me.

Each candidate has to fight "The Board" to the death in a VaporMAG Surface cage!!

Yaah i will supply chair and ladders for a steel cage match

To death or just first blood?

"They drew first blood, not me."

Anyone that will follow the One Microsoft dream. I believe that will lead to success for Microsoft as a whole.

This is the only way forward for the company any other way is failure.

Microsoft in the 4th by KO.

Lol for some reason I only like the candidate if they are nice and care for the job which is why I like elop and sandya (I forgot how to spell his name)

Let's keep Ballmer, he's doing a great job.

I agree. I know not everyone likes him but I do.

I love Ballmer. I wish he would stay

Same. I saw Gates as anticompetitive while Ballmer appreciated competition.

Ballmer needs to go. Releasing 2 different types of Windows tablet. Like, who does that? Not Apple, not Google & not Amazon. Microsoft like to confuse people. Ballmer's contributions to Microsoft is on record. Time for fresh leadership with bold new ideas.

Why can't they just accept Elop? I mean is MS ashamed of him? He sat on Nokia's throne for Gods sake! He did a great job, great speaker, casual dresser in the line of Steve Jobs, and he was the only ONE that stood up to the iPhone. Took and chucked to the floor live on TV! No CEO have the guts as he does! Frustrating this bickering like deal.

Oh and he's also young and ambitious.

and he want to drop Bing and Xbox ... don't forget it ;)

Ehhhh saying that Elop did a great job is quite a stretch...

Yeah .. I agree. Elop did have a good job. So let him continue his good job, on the device department that Microsoft buy from Nokia :)

That's not a bad idea. Mr Elop could be President of Microsoft's Devices Division and in time CEO. So all agreed then, yeah?

You'd think that if MS was looking at an internal person this would lead to opportunities in the company outside of the CEO position which may explain why so many names are flying around. Some of these people being looked at may be under consideration for a vacancy resulting from the appointment of the CEO. Just a thought.

Is this children's game or what? Grow up everybody. No one, other than Elop should be considered. Do I have to explain?!

Yes. If anyone should have been never considered, that one is Eflop.

I would like to quote to you the first paragraph from Elop's Wikipedia page: "Stephen Elop (born 31 December 1963) is the former CEO of Nokia Corporation.[1] A Canadian citizen, Elop was the first non-Finn to be named CEO of Nokia, on 21 September 2010.[2][3] During the 3 years Elop was Nokia CEO, Nokia revenues fell 40%, Nokia profits fell 95%, Nokia market share collapsed in smartphones from 34% to 3.4%, Nokia's credit rating went from A to junk, Nokia's share price dropped 60% in value and Nokia's market capitalization lost 13 Billion dollars in value. The Financial Times calculated that Nokia shareholders ended up paying Elop a bonus of 1 million Euros for every 1.5 Billion in market capital that Elop was able to destroy while Nokia CEO.[4]"

I hate when people use this against elop
Firstly Nokia was going down whether you like it or not Symbian was honestly not that amazing and it wasn't accepted in the states and second when they switched to windows phone they had to start from square one! And it didn't help that soon after Microsoft forced them to start from square one AGAIN when WP 7.5 couldn't upgrade to 8, considering that the lowest amount of lumias they sold was around 2 million and last quarter they almost sold 10 million that means they multiplied by 5 what they sold a year ago and that is impressive for a company that had no much money to market the phones with and especially with all the idiot tech reviewers that always shut them down

I second this. Nokia's Board is responsible for their losses for approving the losing Symbian strategy. Elop was.brought in to do a Hail Mary pass by switching to WinPhone fast enough to make anyone interested in buying their otherwise worthless Handset business. He managed to create billions in value fast enough for MS to pony up and pay for it.

But the problem is: he still stuck with Symbian while partnering with Microsoft which was a horrible idea for 2 reasons: Nokia had 2 OS's that competed with each other and everyone knew that Symbian was dying anyway. If someone like MICROSOFT comes along and wants to partner with you, you drop everything and go full steam with that.

You have absolutely no idea what you are talking. They couldn't just abandon Symbian on a moment's notice. Do you realize the factories, employees, stores and customers in developing countries that would be involved--idiotic suggestion. Elop moved away from Symbain as fast logistically possible.

Yes that highlights what a freefall Nokia was in when Elop took over. And he has not only turned that around , but has left Nokia with their dignity intact as well as a future. No one would bring more passion to the job than Elop and I don't believe for a second he would spin off Xbox because quite simply he is too smart to go for such a short term money grab.

Wow Qualcomm + Microsoft/Nokia = Cheap optimized @windowsphone / Tablet. Oh Yeah! Android/iOS should be alarmed

If only looking for their background, I think Steve Molenkopf will do. I'm not dislike Elop, but let him continue his good work on the Device Division that Microsoft bought from Nokia. And that Satya Nadella, let him continue his great work on leading Cloud Division. At least, since this Steve Molenkopf is 2nd in command at Qualcomm, surely he has deep connection to Qualcomm, right? I hope this can bring closer relationship between the two (Qualcomm and Microsoft) to optimize the OS further.

I guess this won't be happening since Qualcomm themselves offering their CEO position to him :)

Should be! Snapdragon is awesome and fluid.

Sam please read this about another CEO candidate: really really interesting: http://seekingalpha.com/article/1896721-will-microsoft-hire-pat-gelsinger-and-merge-wintel

Honestly I'll take that guy from Ford because Ford is the only car company that didn't get a bailout

How can anyone say who is the better candidate without knowing what their plans are?! Based purely on their track record they are all good candidates.

It is a tough choice because while you want to choose a "doer" the reality may be that they are better left " doing" then managing. The roles and skills are starkly different. I really like Nadella because of his vision and execution, but if you take his hands off of everything (the reality of an MS CEO) I have no clue how effective he would be

Considering Mollenkopf was just promoted to CEO of Qualcomm, I don't see this happening. http://news.cnet.com/8301-1035_3-57615526-94/qualcomm-promotes-steve-mollenkopf-to-ceo/?part=rss&subj=news&tag=title

You beat me to it. Microsoft obviously made a good choice considering him as Qualcomm moved at light speed to retain him.

It will be Satya Nadella.
Windows Central Newsletter
Thank you for signing up to Windows Central. You will receive a verification email shortly.
There was a problem. Please refresh the page and try again.