Qualcomm's Steve Mollenkopf reportedly joins CEO candidate list for Microsoft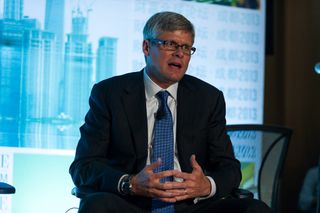 Update: Yeah, Mollenkopf instead became CEO Of Qualcomm the next morning.
The hunt for Microsoft's next CEO has just taken another slight twist. Sources have revealed to Bloomberg that Steve Mollenkopf is now among the candidates being considered to replace Steve Ballmer. Who? Mollenkopf is the COO of Qualcomm and the latest individual to join the CEO dance at Microsoft.
Bloomberg's sources say that the Microsoft board is working to get a CEO lined up before the end of 2013. As you may (or may not) know, 2013 ends in less than three weeks. Hopefully the board doesn't rush a decision and instead fights the right candidate.
So is Mollenkopf the right candidate? That's tough to say. Right now he's the number two at Qualcomm, a company that is kicking ass in the smartphone space with their range of mobile products. For example, their Snapdragon system on a chip (SoC) family is just one product that you'll find in a variety of Microsoft products. You know, like every single Windows Phone handset and other devices like the Lumia 2520.
Mollenkopf himself has been with Qualcomm since 1994. He joined as an engineer and worked his way up the corporate ladder. He holds two electrical engineering degrees, so he's definitely cut out to understand the technical needs at a place like Microsoft.
The search for Microsoft's next CEO started earlier this year when Steve Ballmer announced plans to step down within 12 months. Since then we've seen the list of both internal and external candidates grow and shrink. Stephen Elop, Alan, Mulally, Tony Bates, Satya Nadella, and Kevin Turner are just some of the names that have appeared on the candidate list. It's worth noting that all names so far are from sources within the company. Microsoft has not released any official candidate list.
Who do you want for CEO?
Source: Bloomberg, Image: Fortune Line Media
Get the Windows Central Newsletter
All the latest news, reviews, and guides for Windows and Xbox diehards.