You will have to wait a little longer to get Quantum Break on your Windows 7 or 8.1 PC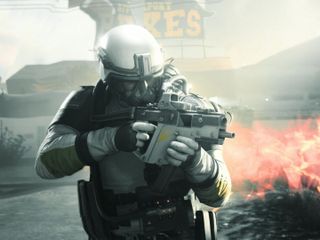 THQ Nordic has announced a delay in the release of the PC retail and Steam versions of Remedy and Microsoft's action game Quantum Break. Originally scheduled to be released on September 14, the PC version of the Xbox One-Windows 10 game will now be coming out on September 29.
THQ Nordic's press release stated:
This PC version will run on Windows 7 and 8.1 with DirectX11, unlike the Windows 10 version which uses DirectX 12. When the game is released to retail stores, it will have five game discs, along with a Steam key, a behind-the-scenes book and Blu-Ray, a quick guide to the game, two posters and the game's soundtrack on CD. Both the retail and Steam editions of the game will have all of the post-release updates for Quantum Break. Remedy says that any updates released to the Steam version of the game will also be made available to Windows 10 owners via a patch.
I sure hope those of us who bought the game at full price on the Windows Store will get a free Steam key, at at the very least will be upgraded to this deluxe edition. It has an excellent soundtrack and I want a copy!

Doubtful...as the game was already cross buy on xbox...if Microsoft offered a free copy for W10 PC AND STEAM....the internet would break from people still trying to justify their hatred for Microsoft and their xbox platform....

You can buy the soundtrack on the Windows Store now if you want.

That's not going to happen.

Why would you expect the steam key? You have it digitally already, potentially on two devices.

The title is a bit misleading, I thought that the game would have still been released on Steam in the same day but only for Windows 10.
Don't assume that no one is waiting for the game on Steam even if they could have bought it in the Windows Store.

Why (or HOW) would it launch on steam with win 10 but not 7 or 8.1? That doesn't make any sense

directX 12 vs direct 11 ... the point is the direct x 11 version is not ready ... that is what is causing the delay.

Sorry for off-topic! Anyone had problems on Messenger beta? I mean I've uninstalled the app to reinstall,and then the market is telling me that the app isn't available. I've changed region to Canada and US but nothing and now I don't have messenger app... Any help,thanks!

use Messenger itself not the beta, the Messenger itself is like a beta, use feedback within app to report issues.

I can't find the Messenger on market.

Hopefully both the Stream and Store editions will have access to DX11 and DX12

Most likely adding Denuvo crapware to it.

Please just add the TV show episodes to be viewable offline... Watching online is pretty stuttery for bad internet connections and it totally breaks the immersion. Posted via the Windows Central App
Windows Central Newsletter
Thank you for signing up to Windows Central. You will receive a verification email shortly.
There was a problem. Please refresh the page and try again.