Quick take: These $4 colorful aluminum cases for the Lumia 950, 950 XL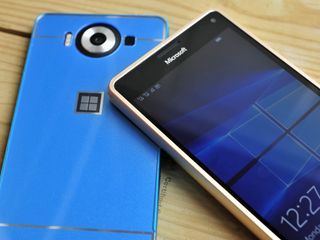 Back in early May, we told you about some new aluminum cases hitting China for the Lumia 950 and Lumia 950 XL. The cases were interesting due to their design, colors, and $4 price tag.
Well, we finally got them in after their long trek from out East and here are my quick thoughts on them.
Design
First and foremost, let me point out that these are cases, not replacement back covers like the Mozos. That means you will be adding girth to your phone, and I would not classify these as slim, per se.
The covers come in two parts:
Aluminum side/top shell
Thin plastic back cover
To install the lid, you just slide out the back cover, which locks in, and you drop the phone into the aluminum shell protection from the back. Then you slide the back cover in and it clips into the lock. To remove the cover, there is a small groove for your nail where you can pop out the back lid.
The metal part is quite substantial, and it feels splendid. This feature is important because I do believe this will provide adequate protection if you drop your phone. Granted, I also expected the color metal to dent and chip away the color were that to happen, but that is still better than your phone breaking.
The back cover is very thin plastic and is mostly cosmetic and just keeps the phone locked in. Because the cover itself is plastic, those who charge wirelessly via Qi will have no issue as the phone and case can quickly charge with no interference.
The back cover also has a cutout to let the Microsoft logo show through. It's a little cheesy, but since so many have complained that the Mozo cases do not have the logo maybe this will make some of you happy. I should point out that the Lumia 950 XL cases do not line this cutout perfectly making the logo now off-center, and you can see this in some of the photos here. This issue does not apply to the Lumia 950.
Finally, the aluminum case raises just slightly above the display to offer protection when placed with the screen facing down. I consider the amount of edge presented as being nearly perfect.
Colors
For this write-up I managed to get the black, silver, gold, and cyan covers. There is also a pink option. My favorite is the cyan, followed by gold and silver. The black, for some reason, seems chintzier to me than the others mostly because those fake antenna lines are very visible.
Buttons
For the Lumia 950, the camera button area is carved out, which makes random camera button clicks impossible, but I have had no issue when I want to use the camera, either. It's an excellent design. On the Lumia 950 XL case, however, there is a faux button to replace the one on the device.
For both the Lumia 950 and Lumia 950 XL there are faux buttons that are also aluminum. To my surprise, they work very well and always make contact. They are not loose at all, and they feel great. This is one area where many case makers get wrong, and I'm glad to see that these pretty much nailed the experience.
On the Lumia 950 XL, the power button is slightly recessed when compared to the up and volume buttons that flank it. I think I would have preferred the opposite as I use the power button more than the volume keys, but at least there is a discernable tactile difference.
Looks?
I think these cases will be very divisive when it comes to people's opinion of their aesthetic value. In fact, I know many of you will think they are "hideous" or "fugly." I will say they look better in person than in photos, and I get how some people will find them…off-putting.
Personally, I like the Cyan cover for the Lumia 950 and the gold for my Lumia 950 XL. If anything, the back cover here is the biggest offender with unnecessary silver lines added. While it does add some style, I would prefer they weren't there at all. Still, I have seen worse.
I would have also preferred if the back cover was not glossy and was matte instead.
Value
Considering that these are quality aluminum cases, and they add some serious protection all for just $4, I mean, it is hard to ding these cases on value. In fact, compared to the $50 Mozo back covers you are saving a lot of money here.
If you find these covers hideous even $4 won't sway you, but come on, it's nice to have options out there especially ones that cost a cup of (good) coffee.
Also included are two decent screen protectors if you are into that sort of thing.
Recommend?
Image 1 of 2
I think for owners of the Lumia 950 who want some reliable protection from drops with some added flair these are a bargain. The Lumia 950 XL variant has that off-center logo issue, which I find distracting, but it's also not the end of the world (seriously, have you seen some of the cases iPhone users buy?).
I also appreciate how these cases make the phones feel in my hand. There is some added heft, but not too much, and holding the phone is even easier. Honestly, they now feel like how a Lumia felt like two years ago.
While I think there is room for improvement on the look of the back cover the rest of the case feels great, features solid button replacements and at just $4 this is a case you could be pleasantly surprised with if you like the looks.
See at AliExpress (opens in new tab)
Windows Central Newsletter
Get the best of Windows Central in in your inbox, every day!
Daniel Rubino is the Editor-in-chief of Windows Central, head reviewer, podcast co-host, and analyst. He has been covering Microsoft since 2007 when this site was called WMExperts (and later Windows Phone Central). His interests include Windows, laptops, next-gen computing, and for some reason, watches. Before all this tech stuff, he worked on a Ph.D. in linguistics, watched people sleep (for medical purposes!), and ran the projectors at movie theaters because it was fun.
Been thinking of getting one for the XL

Same, however glad I held off. I like cases with cutouts to advertise the brand, but knowing it's off center for the XL is a turn off for me. I see in the images the cutout for the camera hump also seems off for the XL. +950 XL DS NAM CV Windows 10 Mobile

it is because of the angle where the picture been captured... so it looks like it is a little bit off

The article states that it's off centered. This is an issue with the case itself.

I found that the small holes on the back for my 950XL were off as well. this created issues when on speakerphone that made it difficult to carry on a conversation. Liked the looks, but I need the function to perform as well.

People, rake my advice and don't get one for the 650. On the 950 it will be fine because you can replace the back, but got one for the missus phone, and the metal os so rough/sharp it's cut into the metal rim on the phone at two corners, despite trying to avoid it doing just that. I'm more annoyed than she is lol. But yeah, if you have a phone without replaceable sides, avoid!!

I have mentioned in the forums it seems to affect my cell signal. That's what's keeping me from using it much.

I've not experienced any impact on my signal (950XL)

Perhaps, because you did not buy the case... Posted from PornHub

I get one signal bar less with this case on avarage... Anyway I don't like the feeling of it as it makes the phone really bulky and switched back to plain gel case :)

Came to post this very comment. It's very cute to look at (I got it for my 950), the one I got was actually centered properly, I seldom see cases that reveal the Microsoft logo, and it's buttons are very comfortable for it's price... ...but it's a fingerprint magnet, a dust magnet, a scratch magnet and a signal murderer. I was ready to tolerate all the rest since I liked it's look, but I couldn't get over how badly it affected my signal quality. I got fed up with it just a week after owning it, and went back to my Mozo.

I got the same problem... I got 3 different cases like that and was a nightmare... In some areas that used to be full signal and with that case I lost signal. Once I took the case off the signal come back.
Stay away from this cases. Lumia 950xl :)

Don't, I just bought one for my Lumia 1520, they scratch like hell. And if you dropped your phone the aluminum does protect your phone but the cover snaps so you have to end up throwing it cause it doesn't fit your phone anymore, and it does damage to your phone more than it does then dropping it

"and it does damage to your phone more than it does then dropping it"

How would you know that unless you did two side by side controlled tests? Even then, you would need a few runs to demonstrate that claim.

Don't scare away the new members... Posted from PornHub

Are you REALLY the chief editor of this website?!
(P.S. - you would do well to listen to your community. Because they are the people that have actually used these things...and they know FAR better than you about the shortcomings)

"How would you know that unless..." I think what she is saying is that "if you drop it and the back cover of the case gets busted, the busted cover will do more damage to the phone inside than the inital fall would've if you continue to leave it on the device." Its probably fair to say that a busted back case cover is a hazard of itself, though the probability of having the case damaged in that way by a fall is hard to measure.

I've used one on my 950XL for over a week, its not damaged my phone in any way

I've got the silver one for my XL, I'm very happy with it

Is your alignment off also? +950 XL DS NAM CV Windows 10 Mobile

So not the speakers, mics, or camera hump?

It might be slightly off, but you'd have to look really hard to notice

Definitely going to order it for the protection of my Lumia 950 xl

You're wasting your money.

If not for those silver lines, I would consider it. Insead, it's jsut too goofy looking. Plus, I've been atypically clumsy with my 950, so I think I'll stick with the dual-layer kickstand case I have (which I need to replace, since I broke a piece on a really bad drop a few weeks back).

Don't buy it, it sux bad, scratches very easily and looks ugly also, got one for my 640xl used for 2 days and throw it away

Thank you for the review Daniel. I hope these companies update the alignment for the XL. I sometimes use my phone without a case so that I can show off the Microsoft logo ;D

I have buy for lumia 950 XL butt seller send for 950 . He don't give any reaction after i open a dispute on aliexpres

Want a good case for the 950/950XL, search Ebay for Lumia 950 Hybrid Case. This is the one I have, http://rover.ebay.com/rover/1/711-53200-19255-0/1?ff3=4&pub=5575095911&t.... It's a great case with simple looks and great protection.

I'll pass. Those looking for a case that's cheap and WORKS. Get Ghostek. Seriously. $20 on eBay shipped. $26 on amazon without prime. I use daily. Solid and beautiful.

I got my refund from that case. You can read my review on it on amazon. Worse case ever!!! Sent on Microsoft Lumia 950XL Dual Sim

Bought one for my 950 for $8 shipped on Amazon. It's garbage and messes with my reception big time. The backing came off pretty easy. Not impressed. And the camera button is exposed. Fortunately it did charge via Qi but that's the only con. Save your money and spend it on Caseformers case.

We bought a couple of the gold covers for our 950s and they look great. But at some point I realized that the plastic back covers up the two microphones on the back of the phone. My daughter loves them but I went back to my other cover.

These look just like what I recently got on Amazon from a company in China for my 640 and 640XL. I'm am now getting a full refund. The back plate just barely clips on in the bottom middle and the slightest bump and the bottom comes undone. Slippery and what a finger print maginet. I do not recommed these.

these border edges are ugliest (my opinion) and ruin 950XL look.... Mozo covers is much better... i got my for only 33$ :)

Agree, they should make the back cover totally plains without silver lines and or maybe not show logo at all, I wonder if we can paint it to the Color we like?

Just ordered one for my 535 from ebay...I've a few cases already and at €2.40 how wrong can I go, spend more on a cup of coffee

If you got it, will you tell me how it fits? :D I've been searching for a case or back cover for my 535, but I didn't find any good ones :D Posted with the Windows Central app for Windows 10 on HP 250 G1 notebook. It is a scary old monster, I think :D

Will do, in two weeks once it arrives,. Judging by peoples bad experiences it should be interesting

I got them but didn't like them. Not a nice feel in the hand

How could a two-piece design add protection?! I wouldn't relay on these cases for protection, rather asthetic. And I would but one or two just to satisfy my curocity...

I'll stick with Mozo Posted via the WPC App for Android!

"they now feel like how a Lumia felt like two years ago." So damn sad man...

Probably the same as the old easy scratch able tin phones from 10-15 years ago. Posted from Windows Central for XL

4$ case. Nice design.
People still complaining about it.
50 $ case.Nice design and quality
people complaining for the price.

Go naked people. Cases are for clumzoids. Free the logo!

Does the sharp edges around the aluminium scratch the screen edges? They feel really sharp on mine.

I ordered one for my XL through ebay. I removed these after using them for about 2 weeks. They add a lot of bulk and sometimes my hair gets struck while talking. I want to see an all (or almost all) metal replacement back case that extends to the sides covering all of the edge for occasional use. For that occasional use, I am ok with no qi but would not want to loose the NFC.

Question for those that use the Mozo case, particularly the notebook case, I use one on the 950XL. The issue I have is when the phone is laying down, the screen doesn't sense when I touch it. I actually have to pick it up and it'll work fine. Doesn't matter how hard or soft I touch it, or if the flap of the case is underneath or not. I'm wondering is anyone else having this issue and if it's an issue with having the case on or with the phone itself.

If I somewhat I understand you...you are sort of talking about something like double tap or activating glance? Sorry, our 950's don't do that. Posted from PornHub

CATFISH, if you're commenting on the issue I posted, I'm not trying to wake up the phone, the screen is up and running.

Does it not interfere with wireless charging?

No, the back is only plastic.

Arrived 2 weeks ago and it looks awesome on my 950. Just my sister said that it looks ugly.

Does your 950 cover have holes for the back microphones? Mine didn't and neither do the ones in the photos.

Nope. It's ok actually since I rarely take a video

I went on Amazon and got the blue one for my Lumia 650. It's wonderful, except, the back gets small scratches really easily. Otherwise, the window is perfectly lined up and it looks beautiful.

Dan, nice review. Would you mind posting a quick video of installing and uninstalling this case? Thanks

Can we only use that aluminium part?

No. The phone loads into the aluminum frame from the back only. The plastic back slides under the back edges and holds the phone in place against the front rim of the frame.

I hope there is an improved version of these cases. I hope for a bumper

Agree, there are some room for improvement for the plastic back part 1. Completely plain Color please, remove that ugly iphone-like two horizontal lines 2. Matte finish please I think the maker did not put much enough effort for Lumia

Mine should be here a few days, looks like they will be worth it. I got a silver for my Lumia 950 XL just to be safe..

They will scratch and ruin your phone

From one of the picture, the frame fits the power button surgically but I can't say the same for the camera's one. The window logo cut out is not centered

I have always hated the cheap look of aluminum. I always equate aluminum with cheap quality, lame design. This is no different.

I'm soo glad they didn't make any for the 650! #totally ugly
I'll stick to mozo's

I like the cyan one too. Looks gorgeous to me

Daniel.. Is it worth waiting for rumoured surface phone in India after the latest pull back of support or buying a Lumia 950.. Also i can't spend 40k for a phone..and i guess surface phone will be around 40 to 60 k in India.. Please let me know your thoughts..

I say go for the perfectly discounted L950 at ₹29,999 or the 950XL at ₹34,999 ;)
Surface phone will take time. It's gonna be 2017 and obviously it's not gonna be cheap.
The latest updates have really improved the experience. :) Sent from my Lumia 650 via the Windows Central app ;)

This cover is crap aluminum scratches and when you drop the phone the cover dents into your phone so it doesn't protect it well at all

I would like to point out. Daniel, the latest update of WC makes the signature not show up in a new comment but it shows up when we reply. As shown in this reply itself. Sent from my Lumia 650 via the Windows Central app ;)

The same design case for lumia 640, 640XL http://it.aliexpress.com/item/For-Microsoft-Lumia-640-640XL-Ultra-Slim-B...

These cases are absolutely hideous. Why would anyone want their lumia to look like a knock off iphone? Admittedly the 950 series are a boring looking phone straight out of the box but there are far better options out there than this.

I couldnt figure out how to order. Its all in spanish. I switched to inglis, but no luck :(

I don't want this for two reasons: - If I want my phone to look like an iPhone, I'll buy an iPhone. - I loose NFC and QI.

I mean, I even highlight a part in bold saying that you do not lose NFC and Qi...

A bit ugly, to be honest.

I got mine and I love it so far!

I picked up a few of these from Amazon, right before this was posted. Ordered a few colors. Loving the shiny gold color for my 950XL. $8 each but free shipping on all. They're back up to $9 each now. Amazon stated a month delivery. They came in a week. I ordered 5 different colors. The seller threw in 4 mini touch pens that has a dongle to insert into the headphone jacks to prevent it from getting lost. They even threw in ONE glass screen protector kit by some Chinese off brand Glass Pro. Probably because I purchased 5 of them. The logo cutout and entire back is off centered, but not a deal breaker since I rarely look at the back. But now that it has a mirror finish, I just might look at it more often. :P For those who wants a metal case, this is not terrible. If anyone's interested, here's the link. http://www.amazon.com/Ranyi-Aluminum-Detachable-Protective-Microsoft/dp/...
Windows Central Newsletter
Thank you for signing up to Windows Central. You will receive a verification email shortly.
There was a problem. Please refresh the page and try again.