Quick Tip: What can you say? Making the most out of voice commands on Windows Phone 8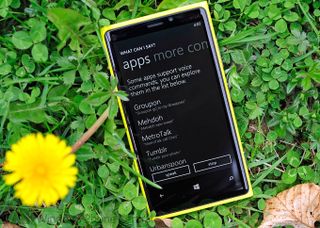 If you use Windows Phone, 7 or 8, you probably know that holding down the Start button will bring up TellMe, the native voice command service from Microsoft. You can use it to launch app, write an SMS message, etc.
For Windows Phone 8 users though, you get the added bonus that apps optimized for the new OS can also take advantage of TellMe, allowing you quickly open an app and then go to a specific section, for instance.
The issue though is some apps don't really mention that they do this or even more, they don't list what commands you can say. Heck, some of you may have apps on your phone that you didn't even know could be operated via your voice. To find out which apps do this on your phone, just do this trick:
Find which apps support Voice Commands
Hold the Start/Windows key down for 3 seconds
Speak "What can I say?"
Swipe right from Common to Apps
If you hit the "Read it" button in the lower right, you can take your time to peruse the list of apps that support voice command. If you tap on any app, you'll get a sub-list of its specific command parameters.
Our bet? You're going to find apps that you didn't know supported this feature or didn't know the full extent of which commands you could use. It's perhaps a pain to memorize those parameters, but if you use an app frequently enough, it shouldn't be too bad.
Bonus tease: The next version of the Windows Phone Central app will support voice commands too. You can see it in the image above.
Daniel Rubino is the Executive Editor of Windows Central, head reviewer, podcast co-host, and analyst. He has been covering Microsoft here since 2007, back when this site was called WMExperts (and later Windows Phone Central). His interests include Windows, Microsoft Surface, laptops, next-gen computing, and arguing with people on the internet.
There's no such list on on my phone? Lumia 900, 7.8

Woo i get pleasantly surprised everytime I ask what can I say?

I'm always glad to notice when a new app supports voice commands, but it's still ridiculous that one of those apps that supports voice commands isn't Bing Maps (or Nokia/Here Maps, or Nokia/Here Drive).

While I'm at it, I can't believe they didn't add the ability to read an email via TTS like is done with SMS. That would be a huge benefit for many drivers.

+920
Did they not show us navigation apps talking to the user and vice versa during launch?

Shameless plug here, but that's one of the nicest features of Note+: creating, opening, deleting, sharing, reading and copying notes to the clipboard, using your voice.

Pretty glad Microsoft made the API available, and hope more developers start integrating Voice Commands to their apps.

Really the next version of WPCentral will support Voice Command? I did not know that... :)

Now you guys are stepping it up to be the best app ever.

I've always wondered about this, thanks for sharing! Is there a place that has a comprehensive list of voice commands WP8 offers other than the examples given when you say "What Can I Say"?

LOL "Nickname is now: The boss" ;) @Daniel

Well he's the editor-in-chief so technically he is the boss of wpcentral. I Always enjoy updates to wpcentral app, thanks to Jay for all your hard work.

Mine calls me "Creator" ;)

I love TellMe , i use it to piss off people lol , my favorite is : "SoundHound ... Quick Launch"
& my 8X always gets it , no manner how loud the music is ! Everytime i do it , they give me the F*** You look lol EDIT : I just checked & as you said , I've apps that have Voice support & I didn't know about it ! Btw , is the "More" tab new ?
Its the first time I see it

Need WPCentral Win8/RT app badly

I'm not a fan of voice commands, but hey, that doesn't mean they shouldn't invest in its development, it's even rather important to some parts of the population, as elderly people.

Thanks, it was om my mental todo list to discover how I could learn what voice commands were supported on my phone. I didn't know the capability was built in

What I really miss since the Microsoft Voice Command days is simple commands like: Show or [Contact Name] - Many times I need to look up information in a contact file. Not just call them! Show Calendar - We should be able to simply view a calendar this way. There are a few other missing voice commands but those two I really wish Microsoft had kept/moved into the newer OS.
So much for trying to communicate this to Microsoft. It'll be impossible.

I hear you on the show people issue, but try the command "Open Calendar" :)

I'm with you 100% on voice command. Loved how you could search for and play your music with it. I never understood why they backpedaled and didn't carry that forward with Windows 7 (and now 8).

Good on ya Mr Bennett. A job well done.

This is a neat tip. Thank you.

Could not find this on my 810 again we are left out of the windows world .

Even though the 810 is the red headed step child of the wp8 world, I just tried this on mine and it worked fine

You can't find the home button to long press on your 810? I don't think you really tried.

A good tip.
I hope more developers bring this functionality to your applications.

would like to use xbox music voice commands

anyone tried Inidigo yet? it was very hit or miss with me actually understanding what I was saying. same thing for voice to text. I realize this is not the app itself, but tellme behind the scenes, which they share.

Indigo is pretty cool and has potential. I just don't understand how they could make a voice app yet not use voice commands to use the app!

What would be awesome is a list of Apps that actually use the voice command features. It seems like trying to find/figure out which ones use voice commands is at hard as trying to listen to non-MS Store podcast on my phone.

I have a Lumia 920... But since i never used the voice commands on any of my earlier phones, i don't use it on my Lumia either. I never liked it, and i don't see the point using it. It's only annoying....and it never works the way i think it should.
But sometimes when i accidently push the Windows key for some seconds, then WP8 suggest that i can use it, but it's not available in my language. Is it possible to disable theese annoying questions once and for all? I don't want to use it in any language... Any suggestions....anyone? :-)

I have a suggestion: Don't accidentally push the Windows key for some seconds. Problem solved.

Oh really.... Is it that simple!? ;-)

Hello friends...
Am a Lumia 620 user... Am from India..
i am unable to use speech-text feature to type message orally.. Let's say am unable to find speech-text feature... Any suggestions out here???
Windows Central Newsletter
Get the best of Windows Central in in your inbox, every day!
Thank you for signing up to Windows Central. You will receive a verification email shortly.
There was a problem. Please refresh the page and try again.