QuizUp for Windows Phone app now available for private beta testers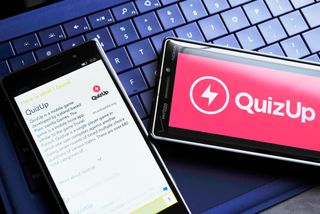 Developer Plain Vanilla Games is now allowing some people who signed up to test the upcoming Windows Phone version of their trivia app QuizUp to download a private beta version of the app. The company announced its plans to release QuizUp for both Windows Phone and Windows 8.1 in February.
As we reported earlier this month, these testers will be under a pretty strict Non-Disclosure Agreement which, among other things, forbids them from posting any public screenshots or reviews of the QuizUp Windows Phone beta. In other words, don't expect a lot of info about the app to leak out before it is officially released.
The actual development of the Windows Phone QuizUp version is being handled by Gateway Apps. QuizUp already has 32 million users worldwide with its iOS and Android versions, and lets gamers play online trivia matches with friends and strangers.
Thanks to William, Trambak and the many other folks who tipped us!
Windows Central Newsletter
Get the best of Windows Central in in your inbox, every day!
Just received a mail with link. :)

Still waiting for link. But Finally this is coming to windows phone! Though i feel this is a year too late unfortnately.

Not to mention it's probably ported

It isn't. They've made it from the ground up as a universal app.

I didn't get the email yet! Does that mean I'm not getting it?

May be you didnt make it through BETA program.

I Signed up with the link u sent me. how do i get the game? I just got a confirm ur subscrition sorta mail. what Next?

Click on "Confirm your subscription" or any other link provided in th mail. It will complete ur subscription process. Then if you are selected into BETA testing, you'll get a link to download the BETA app.

Me too. Guess I must have missed the boat again

Me too. It's been an hour since this report was published. *sigh*

No link as of yet .... Still waiting

Signed up but unable to download!!

Because you need to wait for the email with the link!!!

Clicked on email link but it says can't download.

Yes yes yes! Waiting for the email, I hope I made the list of testers. Do they reject anyone who signed up, I wonder?

Hope I get the email. Love this game

Yes I'm smilling! Installing as we speak.

you were not supposed to give any details/reviews about the app.
remember the agreement? :P

Yep. People should read the finer lines. Microsoft could put the entire "Fifty Shades of Grey" in their terms and services agreement, and we'd still click Agree.

Did anyone watch that South Park episode about agreeing to terms and conditions? ;)

Jevrocks gonna end up in the middle of a human centipad then :)

Doesn't start. Crashes on my 930.

Not starting on my 920. Crashes everytime.

It crashed once wen i completed a game.

it won't open with location data off, so turn it on.

Hey having location info on worked for starting the app. Thanks

And this end of game crash happens every time ..

Yes its crashing every time...

submitted a couple of bugs .. major one is that I can't start a game.

How did you submit bugs ?? ..as my shake to report bugs is not working on lumia 730

Same here! It says Cant make ur Asana account..blah blah

The link has been changed now..

Clicked on the link in my mail...says I do not have permissions to download...anyone with a clue as to why its happening?

maybe their testers list was full by the time you applied.

Did the email come to the same address as your Microsoft account as I've had a similar issue in the past

Different alias but same account

I think the download link is tied to your Microsoft account and if it's not then it comes up as if you not having permission

Nope...both my accounts are different!

Ok..and now it shows..app not available! Wth!

The previous version had been taken down. There's another one up. ;)

Just FYI... If you're under an NDA... even saying you're in the program is breaking that NDA. Or talking about bugs, etc... Read the legal document before you participate...

I'd like to see them sue beta testers. Great PR.

Has happened before. The PR of suing people who do not read what they have signed up to can be better than the PR of forums and comments filling with reports of a buggy app at an early beta stage. Especially when a bunch of them are people that can't download because they've signed up to the beta program with a different email to their store account (despite it telling you not to) and moaning that they cannot download the restricted app.

I didn't get an email yet! Does that mean I'm not getting it?
Windows Central Newsletter
Thank you for signing up to Windows Central. You will receive a verification email shortly.
There was a problem. Please refresh the page and try again.