This RAVPower ismart is a cheap battery pack that doesn't suck
It's hard to get excited about something as mundane as a battery pack, but this one from RAVPower is really rather good.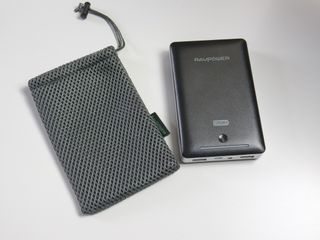 It was recently Amazon UK's deal of the day, and since I'm going on vacation soon, I figured I could use a new USB battery bank and gave it a shot. Imagine my surprise then upon actually opening it and feeling impressed. Actually impressed.
See at Amazon (opens in new tab)
Presentation goes a long way into creating the feeling of a quality product, and while RAVPower isn't a brand I've dealt with before, the first impressions are solid. It comes in a fairly plain, but recycle-friendly package, nothing out of the ordinary.
Inside, though, you find the 16750mAh battery pack, two tangle-free microUSB cables and a smart looking little bag to carry it in. I'm not suggesting a carrying bag is essential to a good battery pack, but the whole package creates a very nice impression.
The battery pack itself has microUSB in for charging it, which does take a while given its capacity. It'll charge just fine on any regular 1.5A and above wall adapter, but it's still best to leave it overnight if you're going to be needing it the next day. It also has an LED torch. I'm still at a loss as to exactly why battery packs seem to include this, but there you go. It's there — use it or don't. It's bright, at least.
For charging you get a pair of USB outputs, one for each cable included in the box. One is rated at 2.4A, the other at 2.1A, and RAVPower claims a consistent 4.5A output while connected for charging. I've no equipment to measure that accurately, but both are capable of charging phones quite quickly. The "ismart" part of the RAVPower pack is designed to detect and optimize the output for the device that's charging, which is a neat feature.
The charge level meter is pretty nifty as well, being a light bar rather than some minuscule LEDs you can barely see. Add in an acceptable weight and a compact shape that'll fit into your bag with ease, and you've got a fine product.
Best of all, the regular price isn't high. In the U.S. it'll set you back $32, or £21 in the UK, but keep an eye out for any Amazon deals on it. It's an awful lot of charger for not a lot of money. If you need a mix of microUSB and USB-C, a tiny adapter (opens in new tab) might be better than carrying an extra cable.
See at Amazon (opens in new tab)
Richard Devine is an Editor at Windows Central. A former Project Manager and long-term tech addict, he joined Mobile Nations in 2011 and has been found on Android Central and iMore as well as Windows Central. Currently you'll find him covering all manner of PC hardware and gaming, and you can follow him on Twitter and Instagram.
Looks nice. I just wanted to suggest for anyone with USB-C and micro-USB devices, for an all-in-one solution look on Amazon for the combo cables. They are micro-USB with a tiny tethered adapter that fits perfectly on the end to make it USB-C. That way you don't lose your adapter when switching for different devices.

O_o didn't know such a thing existed. Will be picking up a couple of those then for sure!

Here's the one I got, Richard. But i think there are cheaper ones if you don't want the braided cable. https://www.amazon.com/gp/aw/d/B019DR87A0/ref=ya_aw_od_pi?ie=UTF8&psc=1&...

I have this and have had it for almost two years now... Its a life saver. I use it much more than I imagined when I first purchased it

I've had this also for a year. It is a life saver. I keep it in my backpack. It can charge my phone 8 times. Also, if you have bluetooth, the GPS, listening to music, and have the GPS software going... it will still charge my phone. 1 amp chargers can't keep up with that much happening in a phone.

I've had this model battery pack for a while although mine is a couple years older and is only 16,000mAh.. Never had a problem with it and it holds a charge for a long time. It is a good balance between big and thick and tucks neatly into most travel bag pockets. It is just a little bigger in every dimention than a pack of cards. The LED light is handy because I'm likely scrounging in the bottom of my bag to find the right cable and it helps in finding the right one.

I've had three of these in the space of two years although I only bought one (1) How? Customer services 😁 When the one I bought, developed a fault (the 2.4 A output "died") under warranty (which by the way you can extend to 18 months), I contacted them and they sent me a new one without asking for the old one back. So I was using one and the missus the other one. Last month, on the original battery pack, the only working USB port broke (detached from the circuit board) I contacted them again and got another new one, no questions asked!!! So now, we both have fully functioning battery packs for the price of one!!! I highly recommend this brand and model, so go ahead and don't forget to register to extend the warranty!!!
Windows Central Newsletter
Thank you for signing up to Windows Central. You will receive a verification email shortly.
There was a problem. Please refresh the page and try again.