RAVPower Xtreme Portable Battery, a multi-purpose backup power source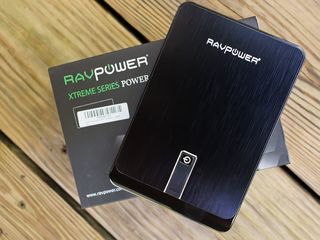 While the battery life in our Windows Phone and Windows devices has improved dramatically over the years, there are still times when you need a little boost to make it through the day. The easy solution is finding an outlet and just plug in your Windows Phone or your Surface tablet.
However, when an outlet isn't available a portable, an external battery is a good option to have. RAVPower offers a nice assortment of external batteries and the RP-PB14 Xtreme is one of the beefiest batteries the company offers. The Xtreme battery sports a 2300mAh battery with LCD display and a ton of connection options.
The RAVPower Xtreme is a nice option to consider to cover a wide range of recharging needs but the size may take away from the portability of this battery.
Design
The RAVPower RP-PB14 Xtreme battery measures 4.88 x 7.28 x .75 inches and weighs in at 1.3 pounds. In practical terms, it is about the size of an 8" tablet but with a little bit more heft to it.
The face of the battery is brushed aluminum that has a small LCD display that will show you the amount of power remaining, charging status and voltage selected. The unit's main power button sits adjacent to the LCD display.
The bottom shell of the RAVPower Xtreme is glossy black plastic with all the ports resting on one end of the battery. The ports include:
DC output (9V, 12V, 16V, 19V, 20V)
USB 1 Output (5V/1A for phones)
USB 2 Output (5V/2.5A for tablets)
DC Input
The guts of the RAVPower Xtreme includes the 2300mAh battery that is composed of lithium-polymer battery cells.
Overall, the construction and design of the RAVPower Xtreme battery is solid. It is definitely not a back-up battery to toss in your pocket but backpack carry shouldn't be an issue.
The brushed aluminum looks nice as does the glossy black under-belly but the battery is definitely a dust magnet. A downside you can easily live with if the RAVPower can give your laptop, tablet or phone a boost in power to get that last email out for the day or finish that marathon game of Wordament.
Connectivity
The RAVPower Xtreme 2300mAh battery comes with enough connectors that if something is missing, it's probably for an old Palm Treo. The connectors includes an AC adapter to re-charge the Xtreme battery as well as:
Samsung 30Pin Connector
Mini USB Connector
Micro USB Connector
Nokia DC 2.0 Connector
USB Power Connector
DC Power Connector
10 various Notebook Connectors
The Notebook connectors are compatible with various Sony, Acer, Lenovo, Toshiba, Asus, Samsung, Dell and HP Notebooks. It does not include Apple adapters (30 pin or lightning).
Performance
Again, this isn't a back-up battery you toss in your pocket but fits backpack carry nicely. While finding the correct connector is fairly straightforward and should you need to adjust the voltage (for laptops), that process is straightforward as well.
The power button is a multi-function button with the following features.
Gently press the power button to check the battery status.
Long press the button and the voltage on the LCD will begin to flash. Once flashing, tap the power button to cycle through your options.
When inactive for five seconds, the battery will power down.
Charging time to get the RAVPower to 100% takes about six hours. When fully charged, the RAVPower Xtreme has plenty of juice to replenish most Windows Phone batteries, tablet batteries and keep laptops going for another few hours.
You do have the ability to simultaneously charge up to three devices at once with the RAVPower Xtreme.
Overall Impressions
The RAVPower RP-PB14 Xtreme 2300mAh portable battery is well made, simply designed and while it's not pocketable, it is portable.
I can see the Xtreme battery coming in handy for students who rely on their tablets for note taking, hikers/campers who need a portable recharging source for their phones or those who simply need a reliable source of power for those times a wall outlet isn't handy.
While RAVPower includes a nice assortment of connectors, it is a subtle reminder that we really need a universal standard for these connectors. Luckily, you'll only need to lug around those connectors specific to your devices but still, one size to fit all would be nice.
Overall, the RAVPower Xtreme is an external battery worth looking into if you need something more than the smaller, pocket-sized batteries. Especially if you need to charge more than one device at once.
The RAVPower Xtreme is currently running in the neighborhood of $100 and you can find it through RAVPower directly (opens in new tab), Amazon.com (opens in new tab) or other third party retailers.
Get the Windows Central Newsletter
All the latest news, reviews, and guides for Windows and Xbox diehards.
George is the Reviews Editor at Windows Central, concentrating on Windows 10 PC and Mobile apps. He's been a supporter of the platform since the days of Windows CE and uses his current Windows 10 Mobile phone daily to keep up with life and enjoy a game during down time.
You put 2300 mah in your article, it saids 23000 on the product page. I use a 22000 mah battery I got for $50 from amazon. Posted via Windows Phone Central App

Yeah, its not 2300mah, its 23000mah. Very big difference, but still the physical size is too big.

That makes more sense - huge lump for a battery that fits in a phone? :) Anyway, solar charging option or it won't happen.

Lol the battery pack is humongous for 2300 - it should say 23,000. Think George hasn't had his coffee fix or something before posting the article :P. https://www.windowscentral.com/e?link=https2F2...

Yeah I was wondering that. 2300 mah would not be adequate at all for tablets and laptops and makes the product look poor. 23000 makes much more sense.

Okay, now I understand the large size dimensions of this device if it is indeed a 23000 mAH battery. For a 2300 battery the dimensions would only be half, maybe even less than that. Also makes sense why it can also be used for tablets. 2300 is far to low to have any meaning for a tablet. You can almost charge a lumia 1520 7 times with this battery from dead to full!

My favorite portable battery is my 2520

wait, 2300 mAh and its called Xtreme? I've a 5000 mAh portable one, it doesnt have fancy laptop pins but charges my 2000mAh phone battery 2.5 times, practically I can live without a wall socket for a week :)

It is technically impossible for a 5000mah battery to recharge a 2000mah device 2.5 times.
These batteries are about 70% efficient....so I reckon you've probably exaggerated just a little :).

It must be more than 2300 right? It's so big!

George it is 23000mAh not 2300mAh

23000mah a lot. I use dc-16 Nokia .. Charge approximately 70%.

It really startled me! Such a huge and cumbersome device with 2300 mah only?

In another news, BBC Iplayer gets updated with a new boring UI I hate.

Are you sure it's 2300 mAh, not 23000?

I have RAVPower's 14,000 mAh battery and it's more than enough. The size fits pockets too!

I'll stick with my Nokia dc-19. Its nice, pocketable and it does the job...

Guess people don't read the below posts before...posting.

Inches... Really?... :-o
:D

I have a portable battery, half the dimensions of this, 20'000mAh, 20€.
Think smart.

"Does not include Apple connectors".... SOLD! Lol, that is one of the best selling points I've heard in a long time!

23000 makes this a much more palatable purchase, and actually makes the 6 hour charge time pretty impressive.

I kickstarter'ed the 11,000mah from Legion and I love it. I wouldn't own any other external battery. They are now selling them for those interested. https://www.kickstarter.com/projects/plxdevices/legion-the-battery-reinv...

If this one works longer than a few weeks I might try it. The one I bought on Amazon worked for about a month and stopped charging.